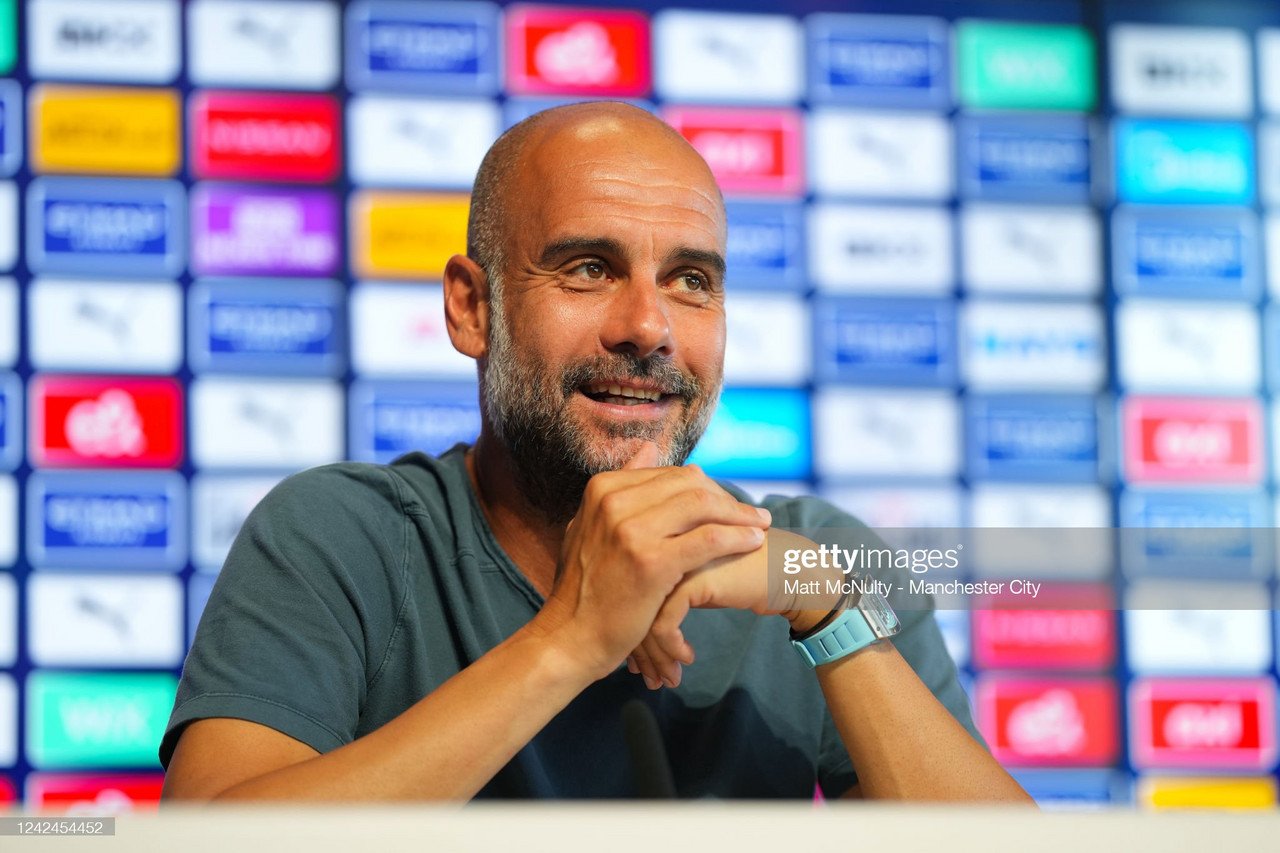 Manchester City will be looking to make it two wins from two to start their Premier League campaign when they welcome AFC Bournemouth to the Etihad Stadium on Saturday afternoon.
Pep Guardiola addressed the press ahead of the 3pm kick-off. Here is what he had to say.
"A young player, in the World Cup years ago the best player was Phil Foden and he was the second best player. He played in Spain U21, young talent for Barcelona, went to [Borussia] Dortmund, played in good hands under [Vincent] Kompany...
MANCHESTER, ENGLAND - AUGUST 12: Pep Guardiola, manager of Manchester City speaks to the press before Manchester City's first Premier League home fixture against Bournemouth, at Manchester City Football Academy on August 12, 2022 in Manchester, England. (Photo by Matt McNulty - Manchester City/Manchester City FC via Getty Images)
""He is for now, he will stay with us, the Manchester City squad, alongside Joao [Cancelo], Josh [Wilson-Esbrand] and him for the left-back [position], he'll stay with us."
"An exceptional player, but we're together one month. Not necessary to tell you, we all know it. He's an incredible competitor, wants to win. His sense of goal. What impresses me most is he has a good education, he's humble...
"How much he talks with young players, not just important players, always talks. Settles good like Julian [Alvarez] and the other guys."
On Liverpool Rivalry
"We were able to create this rivalry, the last years the biggest opponent we face in the titles is Liverpool, it's an honour. Before it didn't happen until Sheikh Mansour took over and make an investment...
"To make a good environment to compete with the elite of English football. Sport is like this, individual and collective, you need someone to get you better."
On AFC Bournemouth
"A lot of respect for Scott Parker, patterns are so clear. We spoke and trained and we're ready. It's so tricky [to face promoted Premier League teams early], the first games are so difficult, they don't feel pressure because they are in incredible mood...
"They don't have anything to lose, after good karma being promoted, complicated. After a few months, all teams have injuries, good moments, bad moments, mood in the locker room, things happen. In the first games, everyone pushes. Always tricky.
"High press, squeeze well, drop into five at the back, narrow in the middle. Five at the back, close in the build up to drag you out, link with the strikers. After, they have good runners on the opposite side, good set pieces."
On Further Arrivals
"If nobody moves, I think nobody's coming in [to Manchester City]. Now I have the feeling that if we have a problem with Kyle [Walker] and Joao [Cancelo] we have players who can replace them. That's why Sergio [Gomez] comes. Even Nathan [Ake] can play there [left-back...
"In the right you have Kyle, Joao, John [Stones] and maybe Rico [Lewis]. We don't have a big squad but we have some players who play in different positions quite well."