Christian Benteke has become the third Liverpool international to pull out through injury in the last week after suffering a reported knee problem with the Belgium national team.
With Roberto Firmino's hamstring injury forcing him to withdraw from the Brazil squad and a thigh complaint causing Divock Origi to drop out of Marc Wilmots' Belgium squad, Benteke becomes the third player to add to a growing list of problems for Jürgen Klopp.
Having been in the headlines throughout the week for speculation over his future, and his comments about a lack of playing time at the club, Benteke has now returned to Merseyside in order to recover.
He will miss his country's friendly fixture against Portugal as the two teams warm up for the European Championships in the summer, with the Reds still unaware of how long the knock will keep Benteke out for.
He joins club teammate and compatriot Origi in dropping out of the squad this week, after Origi was replaced by Everton forward Kevin Mirallas after sustaining an alleged thigh injury.
Reds' injury problems beginning to pile up again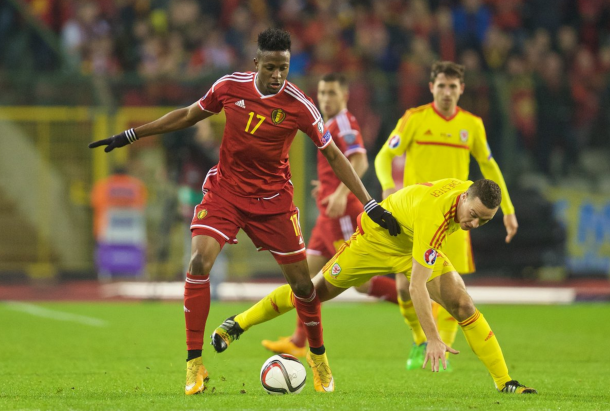 That leaves Daniel Sturridge as Liverpool's only current fit first-team striker, ahead of a busy month that includes two legs against Borussia Dortmund in the UEFA Europa League quarter-finals, a Merseyside Derby with Everton and a tough Anfield clash with a Mauricio Pochettino's title-chasing Tottenham Hotspur.
Klopp, who has spent the week in Tenerife with as many as 13 of his players, has already issued positive fitness updates on Firmino and Alberto Moreno, who suffered a hamstring injury earlier in the month.
He insisted that the Spaniard was "really good" and "felt absolutely nothing" earlier in the week, adding that Firmino "is in a good way" and Lucas Leiva is also "in a good way here."
The Reds boss continued: "Joe Gomez and Danny Ings can work really hard and use the time here."
But Klopp will be disconcerted by the new injuries his three forwards have picked up on international duty, leaving his forward line once again potentially decimated and in excess of 10 players still yet to play at least one or two fixtures for their countries over the next week.