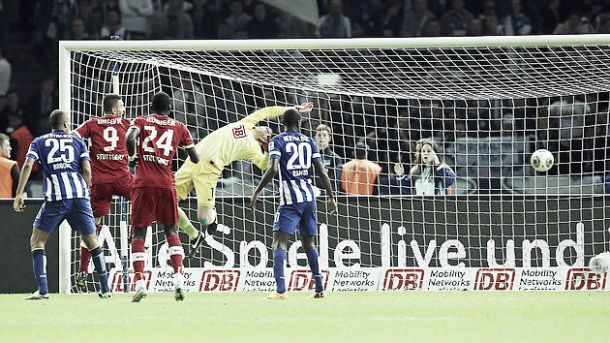 There's plenty of action this weekend in the Bundesliga to get your meaty chops around. We had six Bundesliga teams in Europe earlier this week and lets hope they have enough in them this weekend to make this match day one of the best. Feast your eyes, buckle up and - after you have read this preview - then look the Bundesliga work wonders upon your footballing brain.
Matchday 7 Fixtures:
(Friday 19:30)
Hertha Berlin vs. VfB Stuttgart
(Saturday 14:30)
FC Bayern München vs. Hannover 96
Borussia Dortmund vs. Hamburger SV
Bayer 04 Leverkusen vs. SC Paderborn 07
TSG 1899 Hoffenheim vs. FC Schalke 04
SV Werder Bremen vs. SC Freiburg
(Saturday 17:30)
Eintracht Frankfurt vs.1. FC Köln
(Sunday 14:30 & 16:30)
VfL Wolfsburg vs. FC Augsburg
Borussia Mönchengladbach vs. 1. FSV Mainz 05
Hertha Berlin vs. VfB Stuttgart:
The Bundesliga Matchday starts in the capital, Berlin at the Olympiastadion. Both teams are currently neck and neck in the table; Stuttgart are the lower of the two, but only on goal difference. Julian Schieber is out but summer signing Valentin Stocker is a candidate for his replacement. Midfielder Nico Schulz is back following suspension. As for the away side, Daniel Didavi who is in a good run of form following his two goals against Dortmund, he is a major doubt after suffering a thigh injury against Hannover 96 last time out. Georg Niedermeier also had to sit out training in midweek with a niggle in his ankle, while Thorsten Kirschbaum is expected to continue in goal at the expense of Sven Ulreich. Huge boost for Antonio Rüdiger as he was named in the German national team; he is available. Hertha Berlin and Stuttgart have won just one of their opening six games.
Prediction:
It'll be an evenly contested game but the teams are slacking goal wise and points wise. With these teams in poor form, it'll be fiercely competed but will lack in quality in the attacking third. Hertha Berlin 1-1 Stuttgart
FC Bayern München vs. Hannover 96:
The holders host one of the underdogs of the Bundesliga thus far, Hannover 96. Bayern top the table and are still one of the few unbeaten teams in the league. They also hold the best defensive record in the league, just conceding two goals in the league so far this season. Hannover are currently sixth in table on ten points following superb results against Schalke, Hamburg and Köln. Franck Ribery, Thiago Alcantara, Bastian Schweinsteiger and Javi Martinez are all out for Bayern but Shaquiri and Rode are in contention and Jerome Boateng is expected to return following injury. Leon Andreasen is out indefinitely, with either Christian Pander or Maurice Hirsch tipped to fill the hole left in the midfield following his absence. The injured Dane joins Andre Hoffmann, Edgar Prib and captain Lars Stindl on the sidelines.
Prediction:
Bayern are in great form but not quite the scoring they were in last season. Hannover are also in good form but their away form hasn't been quite up to scratch as they'd hope, picking up just one point from their three away games this season. They wont be able to put up with Bayern's ability and power. Bayern Munich 3-0 Hannover 96.
Borussia Dortmund vs. Hamburger SV
In this fixture last season at the Imtech Arena, Hamburg shocked the Bundesliga by beating the title contenders 3-0, last time out. Dortmund made it two from two in the UEFA Champions League with victory over Anderlecht on Wednesday; in the Bundesliga however, they've lost two and drew once in their previous domestic fixtures. Hamburg scored their first league goal of the season in last weekend's 2-1 defeat to Eintracht Frankfurt but they're still awaiting their first victory of the season. Injury hit Borussia are without Reus, Mkhitaryan, Gündogan, Blaszczykowski, Sahin and Kirch this weekend. Van der Vaart is in contention for this match after returning to training earlier this week, and Nicolai Müller was also involved after shaking off a knock, but keeper Rene Adler's knee problem rules him out of the game.
Prediction:
Despite the Hamburg hoodoo, Dortmund have too much strength in the attacking department and Hamburg's team are defensively dodgy and low on morale following the poor run of form. Borussia Dortmund 4-0 Hamburg.
Bayer 04 Leverkusen vs. SC Paderborn 07
Leverkusen are flying high with their summer superstars. They're currently third just three points behind leaders Bayern Munich but they'll have to be wary of newly promoted Paderborn. Earlier in the season, they shocked all being unbeaten until matchday five where they were dismantled by Bayern Munich and have since lost to Borussia Mönchengladbach meaning they slumped to eleventh in the table. Leverkusen go into this game without Spahič who was sent off in their game with Freiburg last weekend, also loan signings Papadopoulos, Castro, Rolfes and Brandt are all ruled out this weekend. Paderborn will be without Amedick Bertels, Rafa, Welker, Pepic, Maier and Saglik for tomorrow's game.
Prediction:
Leverkusen in brilliant form and Paderborn's form slowly becoming worse, the experience and quality will prevail. Leverkusen 2-0 Paderborn.
TSG 1899 Hoffenheim vs. FC Schalke 04
Hoffenheim have been defensively shaky but brilliant in attack this season. They're currently in fourth, six places in front of this matchday's opponents. Hoffenheim are currently unbeaten along with the few other unbeaten teams remaining. Despite the unbeaten form, their defence have been leaky and that'll be a cause for concern with Schalke who create an awful lot of chances. Schalke recently have hit good form beating Bremen and rivals Borussia Dortmund. Both sides will be without a lot of players ahead of this tie. Hoffenheim will be without Casteels, Schwäbe, Bicakcic, Toljan, and Nad. Amiri, Salihovic and Musona for Schalke; Giefer, Felipe Santana, Höwedes, Kirchhoff, Kolasinac, Goretzka, Farfan, Sam whom are all out with muscle and tendon injuries.
Prediction:
With these teams evenly matched and both on good runs of form and with both having leaky defence and solid attacks it'll be a high scoring game. Hoffenheim 2-2 Schalke.
SV Werder Bremen vs. SC Freiburg
Werder Bremen sit second from bottom in the Bundesliga at the moment, as they face Freiburg who are just one place above them. Werder currently have the worst defensive record in the league this season conceding fifteen goals already so far. Assani Lukimya and Luca Caldirola are in contention to start for Werder at centre-back. The absentees from Werder are Strebinger, Bargfrede, Gebre Selassie, von Haacke and Öz. Yildirim isn't included in the squad. Marc Torrejon could replace the suspended Pavel Krmas at centre-back. Vladimir Darida returns from suspension after his two game ban was overruled to just one, and is expected to start in midfield. Up front, Admir Mehmedi could return from injury and replace Maximilian Philipp, where the goals are needed for the away side.
Prediction:
Robin Dutt is severely under the cosh as Werder Bremen are still winless in six games. Freiburg are also winless and in the last fixture at the Weser Stadion it finished goal-less. With the teams struggling, they'll both be desperate to get their first win on the board. Werder Bremen 1-1 SC Freiburg.
Eintracht Frankfurt vs.1. FC Köln
Eintracht Frankfurt are sitting in seventh in the Bundesliga as it stands. They recorded a win against Hamburg in their last match; a beauty in the last minute from Lucas Piazon wrapped up all three points for the win. Köln are in thirteenth with six points from six games, losing their last two games against Hannover 96 and Bayern Munich. There is no place for Timo Hildebrand in the starting eleven, as Felix Wiedwald is the new number one keeper following Kevin Trapp's injury. Carlos Zambrano returns from illness to replace Anderson at centre-back. For Köln there isn't any real injury concerns, but Schuhen and Golobart aren't included in the side.
Prediction:
Frankfurt have the more experienced attack and Köln are currently on a run of bad form. Defensively they've been solid but they need the strong attack to win the points. Frankfurt 1-0 Köln
VfL Wolfsburg vs. FC Augsburg
Wolfsburg will come into this game off the back off a 1-1 draw with Lille in the Europa League. They're currently in ninth with eight points from six games. Augsburg's are one-point ahead of Hecking's side; winning three games and losing three. They'll be without Ochs, Lopes and Seguin for this game. For the away side, Nikola Djurdjic and Tim Matavz are both in contention to replace the injured Sascha Mölders who is out of contention along side Jan Moravek and Reinhardt.
Prediction:
Wolfsburg have the stronger attack out of the two sides, but Augsburg have won three of their last four matches. It'll be a close game but Wolfsburg will edge out a win. Wolfsburg 2-1 Augsburg.
Borussia Mönchengladbach vs. 1. FSV Mainz 05
It isn't quite rosy in second place for Gladbach, with Leverkusen right on their back and currently going through brilliant form. Mainz are also in a good run of form. Fifth in the league, they're currently unbeaten drawing four and winning two. No injuries for Gladbach, but they have Álvaro Domínguez and Oscar Wendt competing for left back. For Mainz, Philipp Wollscheid, Ja-Cheol Koo, Nikolce Noveski are out indefinitely while Okazaki is doubtful which means Sami Allagui may be able to replace him.
Prediction:
With Gladbach still achy from their midweek Europa League game, it may mean that the game will be closer than expected. With Okazaki missing for Mainz it means a key threat missing. Gladbach 2-1 Mainz.