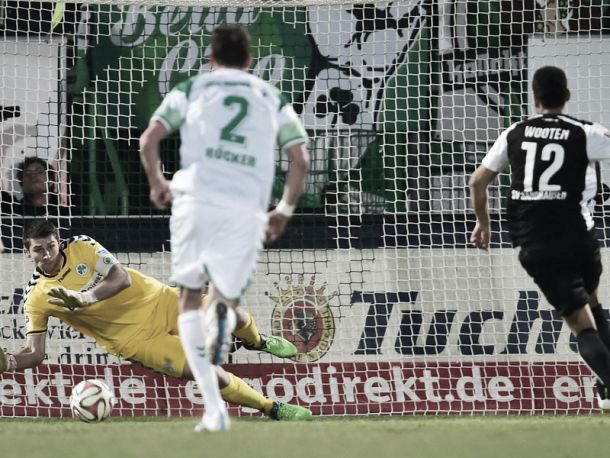 In a game which didn't lack in chances, neither side were able to make them pay. Wolfgang Hesl saved Andrew Wooten's first-half penalty and Kacper Przybylko wasted a great chance after half-time, as the Trolli-Arena failed to see Fürth convert their chances once more.
There was massive relief for Frank Kramer and all associated with Greuther Fürth on Monday night, as they picked up their first win since October 31st. It was long overdue for the side that finished in third last year and it was a much needed boost for a team lacking in confidence. They remained unchanged from their 1-0 win over St. Pauli.
Sandhausen would have been overjoyed after picking up the biggest scalp of them all; comfortably beating the league leaders in their own stadium. Alois Schwartz and his men were deserved winners against FC Ingolstadt, inflicting their first home loss of the campaign. There was one change from the side that beat Ingolstadt, as Seyi Olajengbesi hit his yellow card limit in that game and had to be replaced by Tim Kister.
It was a measured start by both sides, with neither wanting to give away any unnecessary ground in the early minutes. Though an early half-volley from Andrew Wooten was a signal that Sandhausen meant business in Fürth.
The visitors were making all the early running and were rewarded in the 16th minute; Manuel Stiefler went down under the challenge of Benedikt Röcker, leaving Arne Aarnik no choice but to point to the spot.
There was some debate over how much contact there was on the Sandhausen attacker, who seemed to fall somewhat theatrically. Wooten stepped up, but his penalty was poor Wolfgang Hesl saved well to his right to keep the game level.
When Fürth did manage to break forward, they almost found the opener. Johannes Wurtz burst down the left, only for some resolute defending and an awkward clearance from Florian Hübner to deny his side an easy tap-in.
The hosts were at it from the off in the second period and Kacper Przybylko fired a volley just over the bar, with Manuel Riemann thankful that it didn't dip below at the last minute.
That pressure kept coming from the home side, who were desperate to build on last week's win. A series of corners failed to penetrate the solid Sandhausen defence and they themselves were looking dangerous on the break.
A great save from Hesl to kept out Leart Paqarada's well-struck free-kick, as the experienced stopper scurried across the net and clawed the ball away from goal.
Whilst those were all decent chances, the best opportunity of the match fell to Przybylko soon after. The Pole volleyed Zlatko Tripic's pass towards goal, but he couldn't keep it down and to flew over the bar; much to the home faithful's dismay.
A great block stopped Alexander Bieler from scoring what would have been the winner, as both sides failed to create any meaningful opportunities in the final stages.
The result pulls both sides a further point away from the relegation, with Sandhausen now six points clear of the relegation zone. Fürth are a further two ahead and the draw moves them up to tenth, as they travel to promotion hopefuls FC Kaiserslautern next weekend. Sandhausen face VfR Aalen this coming Saturday, with a win crucial in their bid to assure safety as soon as possible.