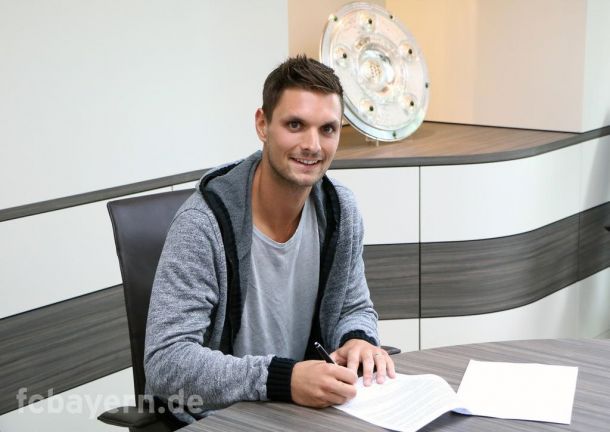 2.37pm: Stuttgart centre-back Antonio Rüdiger remains at the Swabians despite interest from national and international, German TV channel SPORT1 reports. 22-year-old German international wants to move to VfL Wolfsburg, who are said to have made a bid of €8-10m, but there's no update on that at the moment.
12.50pm: Big headline in today's Gazzetta dello Sport: VfB Stuttgart are shopping in Italy. According to the Italian media outlet, chairman Bernd Wahler offered €3m for Empoli's midfielder Mario Rui and is also preparing a bid for Sassuolo's centre-back Francesco Acerbi, who is valued at €5m. Furthermore, they'll make contact with Empoli's 25-year-old forward Levan Mchedlidze and Cagliari's Duje Cop, who is also a 25-year-old striker. Big business for VfB in Italy. 
12.47pm: Borussia Monchengladbach's midfielder Nico Brandenburger will be on loan at Swiss side FC Luzern next season, according to local paper Neue Luzerner Zeitung. Luzern is managed by German and long-time Bundesliga coach Markus Babbel.
11.50am: Big news from Austria! According to Kurier, Eintracht Frankfurt are closing in on former Austria Wien keeper Heinz Lindner. The 24-year-old keeper and the Bundesliga side have already found an agreement and Lindner will probably join Eintracht on a free transfer. German paper kicker also say that there advanced talks between Lindner and SGE. As matters stand, the Austrian international goalkeeper will be only No. 2 keeper as Kevin Trapp is unquestioned. 
11.46am: Rumour coming in from Italy: According to Italian transfer expert Alfredo Pedulla, VfB Stuttgart have officially offered €4m plus add-ons to FC Empoli for 24-year-old midfielder Mario Rui. The former Portuguese U21 international assisted 3 goals in 37 Serie A and Coppa Italia matches this season and is also reported to be a target for Fiorentina and Lazio Roma.
11.27am: DEAL DONE: Eintracht Frankfurt's new head coach Armin Veh has a new keeper in his first team squad. 19-year-old Yannick Zummack signed a professional contract, term of the contract unknown, club confirmed. 
11.23am: According to kicker, Hertha's midfielder Marcel Ndjeng received an offer from relegated SC Paderborn 07. The 33-year-cold Cameroonian, who is able to leave as a free agent this summer, has asked after time to think about the offers from Paderborn and another 2. Liga side. At Paderborn, Ndjeng, who joined Hertha from Augsburg three years ago, would meet the East Westphalian's new manager Markus Gellhaus, wo was Luhukay's assistant coach at Hertha BSC.
11.20am: Short update on Johnny Heitinga's transfer from Hertha BSC to AFC Ajax: The transfer seems very close to be done. Hertha manager Michael Preetz confirmed to the kicker: "Jon and Ajax have found an agreement." When the Dutch defender will return from holiday, the paperwork will be done. He'll probably sign a 1-year-deal with option for another year.
10.05am: After yesterday's news on Wijnaldum, there is an update on VfL Bochum today: According to Bild, 31-year-old Nando Rafael is on a trial session at VfL today. The centre-forward from Angola, who has also made 13 appearances for Germany's U21, played at Hertha, Gladbach and Fortuna Düsseldorf in his earlier career and is out of contract since leaving Chinese side HN Jianye in January.
10.00am: Interesting rumour coming in from Hungary. Hungarian media outlet Nemzeti Sport reports that Hertha BSC are in talks with Russian side Dinamo Moscow on a transfer of Balázs Dzsudzsák this summer. The 28-year-old left-wing made 69 appearances for the national team, whose head coach Pal Dardai also manages Hertha BSC. He is reported to be one of the supporters of a deal. According to the paper, both club could find an agreement in the next few days, but it's nothing decided yet. Dzsudzsák joined Moscow from Anzhi Machatschkala for a stunning fee of €19m back in 2012. 
9.56am: DONE DEAL: Now it's official: 3. Liga side FC Energie Cottbus have signed defensive midfielder Joni Kauko. The 24-year-old Finn joins on a free transfer from FSV Frankfurt and signed a contract at the Lusatians until June 2017.
9.50am: Swiss youngster Breel Embolo is a target for Bayern Munich and Juventus Turin, according to Blick. The 18-year-old, who recently made his first international match for Vladimir Petkovic's team, is one of the most promising talents in Europe. His youth club FC Basel demand a fee of about €15-20m. 
9.22am: DONE DEAL: Meanwhile, Bayern Munich have officially confirmed the signing of Sven Ulreich on a 3-year-contract. Stuttgart's No. 1 keeper is set to replace Pepe Reina as Neuer's back-up, who is heading back to Italy. 26-year-old: "I look really forward to the team and all the new things that are coming up to me. I want to be part of the success and will be there whenever I'll be needed." 
9.20am: These guys are very fast! According to Stuttgarter Nachrichten, 28-year-old keeper Przemysław Tytoń from PSV Eindhoven is set to join VfB Stuttgart. The 13-times Polish international was on loan at Spanish side FC Elche last season and made 32 appearances with seven clean sheets in there. 
9.00am: Some interesting quotes from Julian Weigl, who is moving from 1860 Munich to Borussia Dortmund, in an interview with goal.com that was published today: "It has always been a dream for me to play in the Bundesliga. I thought, now is the time to venture a new step a show my qualities on the highest level. I held very good talks with Thomas Tuchel. [...] It's a honour to train with him. I can also learn a lot from the players. The project they showed convinced me. BVB are an awesome club as well, of course." The 19-year-old also tells that he was in the Signal Iduna Park once back in 2010 and had goose bumps. Weigl also spoke about his position in the team: "I see myself in the squad as a challenger to the others. I'll try adapt to the the tempo and the style of play as fast as I can to get used as quickly as possible and become an option sooner or later." 
8.35am: BREAKING: VfB Stuttgart keeper Sven Ulreich is very close to join Bayern Munich. He has already completed his medical yesterday, Sky Sport News HD reports. Ulreich, who plays for Stuttgart since joining from Schornbach back in 1998, has a contract until 2017, so Bayern will have to pay a cut-price fee of €3.5m to sign the 26-year-old. The former German U21 international was No. 1 keeper at VfB last season and will now replace Pepe Reina as Neuer's back up as the Spanish keeper is reportedly heading back to Napoli. The 3-year-deal is expected to be confirmed just today.
8.00am: Sebastian Jung can imagine to leave Wolfsburg, but not this summer. 24-year-old right-back told Wolfsburger Nachrichten: "I didn't came here last summer to leave the club after only one year. I want to struggle my way through the disease. But if I'm benched for another half a year, it remains to be seen whether something will happen." Jung, who only made seven appearances in last season's second leg, was strongly linked with a return move to Eintracht Frankfurt. 
7.51am: According to Sky Sport News HD, VfB Stuttgart centre-back Antonio Rüdiger is getting closer to leave the Swabians this summer. After rumours linking him with a move to VfL Wolfsburg, where he could earn €4m salary a year, or Inter Milan, now Bayer Leverkusen and French side AS Monaco have joined the race for the 22-year-old. 
7.48am: Austrian U21 international Dominik Wydra is still a target for Karlsruher SC, who failed to get promoted to the Bundesliga after the play-offs against Hamburg. Sporting director Jens Todt talked to ka-news.de and confirmed the club's interest in the defensive midfielder from Rapid Wien: "Basically, Dominik Wydra is an interesting player for us. It's not sure that he'll be a concrete target this summer." Wydra is set to leave Austrian Bundesliga after he had to play for Rapid's U23 team at the end of the season.
7.40am: 1860 munich's homegrown player Christopher Schindler is linked with a move to a stronger Bundesliga side. After reports about interest from Mainz 05 yesterday, now Hamburger SV are joining the race for the 25-year-old centre-back, according to Bild. The former German U21 international was one of the best players at 1860 last season, so they want to keep him of course. "A sale of 'Schinz' is out of question. He's a very important cornerstone for us", sporting director Poschner told tz. Schindler only has one year on his contract left.
7.25am: New face at promoted Arminia Bielefeld: According to liga-zwei.de, Pole Dawid Szymonowicz has been seen at the East Westphalians' training yesterday. The 19-year-old, who can play as a defensive midfielder and as a centre-back, was on a trial session and could join from Polish side Stomil Olsztyn as a free agents soon. Szymonowicz made 25 appearances in Polish 1 Liga last season scoring two goals. Bielefeld are still looking for a new right-back, centre-back and forward. 
7.19am: Dutch media outlet Algemeen Dagblad are also reporting that Hertha BSC centre-back Johnny Heitinga is very close to join AFC Ajax on a free transfer this summer. "Negotiations are ongoing in a positive way", the 31-year-old's agent confirmed. After discussions about the term of contract, 2010 World Cup finalist will probably sign a 1-year-contract with option for another year.
7.00am: Eintracht Frankfurt keeper Kevin Trapp ermerges as a target for French champions Paris Saint-Germain, according to Bild. The 24-year-old has recently extended his contract and earns the club's record-breaking salary of €3m, but Frankfurt don't play Europa League next season and the former U21 German international has a release clause for foreign clubs. Now, the Champions League quarter-finalists could make a bid of €9m - money which Bruno Hübner could use to sign new strikers.
Hannover 96 are keeping an eye on St. Pauli's left back Marcel Halstenberg, chairman Martin Kind confirms. 23-year-old is mainly a target for head coach Michael Frontzeck, but the Lower Saxony side only want to pay a fee of €0.6m, St. Pauli reportedly demand €1m. Halstenberg left Hannover to join Borussia Dortmund back in 2011. 
Contrary to reports from Spain and England, Joselu's move to Stoke City is not a done deal yet. Martin Kind: "There are a lot of factors. I can't value the situation at the moment. It's too early." According to yesterday's reports, Stoke will pay a fee of €10m. Martin Kind: "We want to take in more than we paid." The Spanish striker, who was born at Stuttgart, joined from Hoffenheim for a fee of €5m last summer.
Barcelona centre-back Marc Bartra (24) is - contrary to reports from Spain yesterday - not a target for Bayern Munich, although he is available for €12m after his release clause dropped from €30m.
Thomas Tuchel doesn't rule out that Roman Weidenfeller will leave Borussia Dortmund this summer after signing Roman Bürki from Freiburg. Michael Zorc expects a solution soon: "Roman still has a contract and we're working together in a dialogue." 34-year-old German international signed a contract until 2016 and is a said to be a target for Fiorentina and Besiktas.
Hoffenheim forward Anthony Modeste is on Frankfurt's hit-list this summer. Eintracht sporting director Bruno Hübner said sardonically: "Whenever we call Hoffenheim, like in the winter due to Vestergaard, they seem to get pimples. Suddenly, the players are twice as expensive." French striker Modeste, who joined TSG from Girondins Bordeaux 2013, is also said to be a target for Cologne, who are looking for an Ujah replacement.
Stoke City have signed Spanish striker Joselu from Hannover 96 for a fee of €8m plus €2m add-ons. 25-year-old forward flew into England on Monday and will complete his medical today. Joselu will be the most expensive player in the Lower Saxon's history ahead of Jan Simak to Leverkusen in 2002. 
Hertha BSC's and formerly Everton and Fulham defender Johnny Heitinga (31) is set to join AFC Ajax on a free transfer this week. Ajax' sporting director Marc Overmars and the Dutch player's agent Rob Jansen found an agreement on a 2-year-deal on Saturday.
Despite rumours linking him with a move to a foreign country, Cologne centre-back Miso Brecko will remain at the cathredal city. His agent Karl Herzog confirmed: "Miso wants to stay at Cologne - and Cologne want to keep Miso." Brecko didn't breath the wish to leave the club, sporting director Jörg Schmadtke revealed. The Slovenian international lost his permanent place to Pawel Olkowski last season, but still has a contract that expires in 2016.
Werder Bremen want to use their cooperation with Juventus to sign 18-year-old defensive midfielder Andrés Tello. The Colombian is on loan from Envigado FC and made 7 appearances for Juventus Primavera in the second half of the campaign, but the Italians plan to use their €1m option to buy him and lend him out. Beside Werder, two other Bundesliga teams are keeping an eye on Tello.
Fortuna Düsseldorf are looking for a boost for their defence, with Lasse Sobiech emerging as a target for the 2. Bundesliga side. The 24-year-old centre-back, who was on loan at St. Pauli last season and helped the Hamburg club staying in the league, has a contract until 2016, but HSV have signaled their interest in selling him this summer. Fortuna's new sporting director Azzouzi already signed him as St. Pauli manager last summer.
We'll have a day packed full of transfer news as Joselu is linked with a move to the Britannia Stadium, Johnny Heitinga returns to the Netherlands, former HSV player Rafael van der Vaart is being presented at Real Betis and much more.
Hello and welcome to VAVEL's live ticker of all the transfer rumours, contract extensions and done deals today. My name is Henning Hinkers and I'll be your host today, guiding you through today's Bundesliga transfer market. Our live coverage starts at 8am and will finish at 11pm tonight.