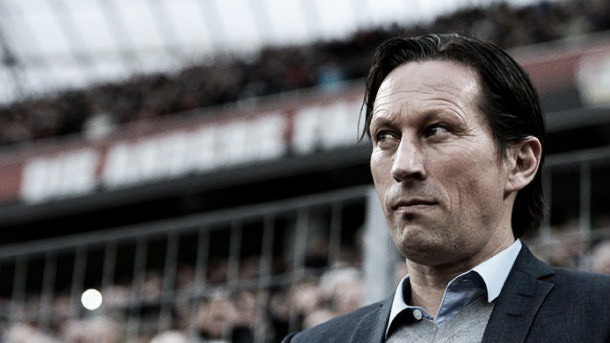 Football is a funny old game, isn't it? Before the start of the 2015-16 Bundesliga season, many thought that this could be the campaign in which Bayer Leverkusen would distinguish themselves, and even legitimately compete with Borussia Dortmund and VfL Wolfsburg as the best of the rest behind the juggernaut that is Bayern Munich.
But those thoughts have quickly started to fade away, as we come to the realization that it is just back to same old, same old. A tactically unique thinker as coach, a supremely talented squad and opportunity to shine are all there, but Die Werkself have massively underperformed.
What is the problem?
It's quite a disappointing situation, considering the amount of quality there is available in the squad. Karim Bellarabi and Hakan Calhanoglu are capable of changing games in an instant, with the former boasting blistering pace and a directness that few opponents can cope with when he is on his game, and the latter needing no introduction with his set-piece prowess and playmaking abilities.
Add to that the summer arrivals of Kevin Kampl from BVB as well as former Manchester United striker Javier Hernandez and the return of Christoph Kramer from his hugely successful loan spell at Borussia Mönchengladbach, and you already have the type of players who can distinguish a team from its rivals. Not even to mention the incredible young talents, yet to fully reach their potential, who ply their trade at the BayArena.
Julian Brandt has the ability to be one of the best players the club has had, while Tin Jedvaj and Jonathan Tah could blossom into a formidable centre-back partnership. Benjamin Henrichs is also a name that should be remembered, with the 18-year-old midfielder having already made a few appearances off the bench for the senior team.
Die Werkself are a high-octane, furious pressing side that believes in defending from the front. However, if the team's pressing structure is only marginally off it leaves gaping holes that can be ruthlessly exposed
But sitting in eighth place on the table after fifteen games, Leverkusen have hemorrhaged goals and find themselves with a negative goal-difference, conceding at a rate higher than a goal per game. With Jedvaj injured, Tah has been called upon often to start and subsequently looks, expectedly, like a 19-year-old still finding his feet. This hasn't helped the defence at all, especially considering that Schmidt's system places a lot of stress on the back four.
Die Werkself are a high-octane, furious pressing side that believes in defending from the front. However, if the team's pressing structure is only marginally off it leaves gaping holes larger than the Grand Canyon for opposing teams to expose. And that is exactly what has become something of a recurring theme throughout this season, as the defending at times fell into a complete shambles.
No game illustrated this more than the crazy 4-4 draw with Italian side AS Roma in the Champions League group-stages, where Leverkusen showed us how devastatingly good they can be in attack, only to throw it all away with awful and panicked defending.
Tellingly, the very next game Die Werkself only just managed to beat struggling VfB Stuttgart 4-3, once again showing the frustrating nature of their season so far. What makes matters worse is the fact that basic errors when balls are played into the box have also resulted in a number of highly preventable goals.

Can they turn things around?
This is easily a top four side, but inconsistency as a result of failing to build from a solid foundation does lay some of the blame at the feet of Schmidt. Wouldn't it be more constructive to play a slightly more cautious game tactically? This by no ways means asking Schmidt to give up his uniquely maverick style completely, but only temper it slightly in order to ease the pressure at the back.
An injury to club captain and midfield anchor Lars Bender hasn't helped at all, though, and the retirement of Simon Rolfes has left a huge void in terms of leadership. But with the dramatic recent drop-off in form shown by Calhanoglu, among others, in attack just once more serves to show how being able to fall back upon a solid structure can help a team in a dip ride the storm with minimal damage. That, unfortunately, is exactly what Leverkusen lack at the moment.
The one bright spot through all the struggles has been summer arrival Chicharito Hernandez. The Mexican striker has been greeted with much fanfare – The Bundesliga's official website even has its own page dedicated to Hernandez in order to feed off his popularity in his native country.
However, he has certainly justified the hype, scoring 11 goals in his last 10 games. Chicharito seems to be perfectly suited to the style of the German game, and Leverkusen finally have a striker who can take the torch from the ageing Stefan Kießling of leading the line. If Die Werkself can get through the Hinrunde relatively unscathed from this point on, the stage is set for a second-half revival domestically with Bender and Jedvaj set to return in 2016.
Things have been no better in Europe
But the damage has already been done in Europe, with a draw and a loss to AS Roma as well as a disappointing draw against BATE leaving them on the verge of exiting the Champions League. It all started so well with that superb performance against Barcelona at the Nou Camp which saw Die Werkself coming close to a shock win, but the sadly typical 'Neverkusen' mentality seems to have taken over.
This was ideally illustrated in their do or die clash with the Blaugrana at the BayArena in the closing round of the group stages. Needing a win against Barcelona to progress to the Round of 16, Die Werkself were done a massive favor by group minnows BATE, who managed to hold AS Roma to a scoreless draw at home. However, despite playing against a largely second-string Barcelona team and creating a host of clear goalscoring opportunities, they only managed to draw.
"I'm shocked that we did not win this game. The fact that BATE drew in Rome makes it a tragedy for us" - Manager Roger Schmidt after the 1-1 draw with Barcelona
Once again, it was not another team beating Leverkusen, but Levekusen beating themselves through incredible wastefulness - Subsequently dumping them into the Europa League. "I'm shocked that we did not win this game. The fact that BATE drew in Rome makes it a tragedy for us", manager Schmidt stated after the game, perhaps finally fully realizing what he is up against in trying to change Die Werkself from serial losers into the force they can be.
This team absolutely has what it takes to trouble even the best teams, as we saw against Barcelona in this season's Champions League group stage and last year as Atletico Madrid were nearly seen off for a place in the quarter-finals and numerous top Bundesliga sides, including Bayern, were slain. But their inability to knuckle down and grind out results is what holds them back. Has there ever been a club with so many near misses in Germany?
Recounting all of them isn't necessary, for we know the story all the way from that fatal Michael Ballack own goal against Unterhaching in 1999-00 through the late title collapse in 2002 to that shocking penalty shoot-out debacle in the aforementioned game against Atletico in the previous campaign. Rudi Völler, Leverkusen's Sporting Director, has made it clear that his goal is to get back to what he perceives as their rightful position just behind Bayern and Dortmund.
"Players who were very dominant last year do not have the shape or quality at the moment that they had last year. We have to get there again" - Bayer Leverkusen Sporting Director Rudi Völler
Even criticising Calhanoglu and Bellarabi openly, claiming both "can play better" while stating "players who were very dominant last year do not have the shape or quality at the moment that they had last year. We have to get there again". That statement serves to sum everything up perfectly - The players simply have not kicked on. In a sense, Schmidt's biggest battle of his career is not necessarily against the opponents, but against the very club he manages and an unfortunate ingrained mental fragility.
While Völler himself insists that Schmidt's job is safe, there will certainly be questions asked if Leverkusen's league position doesn't improve. With BVB and 'Gladbach in good form and Wolfsburg always there and there abouts, the possibility of missing out on the top four is very real. A very interesting period lies ahead, but the question is whether Die Werkself will rise to the challenge or fall into old habits.