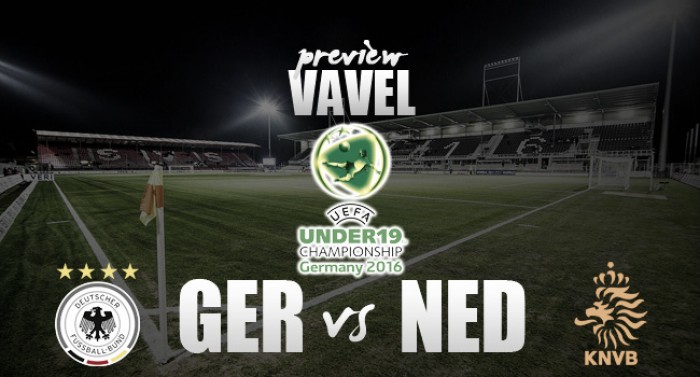 It's a clash of two footballing giants on Thursday evening, as Germany take on the Netherlands for a place in the 2017 FIFA under-20 World Cup in South Korea.
Both sides have three points from their group stage games, but it was a totally different story as to how both ended up with just one win.
They met as recently as last year's finals in Greece, where Gianluca Rizzo's 89th-minute winner proved the difference. Will it be drama again in Sandhausen?
Germany hit form at the right time
Despite showing their attacking prowess against Portugal, this was a much more complete performance from the Germans. Austria were looking to make it through to the semi-finals, with a win essentially booking their spot in the final four unless the mathematics worked against them and they were put out after drawing lots.
Their neighbours had drawn against Italy and Portugal - who had both edged out Germany - and there was reason to believe this would be another tough game. After both sides stuttered and spluttered in the first half, Jannes Kilian Horn turned on the style. His crossing sent Austria into a spin, and gave Germany a 3-0 win.
Horn, who had replaced Maximilian Mittelstädt, showed just why he has been likened to Ricardo Rodriguez - and not just because they play for the same club - as he set up Phil Neumann, Cedric Teuchert and Gökhan Gül. Amanda Conde also put in a fine shift, as Guido Streichsbier's quintet of changes paid dividends.
Streichsbier will, however, be without RB Leipzig's Gino Fechner for the game after he picked up a late yellow card against Austria. It looks likely that Germany will switch to the 4-4-2 diamond formation that proved so effective in the second half on Sunday, with Suat Serdar seems set to take Fechner's spot and push Benjamin Henrichs further back.
Nouri hoping to shine once more
Aron Winter's men began the tournament in fine fashion - and arguably the most convincing - as they dispatched Croatia 3-1, even with 10 men. However, since then, it has been fairly forgettable. Sam Lammers had given the Dutch an early lead against England, but for Dominic Solanke and a last-minute Izzy Brown winner to break their hearts.
If that had knocked their confidence, the following five-one defeat to France tore it to shreds. Kylian Mbappé and Jean-Kévin Augustin shared the goals between them, with the latter grabbing a hat-trick, as the early promise they had showed against Croatia and England suddenly blown away. Can they bounce back against the Germans?
The main Dutch threat comes from Steven Bergwijn and captain, Abdelhak Nouri. The latter had the spotlight thrusted upon him following a stunning performance in the opening game but the team as a whole have been unable to replicate that form. Bergwijn's pace and power from the wings will provide real concern to the German defence.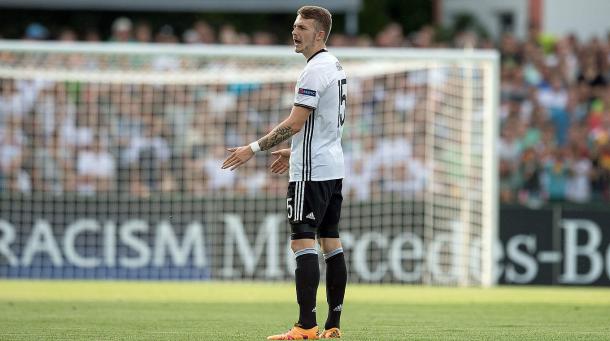 What they're saying
Jannes Horn began by explaining how that win over Austria had lifted spirits and moods, "Since the victory we are feeling a lot better."
He continued, "We have put ourselves in a position where we have the chance to win a playoff, and we can definitely build on that performance."
The youngster admitted he was hoping to turn things around at the break, saying he "played well defensively" but felt "there was room for improvement" in terms of attacking.
Unlike Henrichs before the Austria tussle, Horn believes there will be no rivalry on Thursday: "It will be a hotly-contested game, but there is nothing more than that involved."
Finally, they left-back thanked the for their "exceptional" support, adding that they have "really enjoyed playing in front of such great crowds".
Predicted line-ups
Germany under-19: (4-1-2-1-2) Müller; Neumann, Gül, Gimber, Horn; Henrichs; Conde, Serdar; Ochs; Serra, Teuchert.
Netherlands under-19: (4-3-3) Van Osch; Zeefuik, Rosario, Ter Avest, Verdonk; Schuurman, Duarte, Nouri; Bergwijn, Lammers, Paal.
Quotes via DFB.de