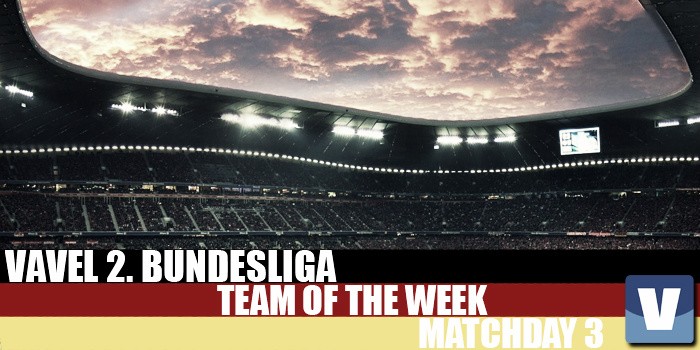 After the drama in the DFB-Pokal last weekend, league play resumed this weekend and there were a few raised eyebrows at several scorelines.
Würzburger Kickers picked up their first 2. Bundesliga win in 38 years, while VfB Stuttgart got back to winning ways and VfL Bochum drew with Hannover 96. Saturday saw two contrasting games in the heat, with 1860 Munich and Karlsruher SC drawing blanks. On the other hand, SpVgg Greuther Fürth and Erzgebirge Aue enjoyed a five-goal thriller.
Sunday brought goals - aside from Dynamo Dresden and St. Pauli's game - as Arminia Bielefeld and 1. FC Union Berlin shared eight goals and Eintracht Braunschweig battered 1. FC Nürnberg. Monday finished the week off another nil-nil, with 1. FC Kaiserslautern and Fortuna Düsseldorf failing to make chances count.
Goalkeeper and defence
GK - Manuel Riemann (VfL Bochum/1) - Even though he didn't keep a clean sheet, the efforts of Riemann saw Bochum capture a point against Hannover. The VfL stopper made a stunning save from Kenan Karaman and others after the visitors equalised, in what was another impressive showing from the 27-year-old.
RB - Khaled Narey (SpVgg Greuther Fürth/1) - There's a reoccurring theme in these defenders, with only one of the five keeping clean sheets. However, none of the two goals conceded by the Shamrocks could be pinned on Narey. Instead, his superb crossing set up the second and winning goals for his side.
CB - Salif Sané (Hannover 96/1) - As was said by many on Friday evening, Sané is far beyond any defender in the division. He is a man mountain and fantastic on the ball, as well as being able to pop up with the odd goal. He did just that against Bochum, just moments after his side had conceded; a true leader.
CB - Saulo Decarli (Eintracht Braunschweig/1) - To his credit, Decarli recovered after a fairly rocky first-half to snuff out everything and anything 1. FC Nürnberg had to offer on Sunday. His cause was also aided by a brace, including a very well-taken second goal from outside the box.
CB - Kevin Akpoguma (Fortuna Düsseldorf/2) - Whilst Fortuna's attackers flattered to deceive in a game they could, and should, have won, Akpoguma was excellent at the back as he helped his side to a clean sheet. He shone in the first half especially, with a number of vital headers, tackles and interceptions preventing the hosts from picking up their first win of the season.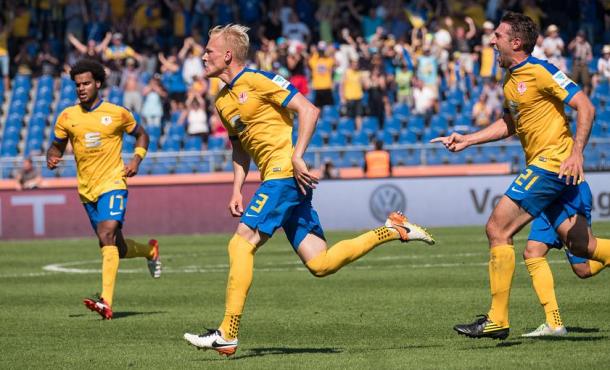 Midfield and attack
RM - Christoph Hemlein (Arminia Bielefeld/1) - After a solid season last year, it looks like the Hemlein that was a force to be reckoned with in the 3. Liga could return. The winger was a handful for Kristian Pedersen and set up two goals with superb crosses into the box. Bielefeld are still waiting on a win, but Hemlein's form will keep fans happy.
CM - Rico Benatelli (Würzburger Kickers/1) - It's been 38 years since Würzburg won in the 2. Bundesliga, and it was the 24-year-old who ended that long wait against 1. FC Heidenheim, popping up in the final few minutes to convert David Pisot's pass and earn a 2-1 victory for his side.
AM - Nik Omladic (Eintracht Braunschweig/2) - After being played centrally for the majority of last term, Omladic is back on the wing and pulling the strings. Much like his partner in crime who also made the shortlist, he was a threat all afternoon in the 6-1 win and managed a goal and assist of his own.
CM - Andreas Lambertz (Dynamo Dresden/1) - 'Lumpi' is something of a Fortuna legend from his thirteen years there, and he's working his way into Dresden folklore too. Having been a key part of their promotion-winning side last season, his goal against FC St. Pauli early on in Sunday's match earned them their first win back in the second tier.
LM - Salim Khelifi (Eintracht Braunschweig/2) - Khelifi was much like Omladic, in the sense that Nürnberg simply couldn't handle him. He managed one assist but was arguably more influential than Omladic, creating havoc with his dribbling and almost sliding in his fellow attackers at will.
CF - Steven Skrzybski (1. FC Union Berlin/1) - Despite playing out wide, on either wing, Skrzybski often found himself in the middle and made the most of his two real shooting opportunities. The first was a fine shot across a goal, and the second saw him lob Wolfgang Hesl to cap off a fine day all-round.