 18:04. I'll be back soon - stay tuned for the match report, and much more to come on VAVEL as the football never stops!
18:03. I've been Sam Straw, and I hope you enjoyed this evening's events in the Confederations Cup.
18:02. There are still plenty of different situations to settle in Group A, dilemmas for managers to ponder, and decisions to make as the four teams look to try and secure a place in the semi-finals of the competition.
17:58. Portugal now find themselves top of Group A with four points with Russia still just behind them on three points. However, if Mexico are able to beat New Zealand later this evening then they can go top of the group, but only if they win by more than one goal.
17:57. As for hosts Russia, their position in the competition now looks under huge threat. They face Mexico in their final group game at the weekend and another defeat could see them exit the tournament. Certainly if they start that game as negatively as they did this one, I would not rate their chances of progressing any further.
17:55. A huge result for Portugal. They now have one foot firmly in the semi-finals with a game against New Zealand coming up in their final group game at the weekend. Santos' side should have too much for New Zealand and another three points there would seal their place in the next stage of the competition.
FULL-TIME: RUSSIA 0-1 PORTUGAL
90+4' Smolov again finds himself with some space and takes a shot from distance which goes just wide of the target.
90+3' Smolov finds himself in a wide position. His cross is a poor one and is easily held by Rui Patricio.
90+2' HUGE CHANCE! Russia win themselves a corner but Jikia cannot keep his header down. A great chance for Russia to grab a late equaliser and that could be that.
90' Four minutes of added time here...
89' PENALTY SHOUT! Smolov goes down in the area and appeals for a penalty. Not given. Referee appears to try and use the video replay feature which is being used in this tournament but to no avail.
88' Bernardo Silva whips in a free-kick but it is easily dealt with by the Russian defence. Portugal just looking to waste time and see this one out now.
85' Portugal now look like they are going to see this game out relatively comfortably here in Moscow. Guaranteed to be an equaliser from Russia now I have said that.
82' Oh I see the famous 'kiss cam' is back at this tournament. No wonder there are so many empty seats...
81' Russia now have a decent amount of possession but are struggling to really get anywhere with it. They need to find a way of penetrating that Portugal defence soon as there is less than 10 minutes remaining in this one.
77' Portugal make their second change of the game as Silva comes off and is replaced by Gelson Martins. Martins' lethal pace will provide Ronaldo decent support on the counter attack for Portugal. A much needed freshening up as they look to hang on for a vital three points.
74' Silva finds himself with a considerable amount of space in the Russian penalty area. However, his shot is deflected off the defender and held by Akinfeev. If he had been a bit quicker getting his shot away there, then it may well have been a more positive outcome.
73' Poloz does well down the right-hand side as he beats several Portugal defenders. However, his cross is aimless and is easily dealt with.
72' Samedov whips in a free-kick for Russia but William Carvalhal does well as he heads clear. Portugal hanging on here with even the likes of Bernardo Silva having to be switched on defensively.
68' Another change for Russia here. Dmitry Kombarov comes off and Dimtry Poloz comes on as his replacement. Smolov now has a partner for the remainding 20 minutes of the game. A partnership that worked so effectively in their last game against New Zealand. Can they now expose Portugal's defence?
67' The game has opened up massively here. Russia have come out more attacking and this is giving Portugal's attackers more space to cause some damage. Bernardo Silva just had a shot from the edge of the area but it was comfortably caught by Akinfeev.
65' Ronaldo attacks the Russia defence at pace on the counter before playing Bernardo Silva. Silva quickly plays it back to Ronaldo on the edge of the area but his shot goes way over the target. That was certainly a chance by his standards, shown by his frustrated reaction.
63' HUGE MISS! Andre Gomes does well down the right-hand side in a tight area before chipping the ball back into Ronaldo who could not keep his header on target. It was a huge opportunity and it looks like Ronaldo may have been distracted by the man Russia had back on the line.
61' CHANCE! It is Samedov who creates a great chance for the hosts this time round. He is the main natural winger on the pitch for Russia and he chipped in a delightful cross into the area and Smolov is inches away from making contact. If he does, he levels the score. Portugal have got to be careful here as Russia are now creating some good chances.
59' GOOD EFFORT! Cedric has been one of the standout players for Portugal so far. He decided to try his luck from range and it was a good effort as he forced Akinfeev into making a save.
58' Samedov decides to shoot from 40 yards and it comes to nothing. Waste. This then results in a lightning counter attack from Portugal and Silva almost grabs his side a second with a header which was well saved.
57' A free-kick to Russia and maybe a chance to create something here.
55' Guerreiro just had a nervy moment for Portugal. He deals with a cross into the Portugal area by mishitting the ball over his own crossbar with his weaker left foot. It wasn't too far away and Rui Patricio certainly wasn't taking any chances. A warning to Portugal that the score still is only 1-0...
53' A nice turn from Gomes results in him playing Silva in down the right-hand side but his cross is blocked. Silva certainly looks a decent player following his big money move to AC Milan this summer.
50' GREAT SAVE! Cedric puts a superb whipped cross into the area and Silva's header is kept out by a wonderful save by Akinfeev. It could have so easily been 2-0 Portugal.
47' That change has seen Russia revert back to a similar shape to the one which started against New Zealand at the weekend. However, there is still no partner for Smolov upfront. Can this change help Russia get into Portugal's half and create some chances? We'll soon find out.
46' We are back underway in this second-half. Russia have decided to make a change with Aleksandr Erokhin coming on in place of Roman Shishkin.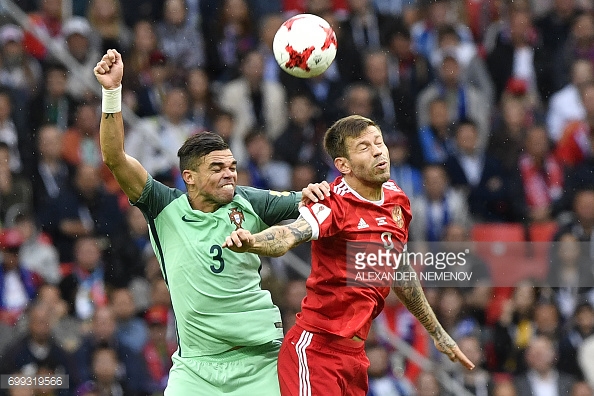 16:56. We are now moments from getting back underway with the second-half. It will be interesting to see if the hosts have taken my advice on going more attacking for the remainder of the game...
16:55. Got to admit this is not the best advert for next year's World Cup. Poor crowds, poor atmosphere and poor football on show from the Russian national team. Let's hope they rediscover their interest for football in the next year. If not, there isn't a lot to get excited about ahead of next year.
16:52. The fact that Russia are playing five at the back and still look wide open defensively is quite impressive. Up there with one of the worst attempts of 'parking the bus' I have ever seen. Due to them still looking so fragile defensively, surely they may aswell go more attacking? Please?
16:50. I would be incredibly surprised if Russia come out for the second half with the same set-up. If they do, then I can only see more of the same in the second-half. They need to stick someone upfront with Smolov as when he gets the ball, he looks like he may be able to cause some damage. However, the more frustrated he becomes, the deeper he will go in search of the ball and the chances of him finding the back of the net will decrease.
16:48. Got to admit I have been disappointed with Russia's set-up so far in this one. This was a game which was seen as being a potentially exciting match-up for the crowd in Moscow to enjoy. However, the incredibly defensive set-up from the Russians has not made it much of a spectacle thus far. The likes of Bernardo Silva and Cristiano Ronaldo have had all the time in the world to create chances at will. The early goal of course helped with this, as it has put the pressure onto the hosts to get back into the game.
HALF-TIME: RUSSIA 0-1 PORTUGAL
45' Ronaldo tries his luck from range but his shot goes way wide of the target. He then subsequently apologises to his teammates.
43' It is no surprise that Golovin is being linked with a move to the Premier League with Arsene Wenger said to be interested in bringing him to Arsenal. He has been Russia's best player so far here today.
41' CHANCE for Russia! It is Golovin again who has just set up Russia's best opportunity of the game so far. He found himself in space down the right-hand side before playing a ball across to Smolov. However, Smolov made a mess of it as he scewed a shot wide of the target. A big chance for the Russians and one they may regret not taking as they have had limited chances so far.
40' Ronaldo sees his shot deflected behind for a corner. Silva's corner is aimed towards Pepe but it comes to nothing as Russia managed to clear with Zhirkov breaking forward.
36' Smolov again finds himself outnumbered by the Portugal defence as the ball is played forward to him. He needs some support if Russia are to find a way back into this game. At the moment, it is too easy for Portugal who are cruising in Moscow.
32' Ronaldo comes close to grabbing his second goal of the game. He dances around Russia's defence before forcing Akinfeev into a good low save. Cedric then floats in a cross but Russia's defence manage to scramble it away.
30' Russia need to change something here if they are to get back into this game. Smolov finding himself incredibly isolated upfront by himself.
27' Southampton full-back Cedric on the attack down the right-hand side for Portugal and wins a corner for his side as they continue to look for a second goal.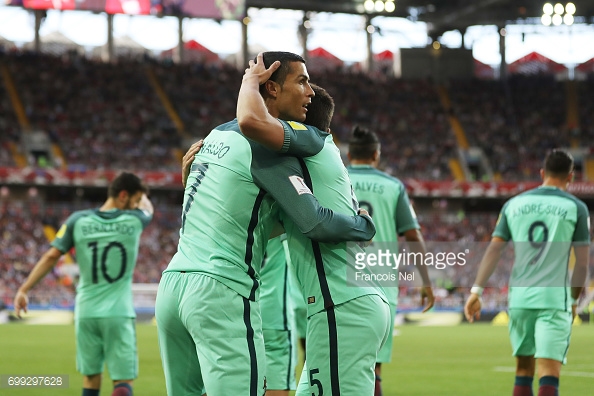 26' Ronaldo's free-kick is a poor one by his standards. It bobbles through several players before being comfortably held by Akinfeev.
25' Ronaldo now lining up a free-kick in shooting distance, can he grab a second goal?
22' Zhirkov finds some space in the middle of the park before playing Golovin down the right. However, he is crowded out and Portugal deal with it.
20' The game has gone relatively quiet after a blistering start. Portugal just looking to settle things down after that initial response from Russia to them falling behind.
16' Not the start the hosts would've wanted. However, that early goal should help this game as a spectacle. Russia have responded well and have just won themselves a corner.
13' Well it didn't take long for Ronaldo to get himself on the scoresheet. He found himself unmarked to head in a superb cross from the left-hand side to make it 1-0 to Portugal. Akinfeev had no chance in the Russia goal as Ronaldo's header was past him before he even had time to react. Ronaldo clearly isn't affected by all the transfer speculation is he?
8' GOALLLLL! 1-0 PORTUGAL! And it's that man Cristiano Ronaldo!
7' Russia put pressure on the Portugal defence for this first time down the right-hand side but it comes to nothing.
5' Pepe theatrically goes down as he wins what I think will be the first of many free-kicks this afternoon. Don't get me started on that.
3' Ronaldo gets his first touch of the ball early on. However, despite being in a decent position, he fails to get a shot away and ends up losing possession.
1' We are now underway in this one. Let's pray for some entertaining action this afternoon.
15:57. We are now moments away from kick-off as the players have just finished belting out their national anthems. Will Cristiano Ronaldo make the headlines again in this one?
15:53. The role of André Silva is likely to be very important in today's game. Cristiano Ronaldo looks like he will be playing as an out and out striker. So it will be down to Silva to create space and opportunities for Portugal's main man to find the back of the net. This is unlikely to be easy against Russia who will put plenty of men behind the ball. However, we will soon find out how they will get on with kick-off now just five minutes away...
15:49. As mentioned earlier, Russia's goalkeeper and captain Akinfeev will earn his 100th cap for his national side this afternoon. However, so will Portugal's 30-year-old midfielder Moutinho if he manages to come on off the bench later on in the game. It is certainly an impressive achievement for both players and adds extra interest to this game.
15:43. We are just over 15 minutes away from kick-off in Moscow. A win for Russia today would seem them progress through the group stages of the competition and into the semi-finals. However, this still appears a very tough task especially with the likes of Bernardo Silva and Cristiano Ronaldo in Portugal's starting line-up.
Russia have played Portugal in Moscow three times in the past. Two of these games have ended in wins for the hosts and they have not conceded a goal in any of the previous three meetings. Their most recent meeting came in a 2014 FIFA World Cup qualifier for the tournament in Brazil which ended 1-0 to Russia. Portugal will certainly be hoping to improve on this record today as they look to progress further in this competition.
Interesting statistic to point out before kick-off is that both Gomes and Adrien picked up a yellow card in Portugal's last match against Mexico. If they pick up another one today then they will have to serve a one-match suspension. In comparison, Russia go into this game with none of their players on a yellow card.
15:29. RUSSIA Bench vs Portugal: Gabulov, Guilherme, Smolnikov, Kutepov, Gazinsky, Kambolov, Miranchuk, Erokhin, Tarasov, Poloz, Bukharov, Kanunnikov.
15:27. PORTUGAL Bench vs Russia: José Sá, Beto, Luís Neto, Fonte, Nélson Semedo, Eliseu, Moutinho, Danilo, Pizzi, Nani, Gelson Martins and Quaresma.
Think it is time to look at who could come off the bench this afternoon and make an impact for both sides. Teams are allowed 12 substitutes in this competition. A bit over the top if you ask me...
As expected it is a relatively defensive line-up from Stanislav Cherchesov. Portugal no doubt provide a very different challenge to the one they faced against New Zealand last time out. They need to be far more careful in their approach today and are likely to have less of the ball. From the way they have set up, it looks like the Russians will be happy to soak up the pressure and then try and hit Portugal on the break when they get the opportunity.
As for Russia, they have made three changes to their starting line-up as Georgii Dzhikiia, Roman Shishkin and Kombarov come in for Erokhin, Jikia and Polov. This means that Smolov, who scored in Russia's 2-0 win over New Zealand on Saturday, has retained his place in the starting line-up.
Despite making four changes, it still looks a relatively strong line-up and Portugal are very much being deemed favourites for this afternoon's clash. It will certainly be interesting to see how Manchester City's new signing Bernardo Silva will get on. City spent a whopping £43.5 million to sign the attacker following his superb campaign at AS Monaco last time out. His tricky attacking flare may be too much for Russia's defence to handle this afternoon.
So contrary to my previous thoughts, it turns out Santos has made several changes to freshen up his Portugal team following their 2-2 draw with Mexico at the weekend. Fonte, Quaresma, Moutinho and Nani drop out of the starting line-up as Bruno Alves, Adrien, Bernardo Silva and André Silva come in.
14:52. RUSSIA XI to face Portugal: Akinfeev, Kombarov, Dzhikiia, Vasin, Shishkin, Kudrjasov, Samedov, Glushakov, Golovin, Zhirkov and Smolov.
14:49. PORTUGAL XI to face Russia: Rui Patrício, Soares, Bruno Alves, Pepe, Raphael Guerreiro, Carvalho, André Gomes, Adrien, Bernardo Silva, André Silva and Cristiano Ronaldo.
14:48. We have some early team news in ahead of this clash...
This afternoon's game will hold special meaning to Russia's 31-year-old goalkeeper and captain Akinfeev. It will mark his 100th appearance for the national side since making his debut in 2004. He has been ever-present in the national side and has featured at three UEFA European Championships and the 2014 FIFA World Cup. Domestically, he has played for CSKA Moscow his entire career and has made 369 appearances for the Russian Premier League side since breaking through the youth academy in 2003. During this time, he has kept more clean sheets than any other goalkeeper in Russian football.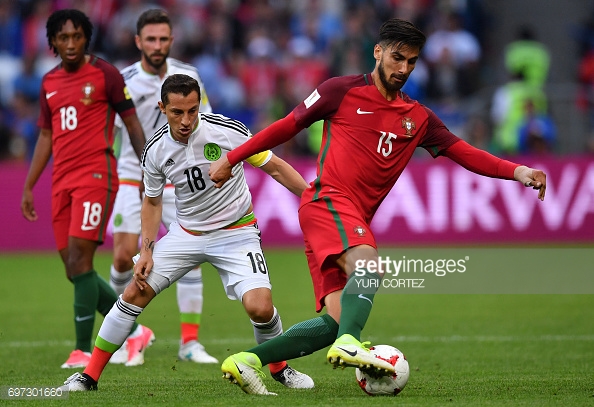 However, Ronaldo is not the only Portuguese international to be linked with a big money move this summer. Barcelona's 23-year-old midfielder Gomes is also being linked with a move away from the Nou Camp. He only joined the Catalans in a £29.3 million deal from Valencia last summer but Manchester United manager Jose Mourinho is said to be interested in securing the services of the midfielder. It is not beyond the realms of possibility that Barcelona may be willing to sell the midfielder this summer considering he only made 17 league starts under Luis Enrique last season and was in fact subbed off in 12 of those. If United offer a fee of around £30 million, then that may be enough to persuade Barcelona to let him go.
It is of course Portugal's main man Ronaldo who is making all the headlines in the media at the moment. He has reportedly made it known to Real Madrid that he wants to leave the club this summer mainly due to the club's lack of support in relation to an alleged tax fraud case. This has already seen him linked with several big names across the footballing globe, most notably Manchester United and Paris Saint Germain. He has had yet another outstanding campaign as he finished with 42 goals in all competitions as he helped Madrid win their first La Liga title since 2012 and their third Champions League title in four years. He also reached a personal landmark as he scored his 600th senior career goal. It remains unclear where he will be playing his football next season but he certainly is not allowing this to affect his performance on the pitch as he looks to captain Portugal to more international glory this summer.
62-year-old manager Fernando Santos has now been manager of Portugal's national side since 2014 and has a relatively settled starting line-up. Against Mexico he went with a starting line-up of Rui Patrício, Soares, Pepe, Jose Fonte, Raphaël Guerreiro, Quaresma, João Moutinho, William Carvalho, André Gomes, Nani and Ronaldo. This includes eight of the eleven players who started in the 1-0 win over France in the Euro 2016 final last summer. The three players who didn't feature against Mexico but were in the starting line-up against France are Renato Sanches, Adrien Silva and João Mário. Silva was on the bench against Mexico whilst Mário has been ruled out through injury and Sanches is taking part in the Under-21 tournament instead. This goes to show that Santos is not one for chopping and changing and it is likely we will see a very similar starting eleven again this afternoon.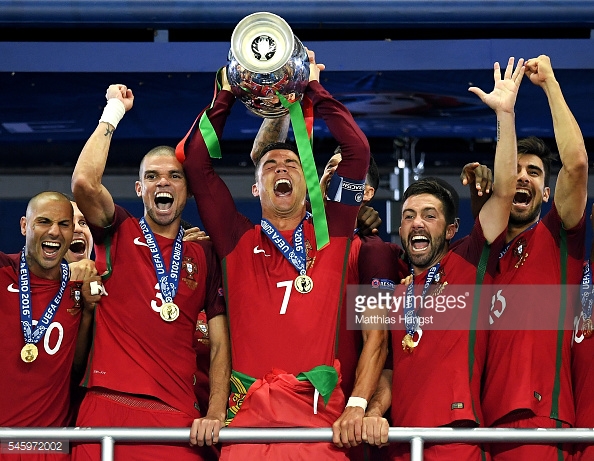 It certainly wasn't the best start for the Euro 2016 champions as they were left frustrated by a last gasp Mexico equaliser in a 2-2 draw in their Group A match on Sunday. Ricardo Quaresma had given Portugal the lead after being set up by Real Madrid's Ronaldo before Javier Hernández equalised shortly before half-time. Portugal will have thought they'd won all three points in the 86th-minute as Southampton full-back Cedric Soares' shot was deflected in. However, it was not to be as Hector Moreno snatched a last gasp winner in the 91st minute to claim Mexico a share of the spoils.
I think it is time to look at Russia's opponents for today's game, don't you? And a certain Cristiano Ronaldo who is certainly a hot topic at the moment...
Followers of English football may remember Zhirkov from his spell with Chelsea in the Premier League. In July 2009, he joined the Blues for a reported fee of £18 million from CSKA Moscow as he made the switch to Stamford Bridge. This actually made Zhirkov the most expensive Russian player of all time, outdoing Andrei Arshavin's £15 million move to Arsenal in January that year. He made 29 appearances overall for the club, winning the league and the FA Cup during his first season. However, in 2011 he decided to move back to Russia and join Anzhi for a fee of around £13 million as he signed a four-year contract.
53-year-old Stanislav Cherchesov is the current manager of Russia and it will be interesting to see how he decides to line his team up against Portugal this afternoon. Against New Zealand he went with a starting line-up of Igor Akinfeev, Aleksandr Samedov, Giorgi Jikia, Viktor Vasin, Fydor Kudryashov, Yuri Zhirkov, Kiril Erokhin, Denis Glushakov, Aleksandr Golovin, Smolov and Dmitry Poloz. Will he opt to change a winning formula this time round?
Russia will be looking at this competition as ideal preparation for next year's World Cup and they got off to the best possible start on Saturday. The hosts kicked off their campaign with a comfortable 2-0 win against New Zealand in Group A in St Petersburg. Michael Boxall's unfortunate first-half own goal gave the Russian's the lead before Fedor Smolov scored from close range in the second-half to make sure of the victory. The striker is currently playing his football for Krasnodar and that was his eighth goal in 22 appearances for the national team.
Shall we take a quick look at how both of these two teams got on in the first round of matches? Oh go on then...
The arena for today's match is the Otkrytiye Arena in Moscow, which boasts a capacity of 45,360 spectators. Aswell as being the home to the Russian national team, it is also the home stadium for FC Spartak Moscow who compete in the Russian Premier League. It is certainly not a bad footballing venue and will be one of the key arenas used in next year's World Cup.
Hello and welcome to VAVEL UK's live minute-by-minute match coverage and commentary. Today, Wednesday 21st June 2017, sees Russia take on Portugal in the Confederations Cup. This afternoon's game kicks off at 16:00 GMT, but until then - we'll have plenty of pre-match build-up and analysis from me, Sam Straw. Make sure you stay following.