 Borrusia Dortmund have announced the signing of Andriy Yarmolenko from Ukranian Premier League giants Dynamo Kyiv. The 27-year-old has joined Peter Bosz's side for a reported fee of €25million, which is certainly a bargain considering the kind of deals that have been happening in this summer transfer window.
The Ukranian goal machine seems to be the natural replacement for the outgoing Ousmane Dembélé who completed his move to Barcelona earlier today, for a fee of £135.5million. Yarmolenko signed a four-year-deal with Dortmund, and he will be wearing the no.9 jersey for Bosz's team.
Yarmolenko thankful to Dynamo for Dortmund move
A threat from wide areas and a comfortable forward in his own right, Yarmolenko has spent his career making his name in Ukranian football, to date. After breaking through the ranks at Dynamo Kyiv's reserve team, he became a fixture in the senior side.
Success at club level was parallel with national recognition as Ukraine came calling for Yarmolenko's talents. He's become a star for Ukraine's team since making his debut, scoring 29 goals in 67 caps for his country. And in 337 appearances for Dynamo, Yarmolenko scored 137 times, an impressive record indeed.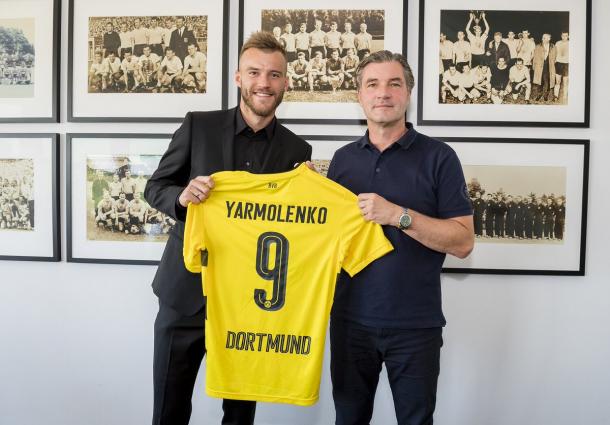 He was full of praise for his former club Dynamo for allowing him to realize his dream of playing for a "big European club" like Dortmund. He spoke about his move and said, "I am very grateful that Dynamo Kiev have fulfilled my dream of being able to switch to a big European club".
The former Dynamo Kyiv player underlined his commitment to working for his new club and said, "I will work hard in every training to help Borussia Dortmund achieve their highest goals - that's what I always do".
Zorc comments on Yarmolenko pursuit
Barcelona's pursuit of Dembélé was the subject of the window, of late. After the Catalan giants finally got their player as a result of their intensive pursuit, it seems that Dortmund had planned to replace him with Yarmolenko once they knew Ernesto Valverde was serious about signing Dembélé.
Dortmund Sports director, Michael Zorc said, " Andriy is a player we have been pursuing for a long time and who is on the top level both at club level and in the service of the Ukrainian national team for football".