After almost two years of largely meaningless friendlies, France inch toward their first major tournament - as hosts of Euro 2016 - since lifting the FIFA World Cup in Paris in 1998.
Eighteen years on from those scenes of jubilation that bathed the Champs Élysées in rouge, blanc et bleu, Les Bleus themselves will look to conjure up the magic that led them and captain Laurent Blanc to lift the Jules Rimet Trophy.
Whereas back then the teamsheet read Thierry Henry, Zinedine Zidane and Patrick Vieira, this particular crop is rather less illustrious, but with strength enough to carry a serious threat.
This year's squad contains the likes of Paul Pogba, Antoine Griezmann and Hugo Lloris however, if France are to win their first trophy in 16 years, their defensive unit will have to perform to the standards of those further up the field. As such, the hopes of Frenchmen and women everywhere - in no small part - rest with Laurent Koscielny. But why?
Koscielny regarded as one of Europe's best
Koscielny has graced the Emirates Stadium for Arsenal for almost six years now. In that time the 30-year-old has amassed 180 appearances for the Gunners and has developed from the timid individual that arrived from Lorient, to an individual regarded as one of the best defenders in Europe.
The Frenchman's responsibilities will likely be tested to the full this summer. Not only will Koscielny have to maintain his lot, but at times will have to compensate for a defensive unit that has left a lot to be desired this term.
Not only that, but with a host of names missing for Didier Deschamps' men this summer, the Gunners' favourite has to form a steady partnership with someone he will have little or no experience with.
As Raphaël Varane, Aymeric Laporte and Kurt Zouma all reside on the lengthy list of absentees for France, and with Jérémy Mathieu now joining the list of those to miss out through injury, Koscielny's partner in the heart of defence is up for grabs.
Rami should get nod for France
With Mahmadou Sakho omitted from Deschamps' squad also as he waits for a potential lengthy ban for a positive drugs test, France's remaining options are Manchester City's Eliaquim Mangala, Olympique Lyonnais man Samuel Umtiti and Valencia CF's Adil Rami; the latter both late call-ups.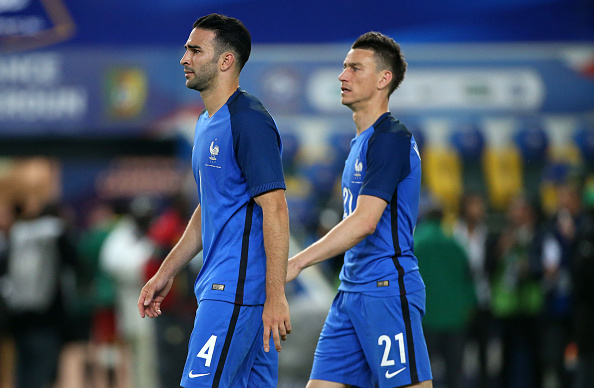 Of the three, the clear favourite would be 26-cap Rami. The Los Che central defender whilst a solid operator however, has not played in the blue of France since 2013, before his recent outing in their most recent friendly against Cameroon on Monday evening. If the partnership does not thrive, Deschamps may look for other alternatives.
That would lie with Mangala. Alas for the French and as documented, Mangala's decision making is rash in the extreme and the 25 year-old will frequently find himself out of position. Throw just the eight caps of the former FC Porto man into the pot and there is a cauldron of anxiety, awaiting the host nation.
Defence potential weak link
The rank outsider for a starting berth will be Lyon's Umtiti. Despite being a consistent fixture in the French youth side moving up to U21 level, Umtiti represents a huge gamble as a yet uncapped player for the senior national squad.
As the more suited left-sided centre back for Arsenal, Koscielny is often out to aid Nacho Monreal at left-back to nip any attacks in the bud. Not only that, but Koscielny is keen to play out from the back and the inclusion of the highly experienced Patrice Evra on the left will help the Arsenal man. Should Lucas Digne get the nod, Deschamps could be faced with an relatively raw defender in a high-press scenario, which may present problems.
Despite the major tournament experience of Koscielny, his teammates in the back line - bar Evra and Bacary Sagna - lack big-game experience for France. The likely ramifications of such contention, might see the defence as the main chink in the French armour this summer.
Les Bleus look to reverse major tournament record
Since the glorious two year period that straddled the millennium, France's major tournament record - except for their 2006 World Cup final loss to the Azzurri on penalties - lies firmly within the realms of ignominy.
In three of their last seven tournaments, Les Bleus have failed to emerge from the group stages. In their other trio, the quarter-finals have been the bench mark via the now customary self-implosions and astrological experimentation, within the camp.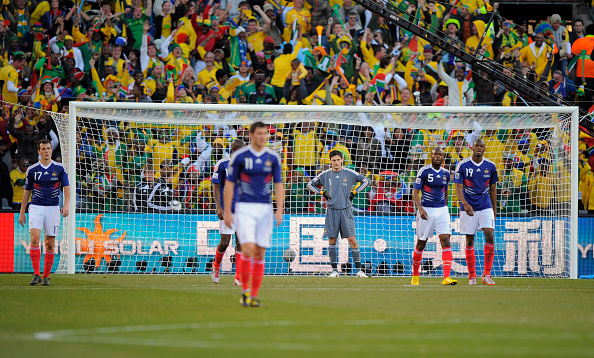 For France to reverse that trend, they will need to live up to their billing as joint favourites with a handful of usual suspects, including former winners Germany, Spain and even England.
Particularly in defence, France have unquestionably been robbed of their ideal starting XI through injury and suspension respectively. Notwithstanding, the potential for this group is huge, but only if the defence can combine so and push on to glory.
Laurent Koscielny's is set to play a pivotal role in that.