England rounded-off their pre-Euro 2016 warm-up friendlies with a 1-0 win over ten-man Portugal.
Chris Smalling headed home the only goal of the contest against a Portuguese side who were without Cristiano Ronaldo and Pepe. The pair being rested following their recent Champions League triumph and head coach, Fernando Santos, went with an experienced line-up.
The Manchester United defender's 86th-minute goal was one of the only highlights of a game that was tedious and lacked tempo. Even with Portugal a man down courtesy of Bruno Alves' shocking head-height challenge on Harry Kane, the Three Lions struggled to break down the resolute two banks of four.
Head coach, Roy Hodgson, will be worried that his side failed to exit first gear throughout the game. The midfield struggling to link up with the front three and it was evident that the front three had never started an international together.
Credit must not be taken away from Santos' side; Jose Fonte continued the good defensive work of Alves following the red card, and Portugal made sure they asked several, often unanswered, questions of the English attack.
4-4-2 diamond failed to make an impact with distinct lack of width
Hodgson opted to use the much tried and tested 4-4-2 with the diamond-shaped midfield, the formation that worked so well in the second half of the famous victory against Germany. However, the lack of width – with both sides playing narrow formations – meant the first 20 minutes of the game were very congested.
The full-backs, Kyle Walker and Danny Rose, failed to get forward as much as Hodgson would have liked, although when Walker did advance up the pitch on one occasion, his cross was met by Wayne Rooney – who headed straight at Rui Patricio. It was one of the only occasions when either side tested the opposition goalkeeper in the opening half-an-hour. The minimal chances that were being created were coming from wide areas, but neither team capitalised in the first-half.
Ironically, England's goal came from a cross. Substitute Raheem Sterling drifted wide after a set piece had been cleared, and deftly chipped the ball into the area, putting the ball on a plate for Smalling to claim his first international goal.
Front three fail to find much needed cohesion
Rooney, Kane and Jamie Vardy made up the front three, but all failed to find space on a pitch that just seemed so crowded, even when Portugal were reduced to ten men. Kane and Vardy, supposedly the two strikers, even had to drift wide on several occasions with Rooney spearheading the attack. Whether this move was planned or instinctive is only the viewer's guess, but it did not work.
Vardy playing out wide offers a potent attacking threat. His tricky movement and speed gets him in behind a high back line with a simple pass between a full-back and a central defender. But the Portugal back line was very deep, much to do with their ageing centre-back pairing and the threat of the Leicester City forward. This, coupled with his inability to find space between the opposition's midfield and defence, coincided with Vardy being almost anonymous. He was later withdrawn for the much more effective Sterling midway through the second half.
Defensively, Vardy is a liability heading back towards his own goal. On one occasion, he was occupying Portuguese right-back, Vierinha, but his rash foul gave the opponents a free-kick from which they were able to test Joe Hart.
Kane could be England's best striker since Alan Shearer if allowed to play up front on his own. But Hodgson's seeming attempt to fit all his best attacking options into one team sacrificed Kane, whose best abilities are limited when having to drift wide in the 4-4-2 variation. The Tottenham Hotspur forward managed just one meaningful attempt at goal from open play, which was held rather comfortably by Patricio.
Kane and Vardy seem like a nice partnership. Both players have had fruitful seasons in the Premier League, topping the scoring charts as first and second-place respectively. Maybe a very positive look on things would suggest there is at least room for potential. Of course, the attacking trio were starting their first game together, but time has seemingly run out with the first game of the European Championships just eight days away.
England have always traditionally played with a centre forward and two wide players, and change just does not seem necessary right now – even if it is just to fit Rooney, Vardy and Kane into the same line-up.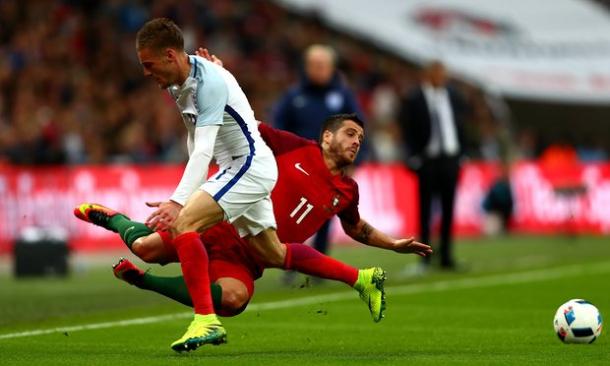 Set pieces need working on
While England, blessed with great height in defence, are very adept at coping with defending set pieces, not so much can be said of the attacking dead ball situations.
One of the rather stranger occurrences over the last three game was the introduction of Kane taking all set pieces, even the indirect ones.
Kane, a great striker of a ball, is superb from direct situations and troubles the goalkeeper more often than not, particularly using the 'knuckle-ball' technique used by other great free-kick takers, such as Ronaldo and Gareth Bale. But the Spurs striker crossing a ball from these situations just seems so weird. While you would ideally want Kane attacking indirect free-kicks and corners in the penalty box, England do not lack a good set-piece taker. James Milner takes set-pieces regularly for Liverpool, as does Rooney for Manchester United, while Walker sometimes takes free-kicks for Spurs.
Wembley atmosphere was subdued and England will improve
The English national stadium has never been known to build up with an electrifying atmosphere since it's re-building. England's 50th senior fixture at their plush, modern arena will certainly not be remembered as one of the greatest contests at the ground.
The atmosphere at England's friendly at the Stadium of Light five days before was contrasting, almost typical of the attitude towards football in the north-east of the nation. The crowd got behind the team and passionate screams of encouragement – which distinctly lack at Wembley – were present.
Maybe the poor atmosphere at Wembley was a contributing factor to the lethargy on display during the game, who knows? But England will definitely improve at the tournament. International friendlies, whatever the aim of them, are never the most exciting, nor enthralling events.
Players can naturally motivate themselves with significant ease at an international tournament. England will face Russia with more tempo and will with much more intent than they did against Portugal.
The line-up from the game at Wembley will have minimal changes, but Hodgson has certainly learned lessons from the games against Turkey, Australia and Portugal. The right players will no doubt start, and England genuinely have a very good chance of going as far as they want.