After five years in the kit of Royal Blue, Marco Höger has decided to switch sides and move from Schalke 04 to fellow Bundesliga outfit 1. FC Köln.
For Höger, the move is quite special as he was born in Cologne. He has signed a deal through to 2021 with the Cathedral city side.
Höger excited by fresh start
He told Schalke's website that his grandfather and father brought him to the home games of the Billy Goats, "It's a childhood dream to play for this club. When I was given the opportunity to play for effzeh for the next five years, I could not say no."
Yet, it was not an easy decision for the 26-year-old: "Schalke 04 has grown on my in the time I played for the Königsblauen. I became established as a Bundesliga player after my move from Alemannia Aachen."
He thanked Schalke for their support after his injury woes, but admitted he "had to make a decision for [his] future".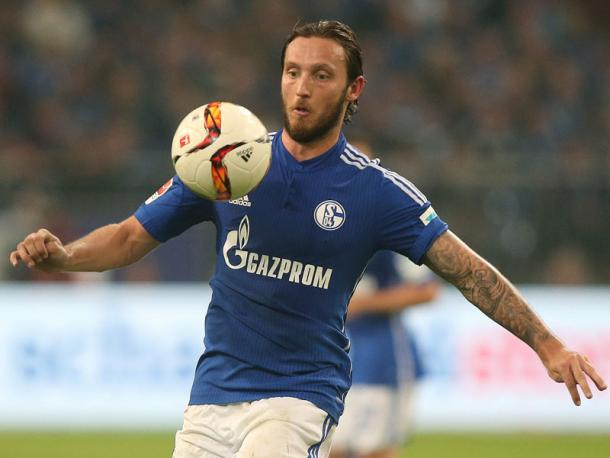 Stöger and Schmadtke delighted
On the other side, in the Domstadt, coach and manager are - of course - very happy with the transfer: "At Schalke, he has played on different positions, which shows his flexibility and tactical understanding."
Head coach Peter Stöger credited his new signing for his "very aggressive" defensive style, as well as "very good passing".
The boss concluded, "I am very happy he has chosen to play for his hometown club."
Jörg Schmadtke, Köln's sporting director who sealed the deal, added: "We are really looking forward to having another Köln-born player in our team."
He continued, "Marco Höger is a very tough player who convinced both in the Bundesliga and on international stage."
Marco Höger's football career at TuS Höhenhaus, a small district club in Cologne. In 2001, he moved to the Bayer Leverkusen youth before joining Alemannia Aachen in 2005. After two years in the first team of Alemannia, he joined Schalke in 2011. Stricken by various injuries, he has made 87 Bundesliga games for the Knappen thus far.