Following a season plagued with injuries, Arjen Robben had high hopes of an injury free season under new boss Carlo Ancelotti.
Bayern Munich travelled to SV Lippstadt on Saturday to play their first friendly of pre-season. The match ended 4-3 in Bayern's favour, however, the Dutchman's injury overshadowed the result. In the 35th minute Robben pulled up after a sprint, and immediately limped off the pitch.
Set to miss season opener
Robben has initially been ruled out for six weeks, which would mean he is unavailable for Bayern's game against Borussia Dortmund in the Supercup, as well as their season opener against Werder Bremen on August 26.
The Dutch captain was limited to just 15 Bundesliga appearances last season, having picked up multiple and recurring injuries with the German giants.
Bayern central defender and teammate, Holger Badstuber, who has also been on the receiving end of injuries over the past years had some words to say to Robben via Twitter: "I know it is hard. But try to keep your smile, Arjen. Gute Besserung! #getwellsoon #Robben."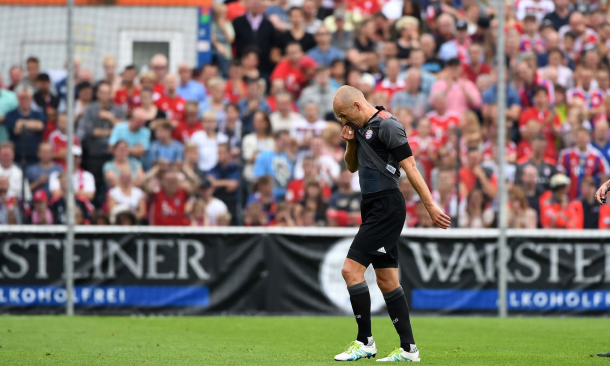 Squad depth
Ancelotti may not be in too much of rush to get Robben back into the team, with Kingsley Coman due to return from the Euros soon. He also has Franck Ribéry and Douglas Costa who can play on either wing; the Robben blow may not be as big as first seemed.
As well as the multiple wide options Bayern have, they also have plenty of central options, allowing the squad to play multiple systems depending on what they have available to them. This was evidenced by Pep Guardiola, who used many systems during his reign.
Robben will have high hopes of being fit in time to take part in Netherlands 2018 World Cup qualifying campaign, which starts on September 6th, against Sweden.