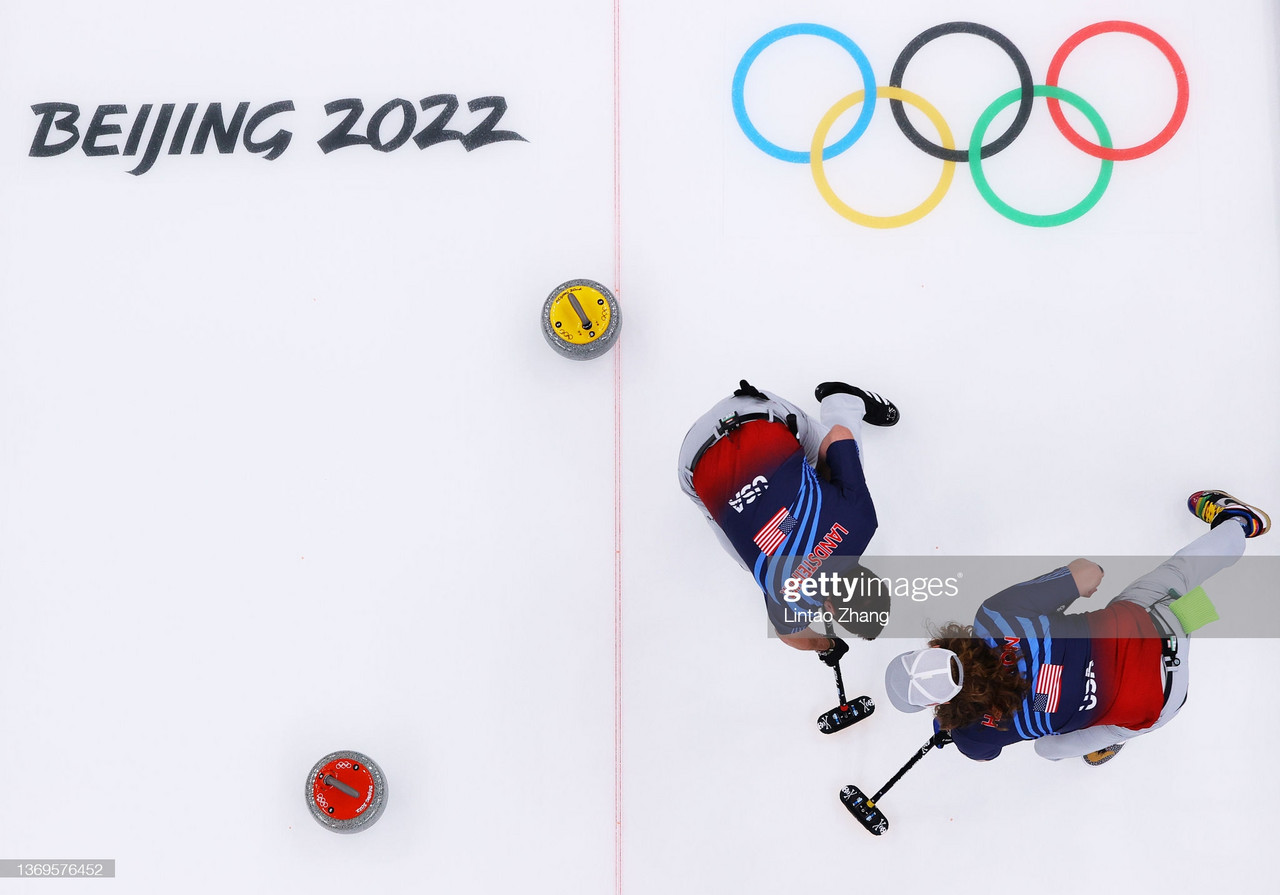 The men's curling tournament began at the 2022 Winter Olympics as ten teams look to start their journey for gold on the right foot.
Team USA began defense of their fairytale gold medal in 2018 with a victory. Canada, Norway and Sweden also won while Great Britain and Italy had the session off.
Canada 10, Denmark 5 (8 ends)
On Sheet A, Canada got their Olympics off to a fine start with a solid performance against Denmark.
A hit by skip Brad Gushue for three gave them a 4-2 lead after three ends. Danish skip Mikkel Krause split the house early in the fourth end and then went on to score two points to tie the game.
Ahead 7-5 after seven ends, Gushue played a double take-out for three and a 10-5 lead. Denmark conceded following the end's conclusion.
"We're still mapping out the ice and the rocks", said Canada third Mark Nichols. "All things will come with early-game complications. Getting our draw weight is going to be key.
"We kept it simple enough early to keep it close, and then we were lucky to get a couple of misses out of them. We're just enjoying the opportunity to be playing the best teams in the world."
On Sheet B, a back-and-forth game was settled on the final rock of the extra end as the defending Olympic champions recorded a win in their opener.
ROC held a 3-2 lead going into the fifth end break after a steal of two in the fourth end when American skip John Shuster came up short with his final draw.
In the eighth end, with ROC still leading by 4-3, Shuster played a split at the front of the house to roll two of his stones into scoring position and take two from the end for a 5-4 lead.
ROC blanked the ninth end. Then in the tenth, a number of stones sat around the button in when ROC skip Sergei Glukhov misfired on his last draw attempt and it took an umpire's measure to determine that ROC had indeed scored one point to level the game at 5-5 and force an extra end.
Shuster was then left with a simple draw to the four-foot to score one and win.
On Sheet C, Norway started with a victory against Switzerland in a battle of medal contenders.
The Swiss scored the first point when skip Benoit Schwarz played a draw, but a complete miss in the third meant a steal of one for Norway and a 2-1 lead.
Trailing 4-2, Schwarz played an excellent hit-and-stay for two to tie things up after seven, but in the ninth an umpire's measurement gave the Norwegians two and they stole one in the tenth to close things out.
The reigning silver medalists saw off a tougher than expected challenge from the host country on Sheet D.
Sweden were in front 3-0 with a steal of two in the fourth end when China skip Ma Xiuyue just nicked the guard with his final rock.
A score of two in the seventh put the Swedes back in front by three at 5-2 and they would eventually close things out after the full ten ends.
"It's been busy, but that's the way I like it", said Oskar Eriksson. "I just got a bronze medal and we started off with a win against China.
"We got a great start in the game and we were a little bit lucky when we stole two. He played a tough port against two and just rubbed the guard.
"That was a solid performance by the team, and we'll try to improve for tomorrow's game and hopefully get rolling."