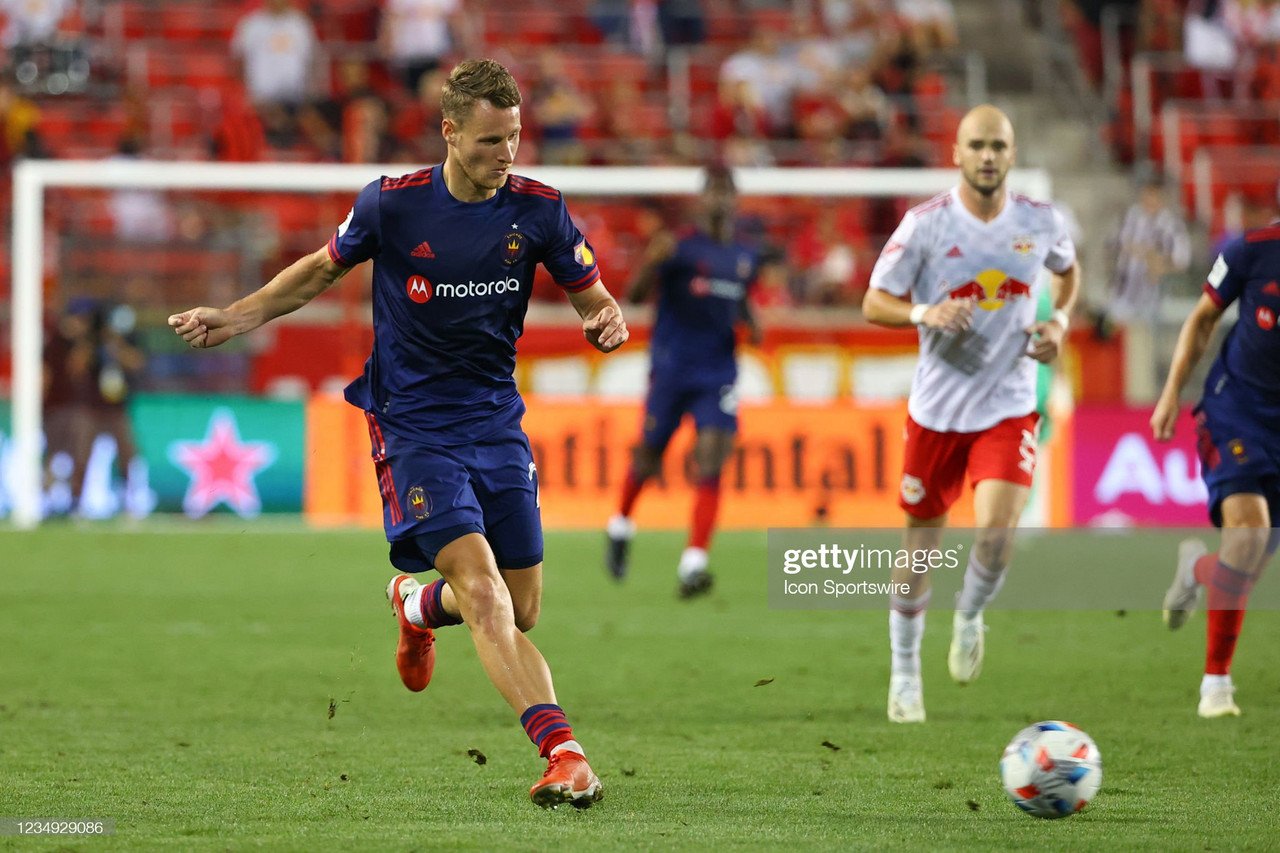 Two MLS teams in contrasting form face off on Saturday night as the Chicago Fire host the New York Red Bulls at Soldier Field.
Chicago's dream start to the season has quickly transformed into an average one. They hit a low this past weekend, losing 3-0 on the road to Minnesota United. The contest was a pretty close one for most of proceedings, but the hosts pulled away late on, somewhat thanks to a red card to Fire midfielder Federico Navarro. That's no excuse for Chicago, though, and there's now pressure on them to stop the bleeding before it's too late.
New York, meanwhile, comes into this contest off their biggest win of the campaign so far. Away to Orlando City, who were also near the top of the Eastern Conference standings, the Red Bulls ran riot, winning 3-0 when all was said and done. It was a statement victory, and it meant that they ended the week in 2nd place in the East. Not bad for a team that many weren't expecting much from at the start of the year.
Team news
Chicago recently regained the services of Xherdan Shaqiri, but they might still be without Fabian Herbers. There are a few new doubts as well, as Kacper Przybyłko is dealing with a calf issue while Carlos Terán has a problem with his left leg. Lastly, Spencer Richey has been ruled out with a head injury.
Things aren't much better for New York, as the likes of Andres Reyes, Caden Clark, and Serge Ngoma are all unavailable for selection.
Predicted lineups
Chicago Fire: Slonina, Sekulić, Omsberg, Czichos, M. Navarro, Pineda, Giménez, Gutiérrez, Shaqiri, Ivanov, Durán
New York Red Bulls: Miguel, Edwards, Nealis, Long, Tolkin, Amaya, Cásseres Jr, Morgan, Fernandez, Luquinhas, Klimala
Ones to watch
Gabriel Slonina
Are cracks starting to show when it comes to Gabriel Slonina?
The goalkeeper has been an absolute phenom ever since he got the starting gig near the end of last season, doing so at the age of 17. He secured four clean sheets before that campaign was over, and things have been even better this year, as he's already got five to his name. He only conceded twice in the team's opening seven games for crying out loud.
These numbers have only continued to inflate the huge hype that's surrounding the player. Rated as the top prospect in the world at his age and position, there were already plenty of European clubs expressing interest in him before the season started. Now, it just seems like a matter of time until he makes a marquee move overseas.
However, there are some reasons to believe that everything is not as it seems. First things first, Slonina is not even doing much to deserve those aforementioned clean sheets. He simply has an elite defensive unit in front of him, and they're doing so well that the goalkeeper doesn't even face that many shots, so he doesn't have to make many saves.
Then there's the flaw in his game that has arisen recently. For whatever reason, Chicago's number 1 has started to struggle with high balls and crosses into the area. Sometimes his positioning is off, and he gets caught in no-man's land. Sometimes he reads the flight of the ball correctly, but he doesn't come out to claim it or punch it away with the needed amount of force.
Will other teams start capitalizing on this, launching the ball and bodies at him at all times? Only time will tell, and Slonina certainly has time on his side to learn from these mistakes and improve in this regard.
For now, though, it could be a concern.
Patryk Klimala
New York plays like a proper team, which makes highlighting certain players kind of tough. Everyone has a job to do, and they all tend to do it pretty well.
Someone to keep an eye on could be Patryk Klimala, though.
Signed about a year ago from Scottish powerhouse Celtic, there was some excitement surrounding his arrival. The Polish youth-international was brought in on a Young Designated Player contract, and the hope was that he could end the Red Bulls' run of disappointing DP signings.
However, that's not really happened, or at least it hasn't happened yet. His first season had some highlights, including a run where he had a goal contribution in four straight games. There just wasn't a lot of consistency, and that's been the case this year as well.
Klimala scored on opening weekend, and then he dished out three assists in New York's next game. He's been blanked ever since, though, and he's been dropped to the bench as a result. The man who has come in for him, Ashley Fletcher, hasn't made the most of the opportunity, so there's a good chance that Klimala is reintroduced to the starting lineup.
If so, he'll certainly be ready to prove why he's the right man to lead the line going forward. The striker might not score a lot, but he does offer more than just goals when out on the field. He's a decent creator, either directly making chances for teammates or running into different areas to open up space for others in the final third.
Klimala will have to be on his A game if he wants to make an impact against a solid Chicago defense. However, if he is in top form, then the Red Bulls will love their chances of winning this weekend.
Last time out
It's been about six months since these two sides last faced off.
Taking place in New York during the final few weeks of the summer, Chicago were able to do the seemingly impossible and actually win a game on the road.
The only goal of the game was quite an ugly one, which was fitting considering how the contest went. It all started when a long throw in launched the ball into the area. The Red Bulls made a mess of the situation, and the ball ended up falling right to the feet of Robert Berić from just a few yards out.
He made the most of the fortunate break, rifling home from close range. He was clearly in an offside position, though, and the sideline official's flag went up to seemingly call the goal off. However, since the ball bounced off of two New York players, Berić wasn't technically offside, so a VAR review overturned the original decision and gave the goal instead.
There were a good amount of chances throughout the rest of the match, but no one else was able to find the back of the net, so the Fire ended up securing the win and all three points.
How to watch
The match kicks off at 7:00 p.m. CDT, and it will air live on WGN TV and chicagofirefc.com for fans in Chicago and the MSG Network for fans in New York. Anyone else in the United States will be able to watch the action unfold on ESPN+.