 Top seed Caroline Wozniacki faces a very tough opponent in the first round of the Internationaux de Strasbourg as Shelby Rogers, the 2016 Roland Garros quarterfinalist, awaits for her in that stage. With this being just their first meeting on clay, it would be interesting to see who can prevail in this clash. Rogers look to prevent the nightmares of their first and only meeting from happening once again, in which the Dane triumphed losing only just one game in the process.
Wozniacki had a great season thus far, being ranked in the top five of the Porsche Race to Singapore leaderboard after the first four months of the year. Despite beating just four Top 20 players (all of whom are Top 10 players) along the way, Wozniacki has made the finals of the Qatar Total Open, Dubai Duty Free Tennis Championships and the Miami Open, defeating quality players such as Karolina Pliskova, Agnieszka Radwanska, Garbine Muguruza and Madison Keys in the process.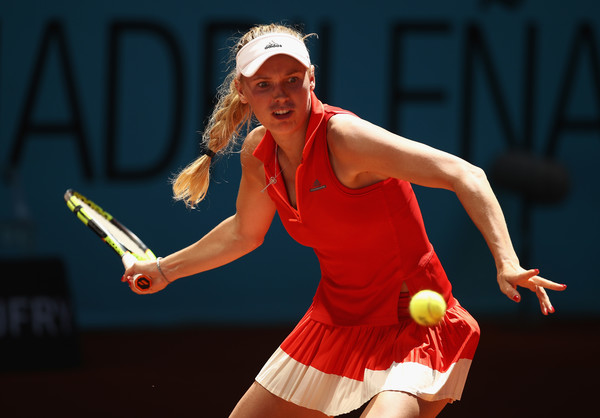 Her clay season has not lived up to its spotlight as Wozniacki owns a 4-3 win-loss record in her clay court events this year. Nevertheless, it earned her a well-deserved return to the Top 10 as she has barely any points to defend until the US Open. The jinx of Wozniacki's last few tournaments has been Jelena Ostapenko, who has beaten the former world number one twice consecutively recently. The former world number one had to withdraw from Rome last week due to an injury, which could prove to be a concern in this match.
Shelby Rogers managed to break into the Top 50 this year, but her results were not really impressive in her standards. Reaching just two quarterfinals this year, the American earned only a mere six victories over Top 50 players and has been struggling with injury problems after the Volvo Car Open. Unable to find her form that brought her to her first ever Grand Slam quarterfinal at Roland Garros last year, this is Rogers' last chance to gain some momentum entering the second Grand Slam of the year as she desperately needs some form before defending 430 points next week.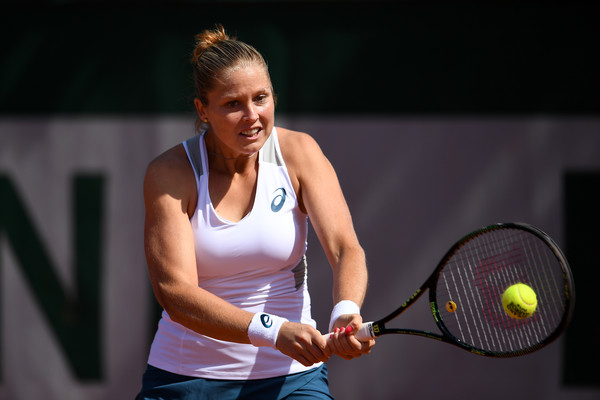 Who wins?
It is a clash between two players with contrasting styles of tennis, with Wozniacki playing her infamous counterpuncher style while Rogers plays some hard-hitting tennis.
Wozniacki has to ensure that her groundstrokes are consistent and solid enough to be able to fend off the speed of Rogers' powerful groundstrokes, and should try to aim for the lines to force Rogers to move all around the court. The Dane could also utilize some slices and drop shots during rallies, catching Rogers off-guard and allowing her to take the offense in the process. Wozniacki has the ability to extend the rallies for as long as possible and should do that often against Rogers to frustrate her after seeing so many balls return to her.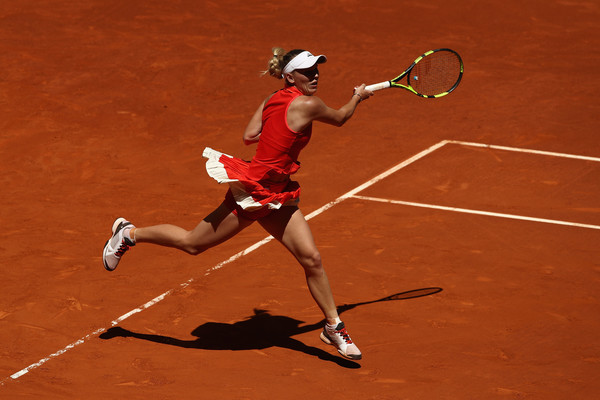 Rogers must dictate play throughout the match, but it could be tricky considering the inconsistent bounce on the clay courts. However, Rogers proved that she can beat the best on clay when she had the best season of her career last year, reaching the last eight of the French Open. Some slices could benefit her, while her strong serves would be able to win her some free points.
Both players were plagued by injury problems recently, with Wozniacki having to withdraw from Rome and Rogers having to retire in her qualifying match at the same tournament due to an injury.
Match Prediction: [1] Caroline Wozniacki d. Shelby Rogers in straight sets