 A new year means a fresh start and what's the best way to get a fresh start? Trying your hand at picking the winners of each major event of the year. Both Oliver Dickson Jefford and I took our best shot (best used loosely), at correctly predicting Grand Slam winners, Masters/Premier winners, the end of the season top-ten, and notable award winners for each tour. We'll take a look at the end of the season to see how many of these were correct (mostly wrong though)
Grand Slam/Masters/Premier Winners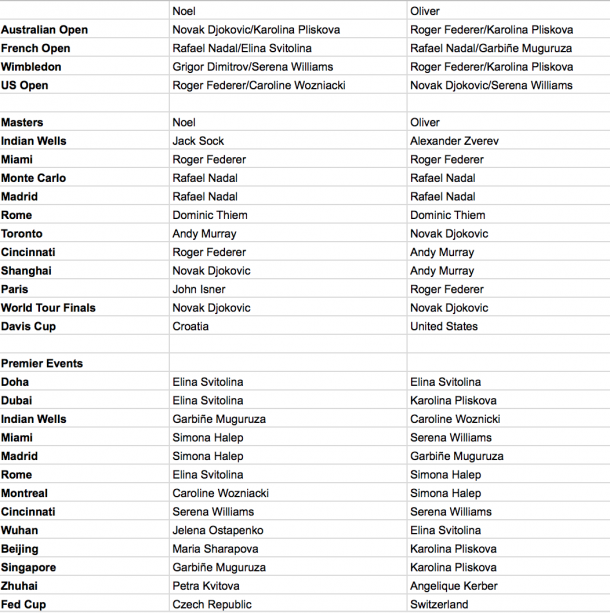 I went with the gamble of picking Novak Djokovic to win the Australian Open. Yes he is coming off of an injury, but if he is healthy, he should still be one of the favorites for the title. Oliver went sensible and went straight for Roger Federer to win.
End Of The Season Top 10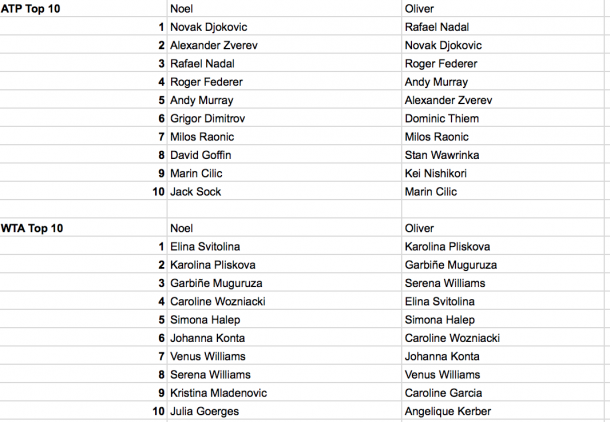 The biggest risk for both of us is having Andy Murray so high up on the list. We made the list right before the Hopman Cup when the Brit was considered fit for the season. Now with his withdrawal from Brisbane and Australia, it's a major concern if he'll be even near a tennis court for a while, let alone the top 10.
My biggest risky pick here is Kristina Mladenovic. She struggled at the end of the season and has lost her opening match of this season as well. If she can't turn it around, the top-20, let alone the top-10 will be a problem.
End Of The Year Picks

Both Oliver and I have picked the same player on both the ATP and WTA sides as the Breakthrough Player of the Year. Sofia Kenin made the third round of the US Open and put up an impressive showing against Maria Sharapova.
Hyeon Chung was mightily impressive to end last season, dazzling the tennis world in Milan for the ATP NextGen Finals. With his brilliant display to end off last year, the South Korean will be looking to take his game up a notch and make an impact on the tour.
Missed our first pod of the new year? Listen to it below.