 Limits just simply don't exist for Roger Federer.
After failing to win a Grand Slam on three different occasions from the middle of 2012 to the end of 2016, the Swiss maestro picked up his third major crown in the last twelve months with a compelling 6-2, 6-7(5), 6-3, 3-6, 6-1 victory over Marin Cilic in Sunday evening's Australian Open final.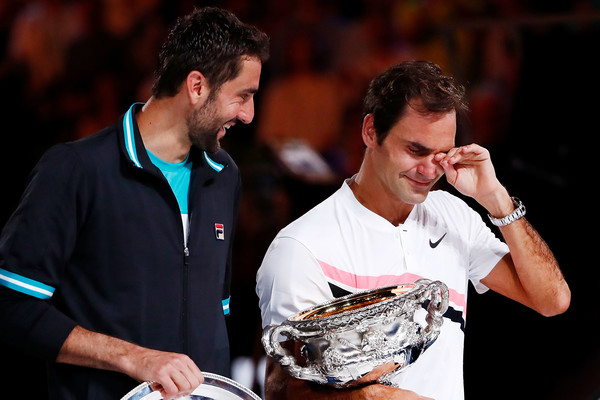 Just with any one of Federer's championship victories these days, this one comes with some absolutely mind-boggling milestones. The 36-year-old's 96th title is his record-breaking 20th Grand Slam title—a record that will likely stand for decades to come—and his record-tying sixth Australian Open crown, which draws him level with all-time leaders Roy Emerson and Novak Djokovic.
It's Getting Hot in Here: Tournament Organizers' Controversial Decision to Move Under the Roof
With temperatures soaring to over 37 degrees Celsius outside as the match began a few minutes shy of a quarter to 8 p.m. local time, Sunday's contest was played under the roof at an air-conditioned Rod Laver Arena, a controversial decision given how the tournament had once stated the temperature had to be over 40 to implement the extreme heat policy.
But while some might have felt that these conditions benefitted Federer, who played his semifinal match against Hyeon Chung under the same conditions due to rain, the fact that this match did go five makes it a factor not really worth dwelling upon.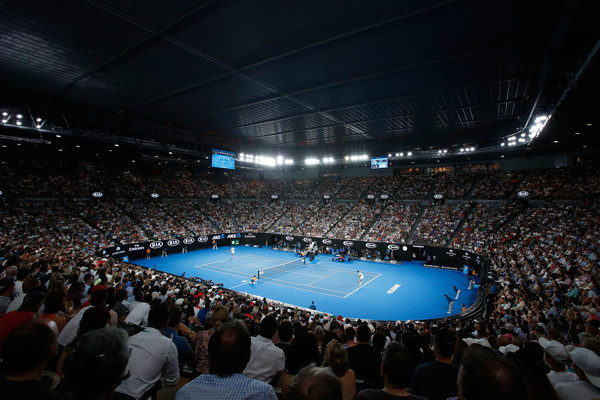 Flawless Federer Flies Through 24-Minute Opener
Looking comparatively more relaxed than his Croatian counterpart, Federer came flying out of the gates, quickly jumping out to a 3-0 lead with the double break. Cilic, who had looked so impressive in the lead-up to this final, was struggling to find the court, let alone string together enough points to mount an early fightback.
This swift start for the world number two would set the tone for much of the opening set as he continued to dominate on serve—where he dropped just two points in four service games—as well as from the back of the court before eventually taking the opening set, 6-2, in just 24 minutes.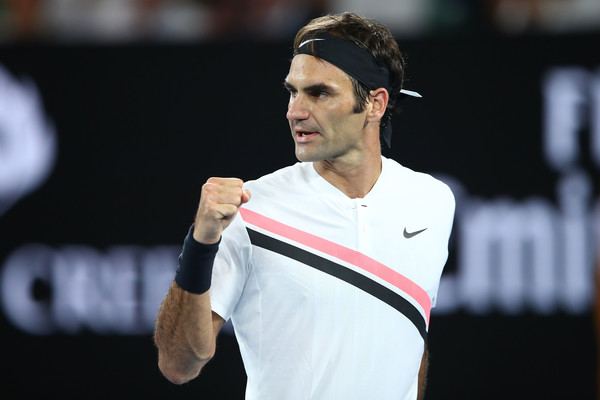 Cilic Cranks Up the Pressure, Edges Tense Tiebreak to Draw Level
After playing his worst set of the tournament, Cilic desperately needed to hit the reset button in between sets, but once he did, he reminded everyone just why he is one of the most underrated power players of this generation and began to push Federer out of the way in pursuit of the title.
With his serve and forehand now firing on all cylinders when it mattered most, the Croat was able to fight off three break points in three different games to keep his nose in front. On the final one at 4-all, he pulled out a gutsy second-serve ace down the middle, catching everyone—especially Federer—by surprise. That seemed to be a key moment as he was able to dig his way out of that service game before being gifted a set point in the ensuing game after two uncharacteristic double faults from Federer.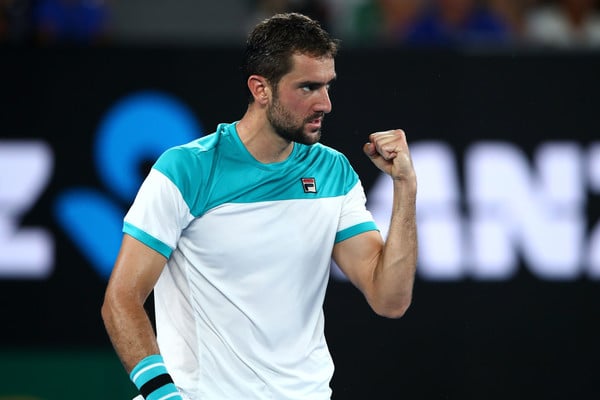 Cilic, however, would dump a routine backhand into the net on set point to let the Swiss off the hook. As a result, the momentum was firmly with Federer going into and for most of the tiebreak, but Cilic had other ideas.
Down a mini-break early, Cilic absolutely crushed a forehand return down the line to get back on level terms before finding the corner with another absolute scorcher of a forehand to give himself two set points. While Federer was able to save the first one with an ace, there was nothing he could do as Cilic smashed his way to the second set, thus levelling the match at a-set-apiece.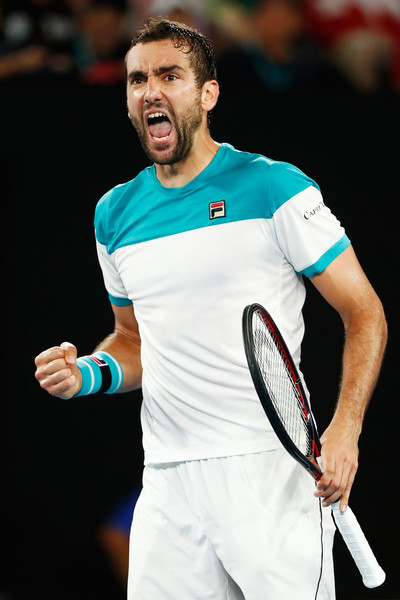 Federer Finds His Groove, Moves Within a Set of Number 20
Putting the obvious disappointment of the missed chances in the previous set behind him, Federer quickly regrouped to start the third, and it was Cilic's level that would drop first.
Serving at 2-3, the Croat found himself in the front foot of almost all the points he played, but somehow, someway, Federer managed to claw his way back and bided his time beautifully to earn a crucial break midway through the third.
From there, with the help of some incomprehensible shotmaking, the world number two would move one step closer to number 20, eventually serving the set out at love to take a pivotal two-sets-to-one lead.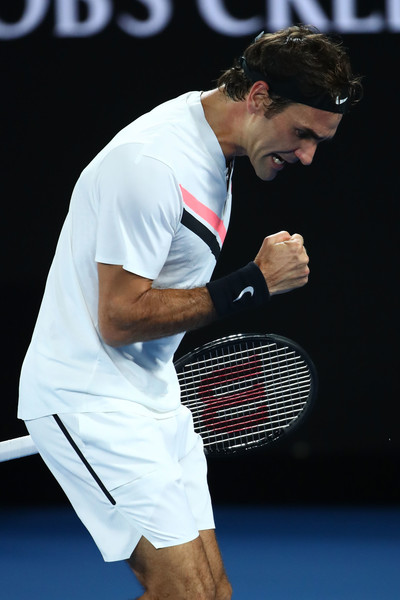 Federer Senses the Finish Line, Collapses; Cilic Reels Off Five in a Row to Force Decider
With the momentum now firmly in his favour, Federer would pick up right where he left off in the to start the fourth, taking advantage of another lapse in concentration for Cilic to move within sight of the finish line.
But perhaps it was the thought of redefining history that caused even the best of the best to stutter as Federer, seemingly in control and within three games of the title, dropped his serve at love to give Cilic a lifeline—and boy did he take it.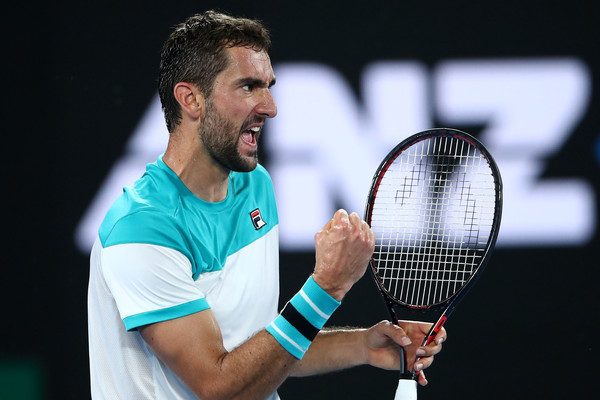 The titanic nature of this contest would continue in the ensuing games as Cilic managed to fend off a break-back point in the following game to hold for 4-3 before taking advantage of another uncharacteristic drop in intensity from Federer to earn a second break of serve with another punishing inside-out forehand. From there, the Croat would have no trouble serving out the set—doing so at love in fact—to force a one-set shootout for the title.
Federer had only ever lost one Grand Slam final when leading by two sets to one—to another big server in Juan Martin del Potro with the same umpire, Jake Garner, at the 2009 U.S. Open—but could this have been the second time?
The Turning Point: Federer Fights Off Early Cilic Challenge, Wins Number 20 Down Under
Looking to continue this inspired turn of events, Cilic continued to take it to Federer in the opening game of the fifth, even earning himself a pair of break points in the process. But it was this game that really proved to be the turning point in this titanic tussle for the Swiss maestro.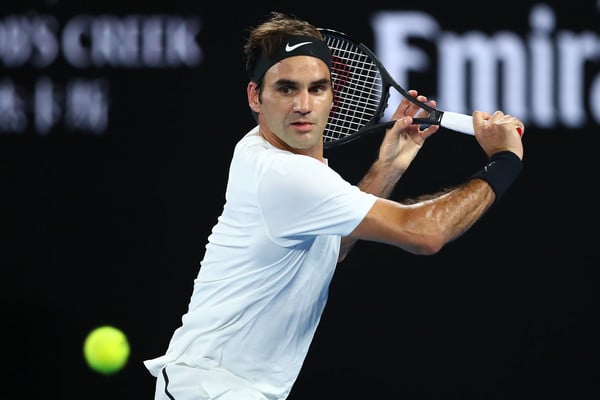 With his back against the wall, Federer began to find his feet, saving the first with a big serve and getting lucky with a netted second-set return from Cilic en route to eventually holding to kick off the fifth, and it only got better for him from there.
As Cilic began to rue some of those missed chances, it was now Federer who was in the ascendancy, taking advantage of a couple nervous-looking double faults from Cilic to earn the early break.
"[I was] just really trying to get back winning a game again because he came back from 3-2 and won four straight," Federer said when he was asked what was going through his mind at the start of the decider. "So for me, it was really just trying to break his momentum. Tried to serve well. Tried to get lucky a little bit. I think I was able to get that first game, at least get on the board. From then on, maybe momentum shifts a little bit, and that's exactly what happened."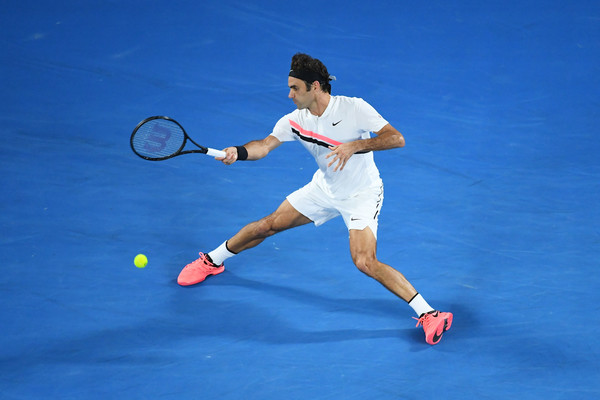 While Cilic continued to show great resistance in the longer exchanges, there simply wasn't anything he could do to stop the Fed Express' deceptively effective serving, which at one point included in a 79 mph second serve that completely caught the Croat off guard.
Within two games of the title, Federer used his unparalleled experience to power to a double break as a dejected looking Cilic began to feel the effects of a strenuous campaign. Just over a minute later, the Swiss would close out the match in fine style, coming out on the winning end of a last-resort challenge from Cilic to secure his record-breaking 20th major crown.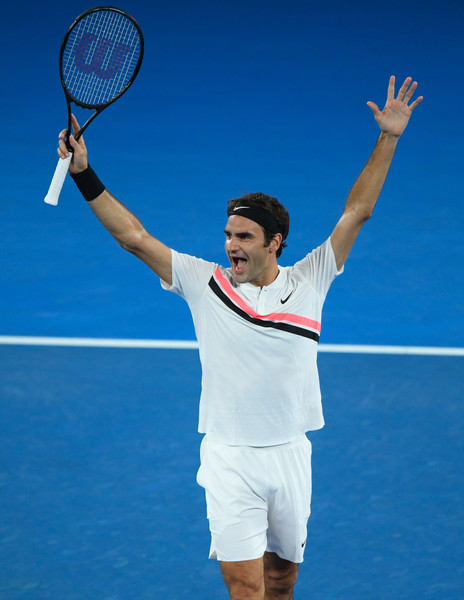 But perhaps more stunning than Federer's reaction to this unprecedented milestone was the raw emotion he showed during his victory speech. Holding back tears for most of the ceremony, the now-20-time Grand Slam champion could barely hold it together when he thanked his box and the people who he credits for helping him become the person and player that he is today.
"The fairytale continues, for us, for me," Federer said, looking towards his family and friends in his box.
"After the great year I had last year," he said, struggling to keep his composure, "it's incredible."
He continued to struggle, even after he finished saying his thank you 's and posing with his old friend, the Norman Brooks Challenge Cup, who he now affectionately calls his friend "Norman."
"During the match, I constantly thought about the fact that I could reach 20," Federer told SRF, a Swiss TV station. "I was nervous the whole day, I thought about what would happen if I lose, if I win. That's why I broke down during the speech."
Of course, with this overwhelming show of emotion, there always begs the inevitable question: How much longer does Roger Federer plan to keep on playing?
"I have no idea," replied the 36-year-old. "I've won three slams now in 12 months. I can't believe it myself. I have just got to keep a good schedule, stay hungry, then maybe good things can happen. If I'm careful in my planning, that will dictate how successful I will be."