Mark Sampson has signed a contract extension that will see him remain England boss until 2019.
Ahead of the FIFA Ballon d'Or ceremony tonight, where Sampson is nominated for FIFA World Coach of the Year for women's football, the Welshman has been given a new deal by the FA which he thoroughly deserves after an incredible 2015.
Having led the Lionesses to an odds-defying third place finish at the 2015 FIFA Women's World Cup, the boss also has his team on course for Euro 2017, with their latest win in qualifying coming over Bosnia and Herzegovina.
As he leads the team into a new era of success, the FA have decided to reward him for his efforts, with him signing a two-year extension on his current deal, which was set to expire next year.
Sampson thrilled with deal
Speaking to the FA's official website, Sampson said that is he "delighted" to put pen to paper on the new deal, especially as it means he will "continue working with the Lionesses through to the 2019 FIFA Women's World Cup."
He called it "an honour" and a "privilege" to work with "such a fantastic group of people" who exude such "incredible pride and passion" when representing their country.
Sampson, who has been in charge since December 2013, says that he and his team have "all worked very hard" since he's come in, crediting his players for how they have "improve[d]" both as a group and as individuals.
"Our World Cup bronze medal highlights the progress this team has made," the manager continued, adding that he is "pleased" with how his team have helped to "grow the game" in England with "the steps [they] have taken."
"It is an incredible exciting period for all players and supporters of the Lionesses," Sampson concluded, and he is "proud" to continue to lead them on what he described as a "special journey."
Support of the FA clear
FA Technical Director Dan Ashworth has also heaped praise on Sampson following the contract renewal, saying he is "an excellent coach and leader" who has put "real confidence" in the England team to help them get "results."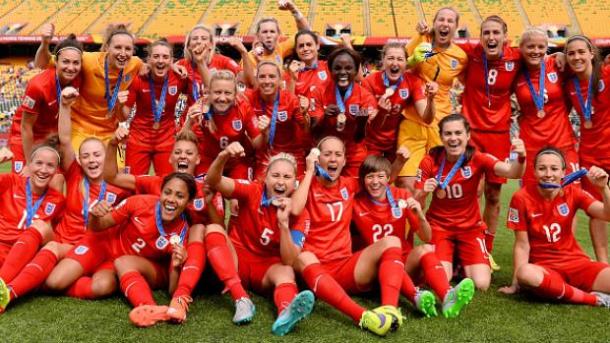 Ashworth added that he is "confident" that Sampson can lead the team to "enjoy success at future tournaments."
FA Director of Football Participation and Development, Kelly Simmons also spoke about the manager's new deal, saying he "thoroughly deserves" the extension because of his "excellent work" in the last two years.
"There is an excitement and belief about where this team can go," she said, before adding that she believes Sampson can "create a long-lasting legacy for women's football" in England.
New deal for goalkeeping coach Lee Kendall too
As well as Sampson, England's goalkeeping coach Lee Kendall has also earned a new deal from the FA, he too signing a two-year deal.
The manager is pleased to have him around for longer too, Sampson saying that he is "delighted" that Kendall has also got a new contract, with him stressing the "good work" that goes on "behind-the-scenes to support the team."
Ashworth added that the 35-year-old's efforts "with the goalkeepers" were "evident" in the World Cup this summer and in qualifying for that tournament as well as Euro 2017, because of the "performances" of the stoppers.
He believes that Kendall's work will be "vital" for the team to "progress further" too.
England's next fixture isn't until April now, with them to take on Belgium on home soil in what is expected to be their toughest game in Euro qualifying.