 Liverpool captain Jordan Henderson says they must be more disciplined defensively to avoid a repeat of their thrilling, but nervy, opening day victory at Arsenal.
Jürgen Klopp's side kickstarted their 2016-17 Premier League campaign with a huge three points at the Emirates Stadium after a breathtaking 20-minute spell at the start of the second-half.
Drawing 1-1 after an underwhelming first-half ended positively thanks to Philippe Coutinho's 30-yard free-kick found the top corner, goals from Adam Lallana, Coutinho and debutant Sadio Mane put Liverpool 4-1 up by the 63rd minute.
But they immediately allowed Alex Oxlade-Chamberlain to reduce the lead to two, before Calum Chambers headed beyond Simon Mignolet from a free-kick to set up a tense final 15 minutes.
Liverpool held out for only a second victory in their last 16 trips to the Gunners, but Henderson insists he and his teammates must maintain their control of the game throughout to make sure of more comfortable wins.
Reds skipper says Reds must improve game management
The midfielder told Liverpoolfc.com that the team came into the changing rooms after the first-half "knowing" they could "play better" although Coutinho got them "back in the game with a brilliant goal" to "come in level."
"Then the manager said a lot of things we needed to improve on in the second half and I felt we did that," said Henderson, who praised his teammates for how they "came out firing in the second-half" and "got some brilliant goals."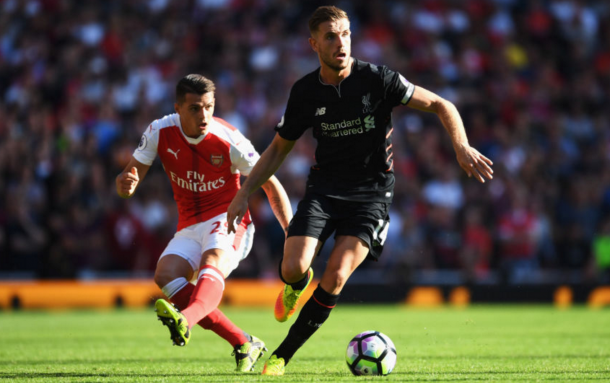 But he acknowledged that the home side "started gathering momentum" after their second goal made it 4-2, adding: "There are a lot of things to improve on and work on, but a lot of good things as well."
The England international said that they have "got to be delighted" to return to Merseyside with "three points" as he said that their second-half performance "at times was very good" and "especially" when they "went two or three goals in the lead."
He admitted though that Liverpool "need to manage the game better" and particularly highlighted the moment that Arsenal "scored the second and gathered momentum", insisting: "We just need to be a little bit more street-wise there."
Henderson: We were outstanding at times in the final third
Though, despite the need for improvement, Henderson was delighted at the Reds' attacking performance - which helped Klopp get his first full season at the club underway in some style.
"It's fantastic. The front three and midfield getting forward was brilliant, even the full-backs were getting forward," continued the skipper.
The 26-year-old declared that "at times" going forward Liverpool "were outstanding" but said that they have still "got to be a little bit more disciplined at times", adding: "Especially myself, if I'm playing that role in the team."
However, Henderson chose to focus on the "lot of good things" that they take away coming from the game, admitting that it's "hard coming straight off the field and analysing straight away" because if he watched it from a distance then he might have picked "one or two things we did well" that he thought they didn't because he was on the pitch, "and vice versa."
But he insisted that he's "very pleased with the three points" and looked forward to "a good week's training again" and then the build-up "away to Burnley next."