 Simon Mignolet insists Liverpool's defence weren't at fault for the goals they conceded in their 4-3 victory over Arsenal on Sunday afternoon.
The Reds' 2016-17 Premier League campaign began positively as Philippe Coutinho scored a fine brace, Adam Lallana capped off a well-worked team move and Sadio Mane marked his debut with a stunning solo goal.
But having led 4-1 after 63 minutes, Jürgen Klopp's men conceded twice in the next 12 minutes to set up a nervy finale at the Emirates Stadium.
Liverpool dug in well to ensure a welcome three points to kickstart the season but Mignolet - who says the result provides a perfect springboard - believes their back-line weren't culpable despite conceding three goals.
Mignolet declares: We defended really well
He insisted that he didn't think it was their "mistakes" which "led to the goals being conceded and declared: "I thought we defended really well, just like we did against Barcelona at Wembley."
The Belgian goalkeeper, who saved a penalty from Theo Walcott before the winger broke the deadlock just 69 seconds later, explained that they were "a bit under the cosh" for the first goal and insisted the second was "unfortunate" because it was "a deflection" they "couldn't have done anything about."
He added that for the third goal, a Santi Cazorla free-kick from which Calum Chambers rose highest to glance a header in, they "weren't quite organised" because Arsenal took it "early."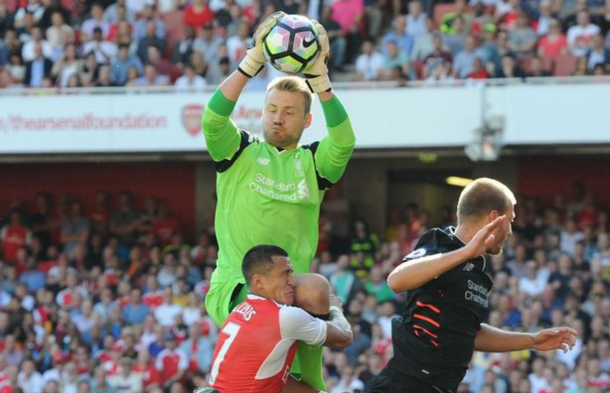 Mignolet admitted that they "needed to make sure we didn't concede" after making it 4-1 because "one goal can change a game" but acknowledged "that's what happened with the deflection."
He insisted that the "crowd got behind them again" and Arsenal "got a boost from that" but praised his teammates, saying: "We kept our heads and got back to playing the level we were at in the opening 20 minutes of the second-half."
Mignolet said that keepingt he ball so well "takes the pressure away from us" and insisted that's what they "need to be doing throughout the 90 minutes."
We can build on this result, says Mignolet
The Reds' No.22 is no stranger to an important penalty save on the opening day of the season, having done similar at Anfield three years ago against Stoke City.
On denying Walcott's spot-kick, Mignolet said he was "pleased" with the save because he had "studied where Arsenal players put their penalties" beforehand.
He explained that it was "difficult" because their "normal penalty takers weren't on the pitch" but said "luckily" that he "picked the right spot" to deny Walcott.
"That's how we started a few years ago against Stoke when we won and went on to challenge for the Premier League title," continued Mignolet, who said that "the most important thing" is that they have "started with three points."
The 'keeper declared that there "are a lot of things" Liverpool "can learn from this game" but said it's "especially" great "to start with a victory" at the Emirates where they "haven't taken many points in the last few years."
He added that they have "lots of attacking options" after their summer signings, including "a lot of players with pace" who Mignolet believes "can make the difference going forward."
The Belgium international insisted: "The second half at Arsenal was like how we played against Barcelona. We can build on this."