Sweden hosted the United States of America in Göteborg and came away with a disappointing loss thanks to a Rose Lavelle goal in the 56th minute. The hosts had the better opportunities during the 90 minutes but some wasteful finishing and fine saves from Alyssa Naeher allowed the USWNT to take away a morale boosting win.
A half of few chances saw the game remain scoreless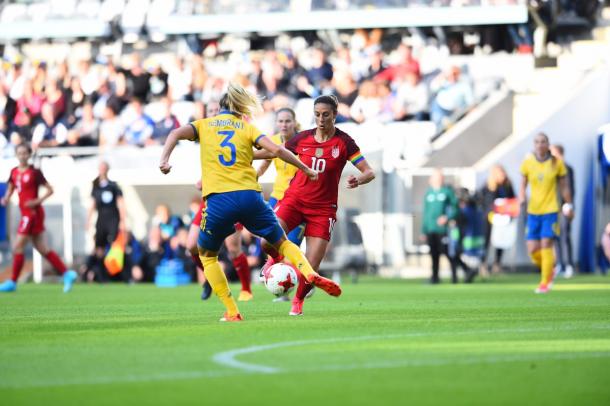 Most of the first half was spent with Sweden having the majority of the possession but not making the most of that possession as they made wayward passes when they reached the final third of the pitch.
The USWNT were susceptible to breakdowns between the midfield and the backline and had Sweden been a little more sharper in their awareness and passing, the result could have been a different story.
Credit must go to defender Becky Sauerbrunn who made some timely interceptions to keep the Swedes away from goal throughout the first half. Goalkeeper Alyssa Naeher was forced into making a kick-save midway through the first half but otherwise was largely untroubled.
The only big chance of the first half came in the 44th minute through a mistake by USWNT. Allie Long passed the ball right to a Swedish player as the away side tried to play their way out of trouble and Sweden quickly created a change on goal due to that error. They must have thought they had scored when Lotta Schelin put the ball past Naeher but Long recovered quickly to make up for her mistake and made a goal line clearance that kept the game at 0-0 going into half time.
Lavelle gets the goal and Naeher performs well in the second half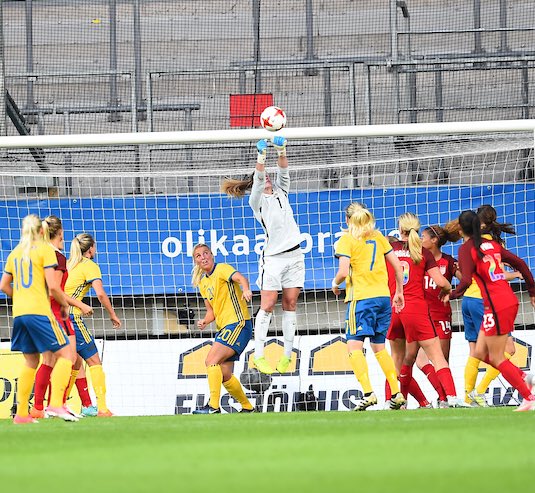 The second half went the same way as the first half but this time around, the US got their chance and put it away. Crystal Dunn, who had largely been shut down by the Swedish defense, dribbled her way past her markers and found Lavelle in the area. The young midfielder showed great composure to finish past Hilda Carlén in the 56th minute.
It had been a tight game up until that point and one cannot say that the US did not deserve it based on the number of shots on goal either team had created.
As Sweden pushed for the leveller, the US defense stood firm and when they faltered, Naeher was on hand to produce some top notch saves.
Late in the game, Naeher was called on to make a game-winning save when in the 86th minute, Kosovare Asllani found herself some room in the box and powered her effort towards goal. Naeher stood tall and tipped the shot over the crossbar to keep the US ahead. The resulting corner than caused some chaos in the box but ultimately, the Swedes could not capitalise on that confusion to tie the game.