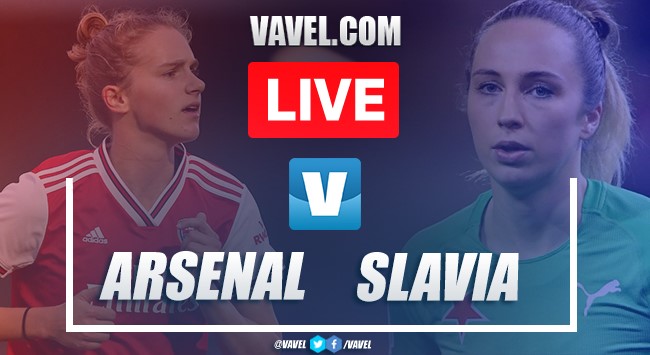 Full Time: Arsenal 8-0 Slavia Prague
GOAAL! MIEDEMA HAT-TRICK!
GOOOAAL! 7-0 TO ARSENAL!
Final Arsenal Sub
GOAAL! ARSENAL! VAN DE DONK HAT-TRICK!
Another yellow card
Yellow Card
Arsenal Double Sub
GOAL! ARSENAL HAVE THEIR FIFTH!
Back underway...
Halftime: Arsenal 4-0 Slavia Prague
GOAL! MIEDEMA!
OFF THE POST!
Chance for the visitors!
ANOTHER ARSENAL GOAL!
Penalty!
GOAL! ARSENAL!
CHANCE FOR SLAVIA!
CLOSE AGAIN!
CLOSE!
Kick-off!
5 minutes till kick-off
The Arsenal boss isn't taking any risks tonight...
Slavia Prague Team News
Arsenal Team News
A Slavia view:
Van de Donk on whether she is dreaming about winning the UWCL
How to watch: Arsenal Women vs Slavia Prague
SK Slavia Praha: Predicted XI
Arsenal: Predicted XI
Bara Votikova making headlines
Will Miedema strike again?
Could Slavia find a way back?
Arsenal the only English side left in the competition
Kick-off time