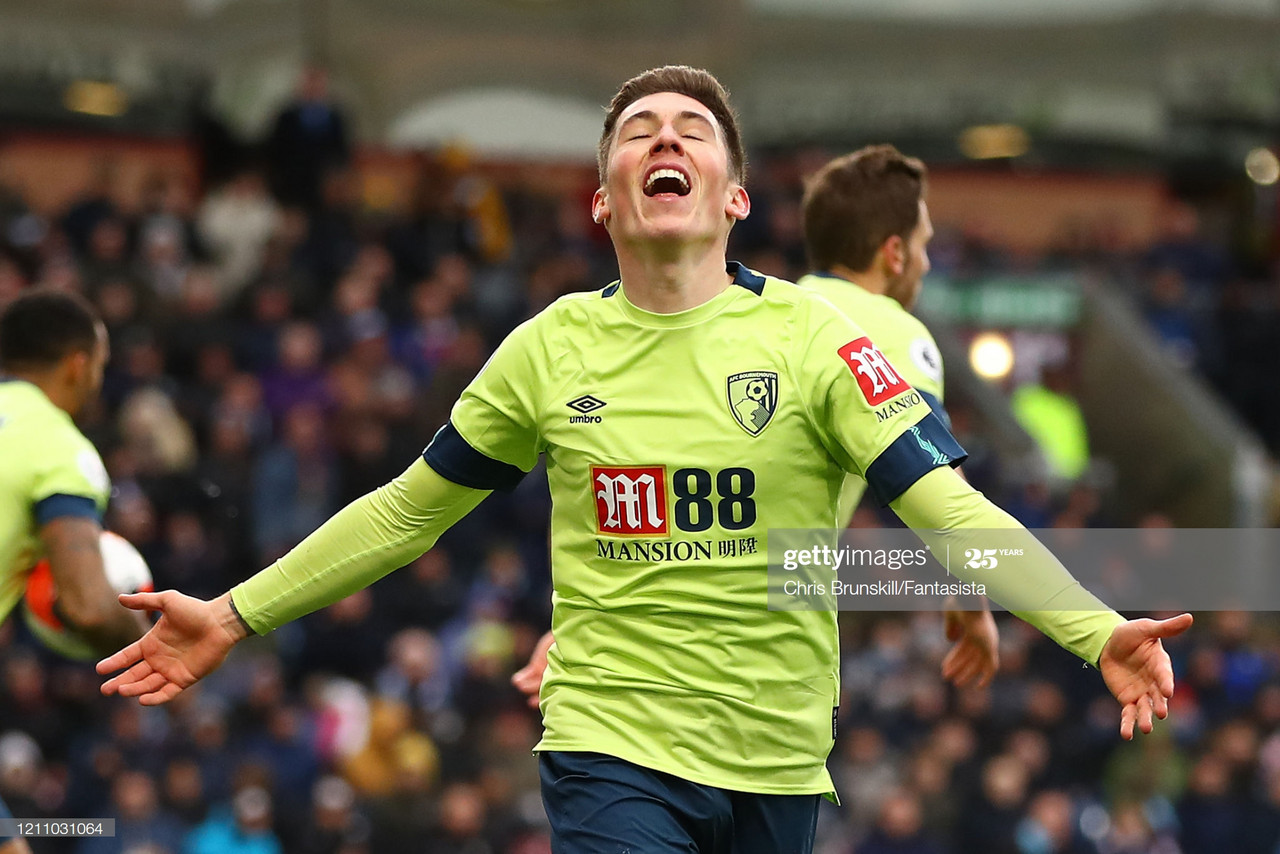 Liverpool could not reasonably have asked for more from Harry Wilson across his three most recent loan spells.
For a struggling Hull City in the latter of half of 2017/18, he scored seven goals and laid on another four in only 13 appearances.
The following season, his 18 goals would fire Derby County to the playoff final at Wembley.
And now, in the top-flight, he is Bournemouth's second top-scorer.
On seven occasions he has found the net, a tally bettered only by namesake Callum Wilson, previously coveted by Chelsea.
There have been difficult moments on the South Coast - Wilson has twice been withdrawn at half-time in dismal defeats - but his impressive strike rate does not disguise all-round shortcomings.
"It is not just the goals that have been a tonic," one supporter wrote on the CherryChimes blog. "Harry has jumped into Bournemouth life on the pitch with two feet, and when he was unable to play he was sorely missed.
"To have such a player has been a big help in masking over the pain of losing David Brooks [yet to play this season as he struggles with an ankle injury] for so long."
Wilson's loan spell, which, it should be said, will run for nine more vital matches, has been a resounding success on the whole.
And now, with the Welshman having racked up over a century of appearances at the senior level, Liverpool will decide whether to hand him the opportunity he so deserves, or merely cash-in.
An illustration of what he can offer
Xherdan Shaqiri has been desperately starved of game-time at Anfield this season, apparently amid a succession of injuries, and his departure appears an inevitability.
Shaqiri had more than justified Liverpool's eyebrow-raising show of faith in 2018/19, and that likely made the decision to sanction another temporary switch for Wilson considerably easier.
Perhaps unexpectedly, though, Wilson has outstripped the 18/19 exploits of the Swiss international even as he turns out for a relegation-threatened outfit.
Conveniently, their returns can be compared on the basis of an almost equal number of league appearances - 23 for Wilson, 24 for Shaqiri.
Wilson has scored seven to Shaqiri's six, albeit with a minutes-per-goal return of 207 minutes against 177.
Shaqiri notched three assists, while Wilson is yet to create a goal, but tellingly, the Bournemouth man fashioned more 'big chances' (a figure which invites consideration of just how productive he could be in a vastly superior side).
It is also significant that Wilson edges Shaqiri on defensive contribution, recording more interceptions and more tackles even from his station on the flanks.
No comparison is perfect, and here it might be objected that the pair have markedly different playing styles.
However, what they share is a penchant for the spectacular (see 'Harry Wilson free-kicks' on YouTube) and a desire to fill any slight opening that presents itself at Liverpool.
Shaqiri may be forced to look elsewhere, and Liverpool will simply have to ensure their attacking reverses do not diminish, particularly with AFCON awaiting in its restored mid-season slot next year.
Wilson, five years Shaqiri's junior, is certainly an attractive candidate.
But is Jurgen Klopp finally convinced?
On his returns at youth level alone, Wilson was good enough to bypass the loan route in favour of swift integration into the first-team.
Trent Alexander-Arnold did so, and recent-breakouts Curtis Jones, Neco Williams and Harvey Elliott may well follow.
Wilson played 60 matches for Liverpool's Under-23s, a figure which in itself may illustrate his stifled advancement, and contributed 32 goals and 14 assists - magnificent tallies.
But that was only enough, so it transpired, to merit one senior appearance for Liverpool in a third-round FA Cup replay at Plymouth as a 65th-minute swap for Philippe Coutinho.
Jurgen Klopp has always needed to see something more.
Earlier this season, even as he assured Wilson that he could succeed at Anfield, he cautioned that 'the game is about more' than merely shooting.
Klopp challenged reporters to find five players who struck the ball goalwards as well as Wilson, but explained that he needed to improve his link-up play to ascend to the 'next level'.
Only one man knows whether he has adequately demonstrated that capacity whilst playing for the Cherries, but there is an inescapable sense that it will prove to be only a value-raising experiment.
Indeed, his likely price, commonly estimated at around £30million, has been discussed with a far greater frequency than his potential role on Merseyside.
Wilson too has a decision
It remains conceivable, particularly if he impresses in pre-season, that Wilson will be offered a role in the first-team squad.
But while he will be determined to prove himself at the best team in the world, he will also ponder whether campaigns largely restricted to substitute appearances and cup outings are satisfactory, and, more importantly, whether they will ultimately herald a starting spot.
It could be between that career-defining gamble and committing to Bournemouth, provided they maintain the means to afford him.
But if he is sold, even for a handsome fee, it will feel as if the accepted wisdom that loan moves are often the key to progression has been flouted.
And if Wilson, a shining light wherever he has played, can look back only on that outing at Plymouth, he might well feel somewhat cheated.
Rightfully, the verdict will not be governed by sentiment. Instead, let it be governed by performance, and by the promise of so much more when surrounded, for the first time, by truly world-class talent.