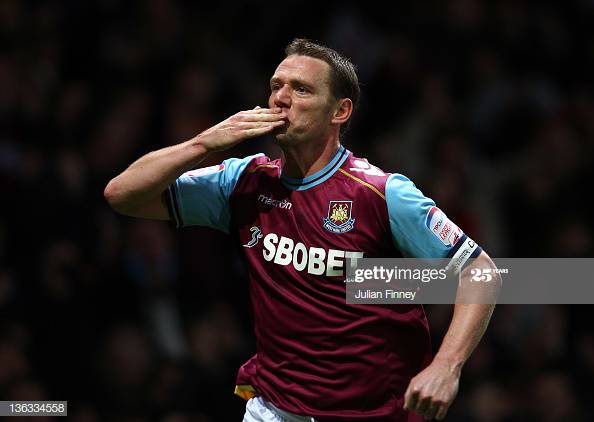 Project Restart - the plan to resume the Premier League season behind closed doors on June 12 - has proved a polarising topic for fans recently, but perhaps it is unsurprising that Kevin Nolan - a man whose life has been consumed by football ever since the age of four - is unequivocal in his assessment of the situation. "Whatever it takes, get it back," he tells VAVEL via the in vogue Zoom video call.
Nolan, a former West Ham United, Newcastle United and Bolton Wanderers captain, amassed over 400 Premier League appearances in an illustrious career amongst England's elite, developing a reputation as one of the most reliable midfielders in the league and a true fan favourite with his eye for goal and iconic 'chicken' celebration.
However, it all began in an unassuming terraced house in the Toxteth district of Liverpool, an area that still holds a special place in his heart. "Apparently it's a really bad area [Toxteth] but for me it was the best upbringing I could have had," Nolan says. "Looking back it's quite mad because we never expected anything but where we've got has been brilliant."
Nolan was an early bloomer when it came to football, joining an under 8's team at the age of 4. Success, even as a kid, was incessant. "We ended up winning everything you possibly can as a school football team: we won the English Trophy, which I won twice – one with the city as an under 15. A year after I won the English Trophy again with my school team. We also won the Merseyside and the Liverpool cup."
Bolton and Big Sam
His ability didn't go unnoticed by scouts, but at Liverpool's academy, where he played for four years between the age of 9 and 13, he found his freedom and enjoyment of the game suffocated. Preferring to be a big fish in a small pond, Nolan felt more at ease when he signed on at Bolton's lower-profile academy. "They made me feel like I was the main man which is sometimes the nicest thing," he admits. He had been invited there by a friend's dad who had caught wind of his departure from Liverpool.
Initially a ball-playing centre-half at Bolton, Nolan recalls a comical yet seminal moment aged 17, when Sam Allardyce - who had just replaced Colin Todd as manager - made no secret of his disgust for one of Nolan's particular moments in defence. "The ball came and I should have headed it, but I backed off, chested it down and played out. And I remember Sam screaming from the sidelines 'Oi, you, get your head on it !', swearing his head off!" From then on, Nolan was moved upfield, and both he and Bolton reaped the rewards as he scored eight or more goals in four of his first six Premier League seasons - an impressive return for a midfielder.
Yet while Allardyce was perceived as old-fashioned in some aspects of his management, in others he was highly innovative and influential. As one of the first managers to adopt the Prozone technology and take a statistical approach to coaching, he was very much ahead of the game. "He's been so unfairly stereotyped – he was one step ahead," says Nolan. "What he did at Bolton, I don't think will ever be done again considering the size of the club. He's definitely been a massive influence in my life and my career."
Allardyce led Bolton to four successive top-eight Premier League finishes and the UEFA Cup knockout rounds in 2006, with Nolan very much the epicentre and heartbeat of the side.
Newcastle and West Ham
However, when Gary Megson arrived in 2007 after Allardyce's resignation, the power dynamic within the dressing room gradually became unsettled, and Nolan's relationship with the club began to deteriorate. Newcastle bid £4million in January 2009, Bolton accepted, and just like that, it was the end of an era for Nolan, who was on his way to Tyneside. A few months later, the Magpies were relegated, but Nolan wasn't exactly surprised.
"I never thought going there that they'd be relegated – I knew they were struggling – but when I got there I realised why. There was no harmony within the club, there was nothing."
Bolton tried to sign him back that summer, but their attempts were futile - Nolan had unfinished business at St James' Park. His decision to stay put proved well-founded; the following season in the Championship was a resounding success. "Chris Hughton ended up just stumbling into being manager. But it [09/10 season] was one of the best times of my career. We absolutely romped the league, didn't lose a game at home all season."
Newcastle finished on 102 points - the joint-second highest total in Championship history - securing promotion at the first time of asking. The following season they finished 12th, highly respectable, but after the board pulled the plug on negotiations for a new long-term contract for Nolan, who was undergoing an ankle operation, he began to assess his options elsewhere. "Alan Pardew was the manager at the time and he was going I don't want to sell you and I was going 'Alan, you've got to'," he recounts.
So when West Ham came calling with Allardyce at the wheel, there was only one option for the Newcastle midfielder. The club had just been relegated, but Nolan and Allardyce managed to "reenergise the group", and the Hammers' return to the top flight was instantaneous, winning promotion via the playoffs. "Everyone was expecting us to go and win the league but there was so much stuff behind the scenes which was wrong."
Nolan went on to spend another four seasons at The Boleyn Ground, and, like many others, was sad to see West Ham transition out of the stadium that had served them so well for so many years. "It had that feel of 'you're in West Ham', you're in an authentic, old ground where everyone is so happy," Nolan reminisces. "We had to move on, we had to be bigger, we had to get better but we haven't been able to make the Olympic Stadium feel like our place because it's still owned by the council."
Management
In 2016, aged 33, Nolan left the Premier League to pursue management, with his first destination fellow East-London club Leyton Orient. He was appointed as player-manager, but found the juggling act difficult to handle. "The playing and the managing was difficult to balance," he explains. "It probably came too soon to be honest. I probably made a mistake in being a manager that early but I wouldn't change it for the world because I really enjoyed it and it's put me in good stead for now [assistant manager at West Ham]."
His spell there was brief and he soon moved on. Notts County were next to appoint Nolan as manager, and after a blistering start to his first full season, winning eight of his opening ten games, they made the play-off semi-finals, where they were defeated by Coventry City. Nevertheless, County were on an upward trajectory - at least on the surface of things.
The following season, Nolan's fortunes changed for the worst as County failed to win any of their first nine league matches. The board acted decisively and Nolan was dismissed. County would be relegated that season. "The owners at Notts County didn't listen to what I was telling them and what I wanted to do. I think that's why that ended," he explains.
"We had a five-year plan to get into League One, we were nearly there after 18 months. We thought that we'd still get there within the three years but the owner [Alan Hardy] wanted more and more too quickly but football's not like that – you can't buy success."
The sacking was a bitter pill to swallow for Nolan, who had just bought a house and was beginning to settle down in Nottingham. Ever since then, he has been looking for a route back into coaching and management, so when David Moyes offered him the job as assistant manager at West Ham - his former club - it was a no brainer.
Moyes, with Nolan at his side, oversaw a minor upturn in form with the struggling Hammers before the season was brought to a halt by the coronavirus pandemic.
The enforced break has left many clubs on their knees financially, but Nolan is confident West Ham are better positioned than most to stay afloat. "We're financially secure so we'll be okay but it can't go on for longer and longer and longer, and for me, I just want to get back to work."
"I think they [the club] have been quite good, the lads have been sent training programmes to do at home," says Nolan. "Now, because it's been lifted a bit, they've been going in [ to the training ground ] individually and using the facilities."
Nolan is also a passionate advocate of the controversial Project Restart, citing the potential morale boost of a return to some semblance of normality. "I never envisaged that I'd say 'yeah, let's play it behind closed doors', but I think it's got to happen."
"If everything's safe and we're given the go-ahead by the government then for me it's a no-brainer. Televise it, make everybody happy, don't worry about atmosphere – people will make the atmosphere in their rooms."
The current climate is forcing everyone to operate outside their comfort zones. Even for Nolan, a man who's managed to adapt everywhere he's been, this is unchartered territory.