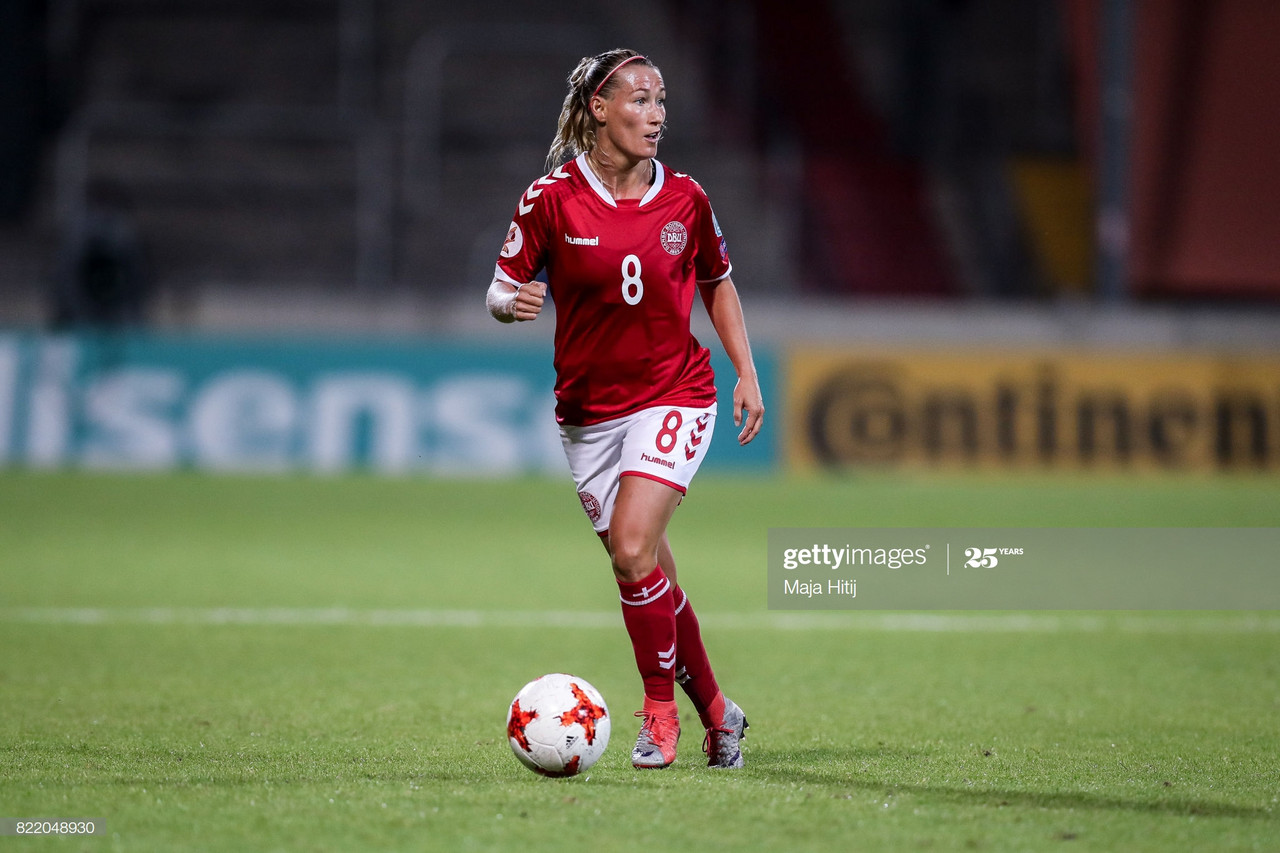 With a track record that shows more than 100 international games, Theresa Eslund Nielsen is one of Denmark's National team's most experienced players. She played an important part back in 2017 when Denmark created a piece of magical football history by winning the silver medal in the UEFA Women's Euro. It's not hard to understand why she holds that moment as one of her highest achievements in her career.
Different from other European leagues
Eslund Nielsen has been loyal to the Danish top league football, playing most of her career in Denmark's top league, Gjensidige Kvindeliga. Eslund Nielsen in the NWSL with OL Reign last season, but she has returned home to Denmark and Brøndby IF. The Gjensidige Kvindeligan includes 8 teams and they play it a bit differently compared to other European leagues. When all league games in Denmark have been played, the top 6 teams enter a playoff to decide which team gets the title. The playoffs were just about to start when the league was stopped due to the coronavirus.
"Not knowing if we could finish this season has been the most difficult thing to handle mentally. I'm extremely happy about the fact that we got the approval to do so. I'm aware of the fact that many of my colleagues around the world haven't had the same opportunity. And although we're allowed to play again we have to play with precautions and restrictions." Eslund Nielsen says.
Denmark allows fans back in
As usual, it's the two giants in Danish football that battle each other for the league title; Fortuna Hjörring and Eslund Nielsen's Brøndby. The Danish defender is excited to play games again and fight for the title, with Brøndby currently two points behind Fortuna Hjörring in the playoff table. As an added bonus, Gjensidige Kvindeliga has been given a green light to let fans back into the stadiums again. Sporting events in Denmark will from now on be limited to gatherings with the highest limit of 500 people and that makes it possible for the league to let fans back in to watch the games from the stands. Eslund Nielsen is looking forward to hearing the fans support from the stands again:
"It is great to be allowed to play in front of an audience again. Especially at our home games! Brøndby has a fantastic club spirit so I look forward to being allowed to play in front of Denmark's best fans again."
"It also feels great to play games again. I've really missed being out on the pitch with my teammates. I feel very happy about being back out there. We have a lot of strong opponents and there are still games left to be played this season. At the moment we just take one game at the time, but of course; we want to play that last game that will decide which team gets this year's league title."
Brøndby IF vs FC Thy-Thisted
This Saturday, June 13, at 14:00 PM, Eslund Nielsen's team will take on FC THY-THISTED, a team that are just behind Brøndby in the table currently
"FC THY-THISTED have had a great season so far. They play in a way that suits them just perfectly and they really stick to their gameplan and their tactics. For this game, it's really important that we are patient and that we focus on our own play. We have to concentrate on ourselves and do what we do best. We have to be prepared to handle their quick transitions around the midfield because that's one of their many strengths."
In recent years when women's football has been taking huge steps forward, Eslund Nielsen seems satisfied with where she is at this stage of her career.
"I feel very proud to play football at a club like Brøndby. It's a club with many traditions, a good history and great values. During my career, I've developed a lot as a person. But I think being a football player has helped me develop as the person I really want to be - especially outside of football."