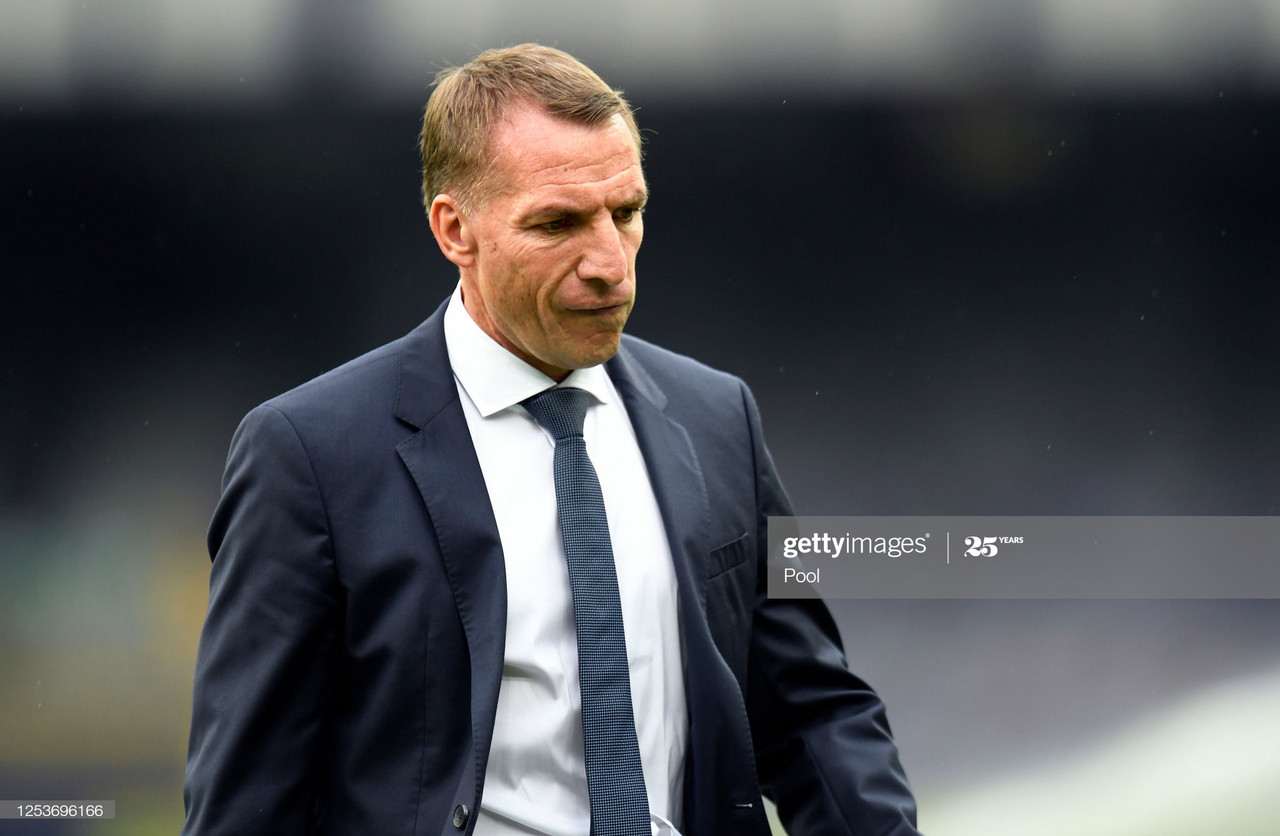 Brendan Rodgers has claimed Leicester City need "to have a reset mentality" after they suffered another disappointing result against Everton.
The home side stormed into a two-goal lead after 16 minutes when Richarlison stuck the ball past Kasper Schmeichel before Gylfi Sigurdsson beat the Danish goalkeeper from the penalty spot.
Kelechi Iheanacho came on at half-time, with James Maddison, and scored his first goal of the restart six minutes into the second-half.
The defeat now means the Foxes sit only three points ahead of Manchester United in fifth-place, with only six games remaining.
'Too many times'
After another flat performance in the first-half, Rodgers introduced Iheanacho and Maddison at the mid-way point, forcing a tactical tweak for the second-half.
However, the manager made his frustrations clear having witnessed Leicester's showing in the first period.
Speaking of the defeat, he told LeicestershireLive: "I said at half-time, there's too many times I have to come in and feel like I have to rescue the game either by making the change or with a more aggressive half-time talk to get a response.
"I know we have a young squad, but to consistently compete at the top, it's a mindset. There's no doubt we have to have a reset mentality if we want to achieve what we want.
"There's too many times we have to change that mentality."
'We're in a strong position'
Despite suffering their ninth league defeat of the season and failing to extend the gap between them and United, Rodgers still remains confident of reaching their goals.
He said: "We're in a strong position. We still have it within our hands to achieve what would be a dream for us.
"But since we've come back we've not got the full performance right. We need to win on Saturday.
"I've always said we'll push to finish as high as we can. If we don't finish in there, we haven't been good enough."
'It wasn't clear and obvious'
City gave themselves a mountain to climb at Goodison Park by conceding two goals in 16 minutes.
The penalty came after a VAR check, that lasted over two minutes, decided to penalise Wilfred Ndidi for handball. After the previous VAR calls that have gone against his side, Rodgers did not hide his disappointment at the decision.
"I think it was so harsh," he said. "We've had so many of those that we haven't had this year.
"It was difficult to go further behind with that. It wasn't clear and obvious."
'It's not good enough from us'
Iheanacho came on for the Foxes to score his fourth league goal of the season in an instrumental role as they attempted to rescue the game.
Speaking to LCFC.com, the striker also highlighted his dismay at the Foxes' performance. He said: "It's absolutely a tough one [to take].
"We need to to do more. It's not good enough from us. We just need to get back and work on training. We got a goal back and we got a couple of chances, but unfortunately, we lost.
"We need to do more and get back to winning ways. In the next game, we need to fight and get the three points."
'Everyone is important'
It is now the seventh time this campaign that the Nigerian striker has been subbed on for the club.
With the congestion of fixtures, Iheanacho outlined the importance of all the players ahead of Saturday's meeting with Crystal Palace and Tuesday's trip to Arsenal.
"It's always good to get on the pitch to play and help my team-mates out," Iheanacho continued. "Everyone is important in the team, whenever you're playing, so you need to give your best and for the team.
"Every week, [we're] playing two games, so we need to just get ready. In three days, we'll play Crystal Palace, so we need to get ready to play again."