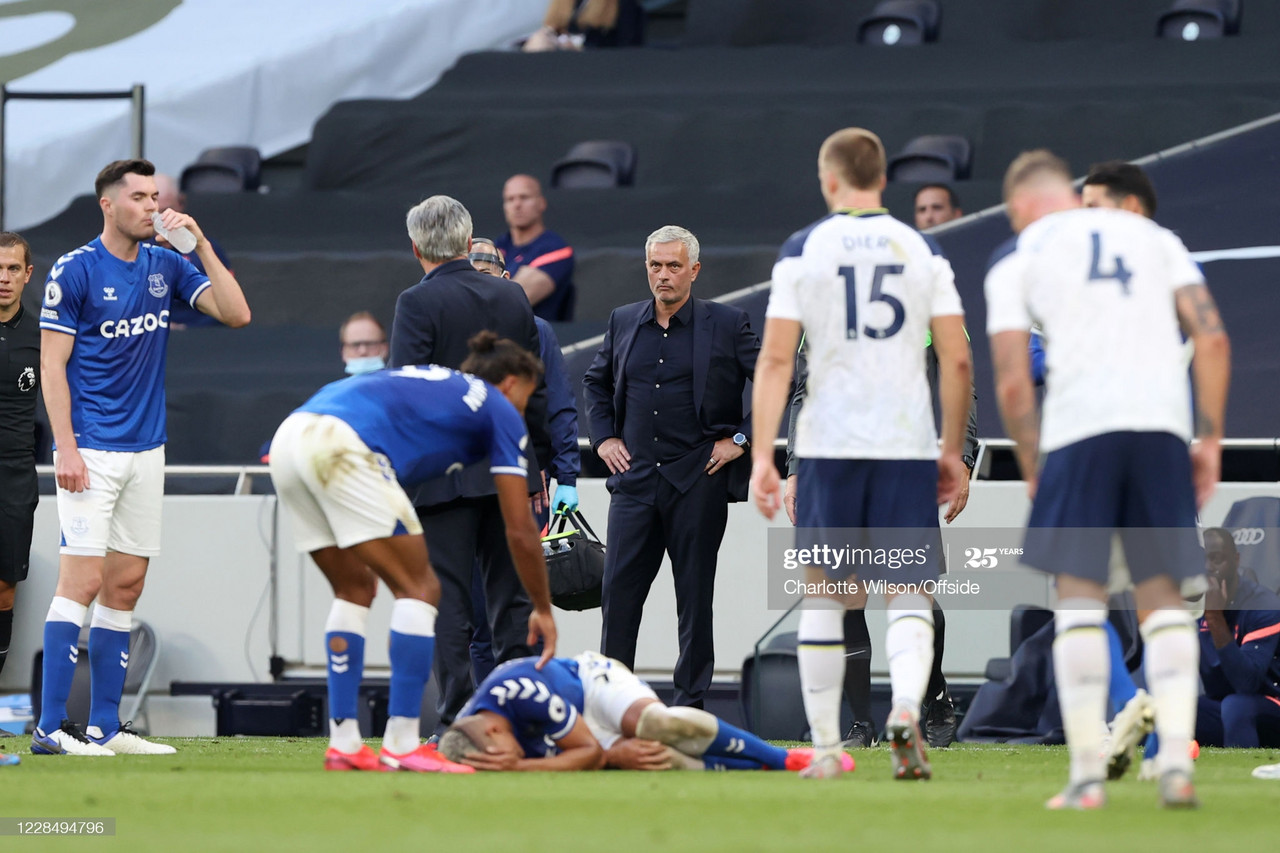 Tottenham Hotspur's season began in a disappointing 1-0 defeat to Everton.
Dominic Calvert-Lewin's brilliant header in the second half was the difference between the sides.
The 23-year-old gave Hugo Lloris no chance - condemning Jose Mourinho to his first loss on the opening day in his managerial career.
Dele Alli and Matt Doherty both tested Jordan Pickford in the first half, but after the opening goal Spurs were very flat.
The Toffees were well worth their victory. New signing James Rodríguez was in excellent form, and the new-look Everton fully deserved their win after a hard-working performance.
STORY OF THE MATCH
The game's first piece of action came in the 15th minute. Ben Davies' loose and poor long pass began a race for the ball with Richarlison and Toby Alderweireld.
The Brazilian got ahead and won the duel ahead of Belgium, leaving him with only Lloris to beat.
He went around the keeper with ease, but he was off-balance.
Instead of squaring it or taking a touch, he somehow blasted it over the bar while tumbling over.
This was a massive let-off for Mourinho and his team.
Tottenham's first real sight of goal came quickly after, the lively Heung Min-Son whipped in a delightful ball that Kane was inches away from.
Everton settled into the game nicely, but it was Dele who had the next opportunity to break the deadlock.
Spurs broke with Son and he opted to put Dele in on his right foot rather than Harry Kane on his left, and the 24-year-old forced a good save by fellow English international Pickford.
Just before half-time, the debutant Doherty tried to burst the game into life – running right into the heart of the Toffee's backline.
He slipped the ball into Kane, who paused, then chipped in a delightful ball back to the 28-year-old.
Pickford rushed out and was equal to the shot – but it was promising from the new signing and a delightful bit of inspiration from the England captain.
Despite some good chances, Mourinho opted to make at a change and subbed on Moussa Sissoko for Dele at half-time.
This saw Spurs switch to a 4-4-2, with Sissoko on the right, Son left and Lucas Moura through the middle with Kane. This came with little success.
The breakthrough came through a set-piece on the left-hand side.
Lucas Digne whipped in a delightful looping cross from which Calvert-Lewin rose above Dier and guided the ball brilliantly into the top corner.
The rest of the half was, in all honesty, a drab affair as far as Spurs are concerned. No pressing, no coherence, no creativity and no quality.
Everton's new-look midfield shined, with Abdoulaye Doucouré and Allan both putting in great shifts.
James Rodríguez lived up to expectations, constantly providing a threat down the left-hand side.
The Lilywhites didn't once look like testing Pickford. Tanguay Ndombele and Steven Bergijiwn, two second-half substitutions, did not make any impact on the final third.
The only real chances after the goal were sourced through Richarlison, who twice cut from the left-hand side and tried to curl it into the bottom right corner.
Spurs gained a bit more possession in the final 15 minutes – failing to do anything of note with it.
Son, Kane and Lucas were passengers and the game petered out into a rather simple win for the Carlo Ancelotti.
The Lilywhites now start their daunting schedule where they face an unwanted Europa League 2nd qualifying round against Lokomotiv Plovdiv.
NEW SEASON SAME PROBLEMS
In a time where so much is changing, today was an all too familiar experience for Spurs fans.
The good end to the previous season created a sense of optimism, but this affair was an ugly reminder that Spurs have serious problems that need addressing if they want to progress as a team.
Defensive woes
Mourinho has so often been tailored as a master in creating a solid and robust defensive line, but he has a long way to go before he has mastered this ever-present problem.
Davies, who is highly regarded by Mourinho, made a suicidal pass that eventually led Richarlison to race away and somehow not take the lead.
Despite Davies' poor pass, Alderweireld's lack of pace to win the 50-50 with Richarlison was alarming, and his sloppy tackle allowed the Brazilian to skip his challenge with ease.
Dier and Alderweireld were the chosen centre backs, but both didn't do enough to convince they should be the first-choice options.
Dier was the man marking Calvert-Lewin and did next to nothing to stop the striker jumping and heading home.
New signing Doherty started at right-back, and despite showing signs of his presence going forward, he disappointed in his efforts to nullify the threat of Richarlison.
Individual mistakes at the back continue to be Spurs' worst enemy, and this must stop if they want Mourinho's first full season at the helm to be a success.
Whether they need to find a settled four or delve into the market, it is it blatantly obvious this is one of Tottenham's biggest problems at the moment.
Can't break teams down
This is another common issue that also keeps rearing its ugly head.
Last season, Spurs started to find some joy on the counter-attack – especially with Kane and Son linking up well.
In the first half, this situation is where the Lilywhites' looked most dangerous.
This was present when Lucas and Son broke away from a corner, which eventually created a fantastic opportunity for Dele.
A massive issue keeps occurring when the other side deploys a low block. Spurs more often than not look lost for ideas, failing to break down organised and packed opposition.
After Everton scored their goal, this pattern occurred, because they were more than happy to let Spurs have the ball in their half.
There was a complete lack of urgency to move the ball forward, and the ball usually found itself going sideways in the midfield or to the full-back position.
The ball could not stick to the dangerman. Kane only had two touches in the Everton box.
Subsititutes Ndombele and Bergijiwn failed to inject some pace or creativity to happenings in the final third.
Spurs looked a frustrating outfit, and the common theme was balls being whipped in from either full-back – but Kane would then be crowded out by the Everton defence.
This has to be viewed as a learning curve, and when Spurs are allowed possession of the ball, they need to find ways to carve open oppositions and break lines into the likes of Kane and Son.