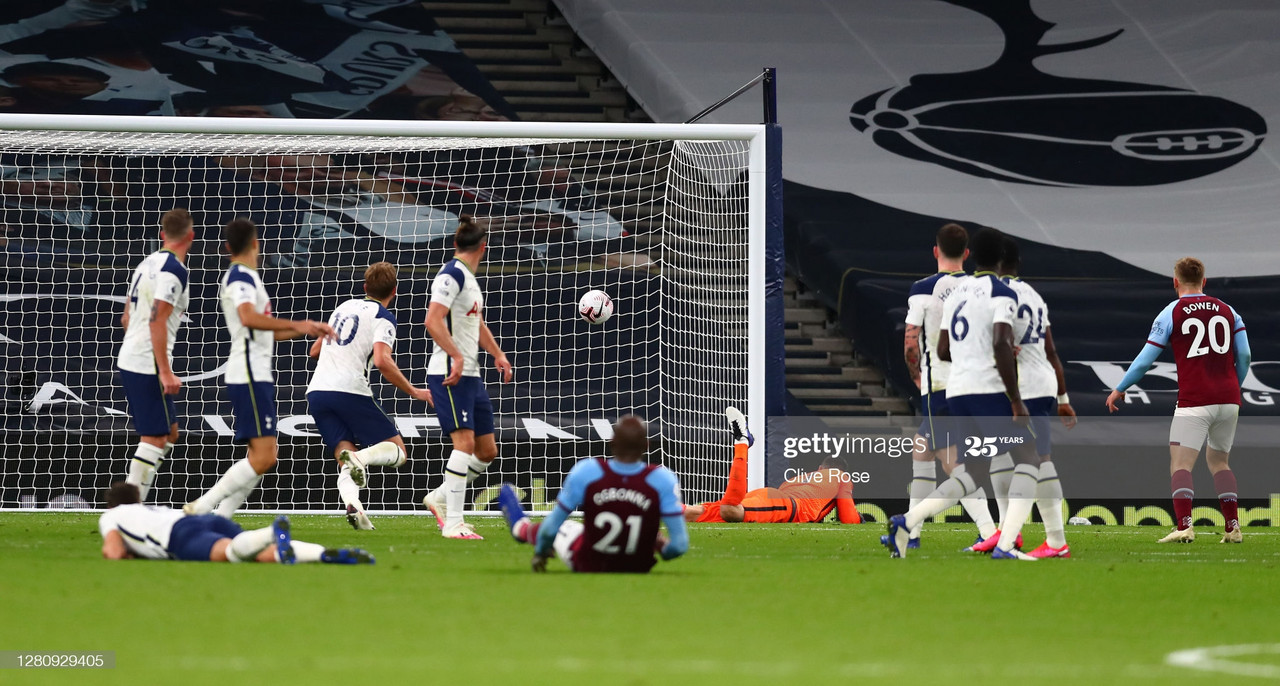 A fully packed stadium, fans singing your name, clapping and cheering a hard tackle or when the ball has been smashed into row z. All of these must add fuel to a defender's ego and confidence, but has the lack of fans in stadiums affected teams ability to hold out their leads?
So far this season there has been 171 goals scored in 46 games which works out at an average of an astonishing 3.72 goals per match.
If this rate carries on we are set to be seeing the highest scoring Premier League season ever with 1,411 goals the previous record is 1,072 in the 2018/19 season.
Lapses of concentration
A common theme so far this season is lapse of concentration with a lot of teams not being able to hold on to leads which if fans were in stadiums perhaps they could have.
The first example of this came at the weekend where Tottenham Hotspur were 3-0 up with just eight minutes left on the clock and out of nowhere West Ham managed to bring it back to a 3-3 draw.
When interviewed after the game Jose Mourinho said "Football happened, I have to praise West Ham's belief." Belief which would have perhaps been harder to have if Spurs had the 12th man effect of the crowd being there lifting them and getting under West Ham's skin.
Another side which could have benefited with the 12th man at the weekend was Chelsea who drew 3-3 to Southampton. Chelsea went 2-0 up but couldn't kill the game off and paid the price for it, all it was their defensive mistakes which truly made them pay the price but it does force questions to be asked how much a full stadium affects a defender's mindset and decision making.
Looking at the champions Liverpool, they have conceded 13 goals in 5 games which many may consider an anomaly but looking at all the goals these have included a few individual errors. Virgil Van Dijk against Leeds to put Patrick Bamford through, Andy Robertson against Arsenal teeing up Lacazette and then to add these Adrian vs Aston Villa. Conceding this many goals from mistakes this early on is not typically the sign of champions.
Another awful defensive display came just over a week ago as Spurs managed to put six goals past united at Old Trafford in what can only be described as a nightmare defensive performance, with Luke Shaw in particular looking very poor.
A changing game
We all know the game is changing with teams continuing to adapt their tactics so they don't get figured out but could it be that managers are too focused on adapting their attacks? That they don't spend enough time on their defence or have we reached a stage where the managers are demanding too much from their defenders with going forward that everyone is forgetting a right backs job isn't to put all these crosses in and get all these goals and assists. Their job is to defend.
One team to highlight which may be making the mistake of asking too much from defenders at the moment is Chris Wilders' Sheffield United. Wilder had a great first season with Sheffield last season and most notably would play with overlapping centre backs, but after five games this season Sheffield only have one point.
Maybe it is time to go back to basics and defend, possibly Kolo Toure was speaking more sense than what we first realised when he said: "Strikers will win you games, defenders will win you the league."