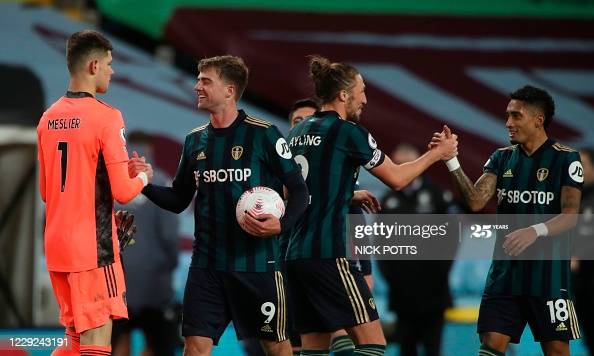 A stunning display from Marcelo Bielsa's Leeds United, served up high flying Aston Villa their first defeat of the season.
While the 3-0 scoreline lends itself to a more dominant, one-sided affair, the game that took place at Villa Park last night had more to it than that.
The Villains had their fair share of opportunities to put the ball in the back of the net. In-between the waves of Leeds attacks, saw claret and blue chances being led by their star-man Jack Grealish - unfortunately never materialising in a goal for the hosts.
Magnificent Meslier
At 20-years-old Illan Meslier is a softly spoken giant stood between the posts for the Whites. However, he is quickly becoming one of the most ruthless goalkeepers in the Premier League.
Following on from a successful loan deal from Lorient last season - a campaign that saw him become the first choice shot stopper in the absence of suspended Kiko Casilla - Meslier made the move to Leeds a permanent one.
Last night Meslier was responsible for three key saves to prevent the Villa ball crossing the line. The first being a routine stop to prevent a superb solo goal from the host's captain, Grealish.
He then followed that save up with an instinctive tip over the crossbar from a well guided Ezri Konsa volley.
It could be worth noting that the Leeds man between the sticks had a helping hand from stand in centre half Luke Ayling early on in the game. A side footed shot from Grealish, into a seemingly open goal, was cleared off the line by Ayling to keep the scores level.
Gruelling Grealish
Once again, the club captain made himself hard to ignore throughout the 90 minutes. Despite being on the end of a disappointing result, the same can't be said for Jack Grealish's contribution to the game.
Without fail, the 25-year-old attacking midfielder was at the head of any impending danger approaching Leeds' defence.
A tireless worker, Grealish was all over each blade of grass again at Villa Park last night attempting to transition from defending a manic attack to forming a clinical counterattack of their own.
Unfortunately though, the demon that looms over Grealish's wonderful talent showed his face once again last night.
Late into the first half, Grealish skipped his way into the Leeds penalty area in his usual elegant fashion, though once he penetrated the 18-yard-box he threw himself to floor in search of a penalty.
It was Helder Costa who had made a run behind the England international causing the incident, but once VAR had run its checks, referee Paul Tierney, rightfully waved away the appeals.