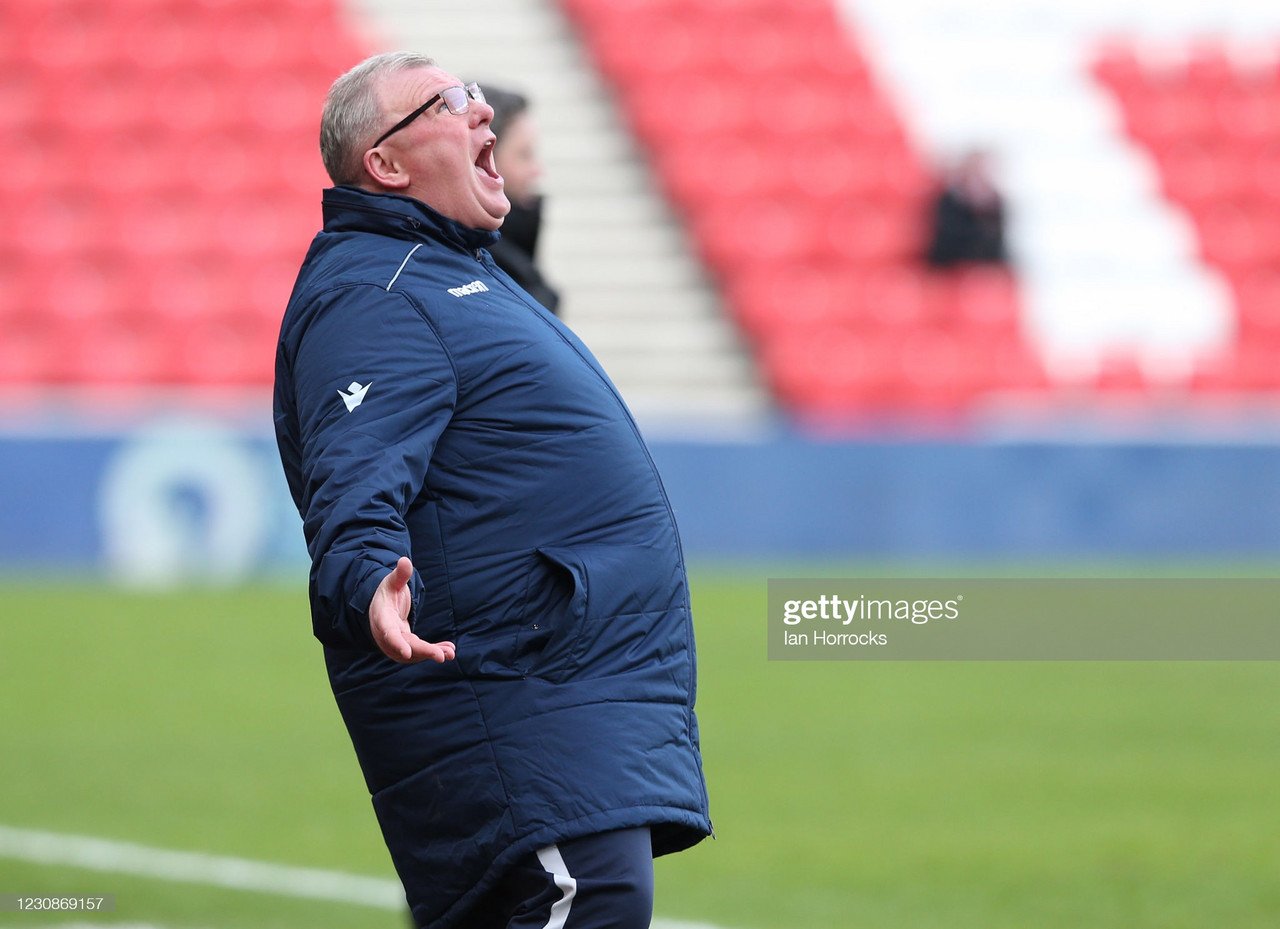 Gillingham will host Lincoln City in League One action on Friday with the hope of registering a third win in five games.
Ahead of the match, Gills manager Steve Evans spoke to the press. Here are five of his key quotes.
On Sunderland
"The performance was excellent. I think even the backroom team at Sunderland were saying the least we deserved was a point, probably all three.
"We dominated for long spells, conceded a deflected goal, got back in the game, hit the bar… the referee gives a penalty that is never a penalty. They had a spell in the second half where they were better, but for the last 25 minutes we were around their penalty box.
"We missed a couple of good chances to equalise and if we had scored earlier, I think we would have won. But Jordan [Graham] scores a good goal, gets us a point, and any point at the Stadium of Light is a good point, but it is certainly two left behind."
Gillingham drew their last match 2-2 against Sunderland at the Stadium of Light. The Gills twice came from behind to earn themselves a point, but controlled large periods of the game, and perhaps should have won.
On the turnaround in form
"I think it is fine margins, inches and mitres. We lost some of the games by odd goals, missed key chances at big times. We thought we were going to get that at Sunderland.
"Heart, spirit, commitment, passion and those little inches going in our favour helps you get results. And of course, when in you bring in the likes of Callum Slattery and Olly Lee, it improves what you had."
Gillingham were on a run of five defeats in six games a few weeks ago, but they have managed to turn their fortunes around, and are now unbeaten in four.
Whatever that us down to, Evans will be pleased, and hoping it continues.
On ambitions
"The conversations are very different from where I came in to where we are now. When I came in the chairman asked for one season of stability – for four or five years the Gills fans had been fearing relegation – we did that and it is now about adding to that, building on that.
"The situation has changed with the pandemic, but we have to make sure we have a Gillingham Football Club next season. Paul Scally does not get the credit he deserves."
Evans is right. For many years, almost every year since the club returned to League One in 2013, Gillingham fans have seen their team faced with the threat of relegation all too often when heading into the final few weeks of the season. Last year they didn't have that. Of course, the campaign was cut short because of COVID-19, but Evans led his side to a respectable 10th place finish.
Chairman Paul Scally cops a fair amount of stick from Gillingham fans, but one thing is for sure: the club will never die under his leadership.
On the tv cameras
"I will not be saying anything different. I had enough of cameras during my time at Leeds United to know they do not exist – they are peripheral, and it will make no difference in me asking my full back to get in or my striker to get in the box.
"It will not affect the players. They will get on with it, but I think we will see some clean shaves and fresh haircuts from the players trying to look prettier than they already are!
"There are boys that have been around it and it will not affect the players at all."
The game is being broadcast live on Sky Sports on Friday evening, and it is the first time Gillingham have been on tv in over a year.
That can come with added pressures, but Evans is convinced it will not have an impact on his players.
On Lincoln
"I think they are the best team in the league. I have watched them live, and my opinion is if you finish above Lincoln you will be playing in the Championship.
"They have had big investment, probably a budget four times what we have, but I have been there, and Michael's [Appleton] thoughts will be if he can deliver, he can do no more.
"He has two or three players for every position – if five quality players drop out then he can just bring in five more. They are a terrific footballing side; they can mix it up and they have an excellent coach. It will be a tough game, but we are in good form, we have good players, and we are looking forward to it."
There is no doubt Lincoln are flying. They have lost just once in their last nine games and occupy second place in League One.
The game will be an interesting one. Two teams similar in style and form will lock horns on Friday night, and it promises to be a cracker.