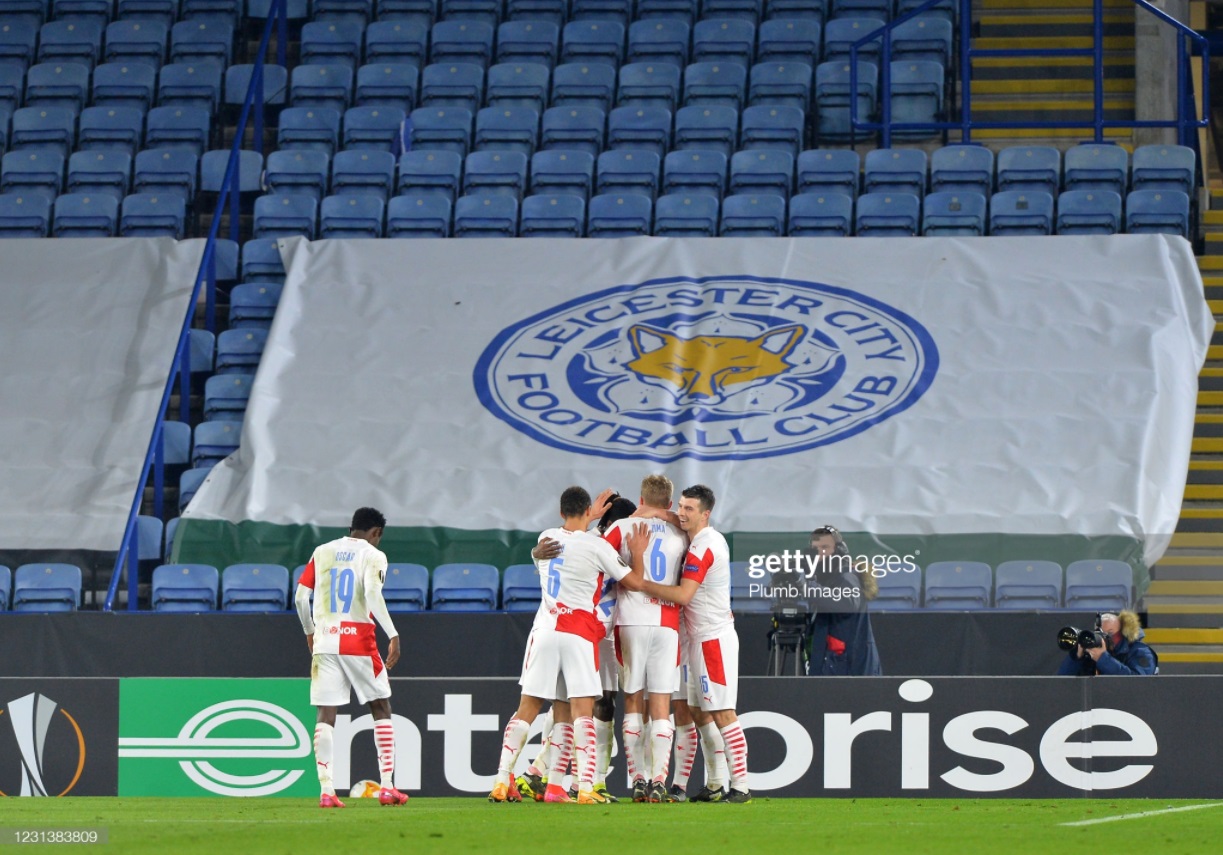 Slavia Prague came to the King Power Stadium and stormed to a 2-0 victory with two second half goals to send Leicester City out of the Europa League.
It was a game of two halves really. Not much went on in the first half and it was a cagey affair, and the hosts had the best of the chances in the first 45.
Leicester were without key players for yet another game, and with a questionable starting 11 from Brendan Rodgers, it was confusing as to where the tie would go.
Abdallah Sima fizzed a superb strike into the bottom right hand corner on the 79th minute to double the visitors lead, after Lukas Provod volleyed in the opener half an hour prior.
Sima, the 19-year-old, has 19 goals this season in all competitions and is proving to be a real asset, keeping up the reputation of Slavia's scouts.
The 6ft2 forward was a huge threat over both of the legs and rewarded his excellent performances with a beauty to wrap up the victory for the Czech leaders.
His physical presence and electric pace will have top European sides come knocking in the summer and Prague will do a good job to keep hold of the teenager.
Rodgers' side had a good start to the game and found themselves with Cengiz Ünder creating from the right, however couldn't do enough to break down the brick wall that was the away sides defence.
The hosts pressed well and created a few chances. Ultimately, there was just not enough creativity and flair on the field, James Maddison's absence especially being felt.
Also, not starting Harvey Barnes after he has been in such great form, didn't do the Foxes any favors. Even Youri Tielemans struggled. The Belgian is usually inch perfect with his passing but his final ball wasn't up to speed.
After the visitors took the lead just after half time, this meant City needed double the goals with the away goal rule coming into play, a mountain to climb and Rodgers' players heads dropped, meaning an exit at the round of 32 which is utterly disappointing considering how good their season has been so far.
There will be plenty of work going on in the background identifying long term Jamie Vardy replacements, and more than ever with is a prolific Vardy backup needed with the veteran coming into the last seasons of his career.
The forward went missing against against Slavia. In fairness to him, he didn't get much service from his team mates, but it was hard considering Prague's tight nit defence was so sharp to deal with any problems, and doubled up on Vardy every time.
However, at some point, Rodgers could have tried a plan B and have Vardy dropping deeper to create space elsewhere, when the long ball forced tactic wasn't working at all.
It was not a game for Leicester that was written in the stars to win, and certainly not a game for the 34-year-old striker.
It could end up being a blessing in disguise and knowing Rodgers' experience in managing and his ability to change his players mindsets, the Northern Irishman will be sure to learn from this damaging defeat, and push his players on to finish the season strong - hopeful that there won't be a repeat of last season.