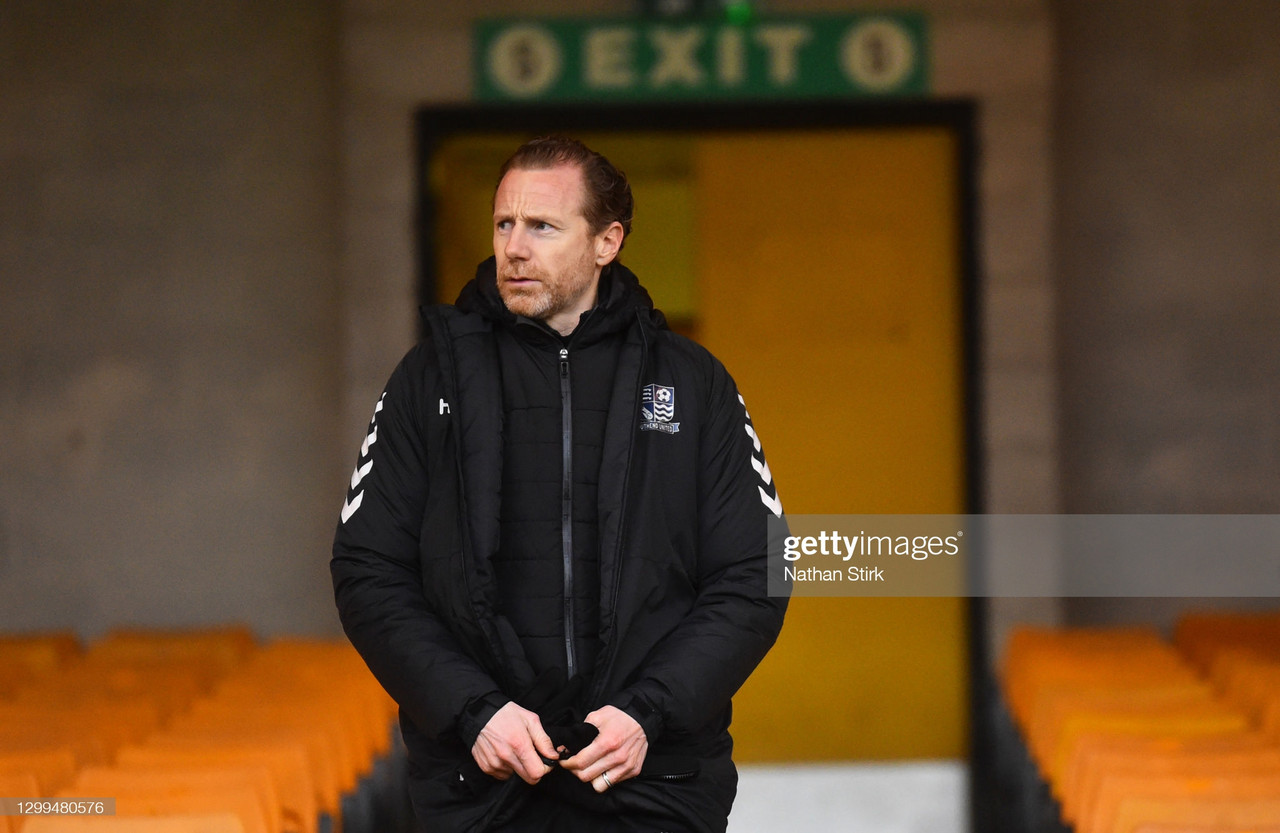 Southend United have terminated the contract of manager Mark Molesley and the rest of his coaching staff following their draw to Morecambe.
The 40-year-old leaves the Blues slumped in the League Two relegation zone, five points adrift of safety with only six games remaining.
From the outside looking in, it may be easy to critique anyone who leaves a club in such a dismal position; however, supporters of Southend know that it is not as black and white as it may seem.
Reflection
Molesley leaves Roots Hall having managed 45 games, eight of which Southend emerged as victors. That is a laughable 17.8% win rate, one which only just edges his predecessors record of 17.4%.
It is fair to say that Molesley was far more appreciated than Sol Campbell ever was, but the sad truth is that, in terms of results, not much separated the two.
Taking over a League Two Southend was never going to be as easy as the task Campbell was left with, however. Exterminating the ghosts off of a League One relegation, managing a young squad as well as dealing with detrimental debt are all factors that should not be overlooked when assessing Molesley's time at the club.
The aim from the beginning of the season was to avoid relegation, despite higher forces at the club suggesting a promotion back to England's third division was the primary objective. It did not take a genius to figure out that was nothing but a deluded fantasy.
It is fair to say that neither of these objectives have been met with success, relegation seems inevitable unless Essex rivals Colchester United drop points within the few remaining games.
Even if they were to, one of Molesley's overriding issues could stop Southend taking advantage of such a gift – the inability to score.
This is perhaps Molesley's biggest failure to date and it is one that overshadows one of his biggest accomplishments.
Since the start of February, Southend have only conceded more than once in a game on two occasions and have kept seven clean sheets in 14 games. Such a defensive record is one that Blues fans could have only dreamt of at the start of the season.
This sturdy defence has been let down by the attacking third, however. Since the start of February, the Blues have scored on seven occasions, three of which came in one match.
This, in turn, means that only two wins have been acquired since the defence has become formidable.
Molesley found half of a winning formula, but severely lacked an imperative component in his bid to build a squad worthy of survival.
The January transfer window can easily be referred back to when mentioning a lack of goals. Only Nile Ranger was signed to sort out the goal drought, and that acquisition was met with a season ending injury ten minutes into his return.
Whether such an incompetent window can be put down to the manager or the chairman is a different debate, but such an obvious mistake has ended up being Molesley's final nail in the coffin.
If you were to conclude Molesley's performance at Roots Hall, the word unfortunate springs to mind. It is hard not to feel as if the 40-year-old was only a player or two away from building something sustainable at Southend.
What does the future hold?
For Southend, six cup finals. It seems as if ex-manager Phil Brown is taking the reins for these imperative games, a man who will no-doubt do all he can to get the needed results.
For Molesley, it is hard to say. A national league job could be the way forward for the coach as a League Two team is unlikely to take him on; however, wherever he goes, if he is met by financial support, he will probably succeed.
One of Molesley's most hireable traits is his man management. His ability to get the most out of players who were far below the minimum requirement is an admirable skill.
Whether fans see Molesley in the EFL again will be down to if anyone is willing to take a risk on him, something that, without experience elsewhere, will be extremely unlikely.