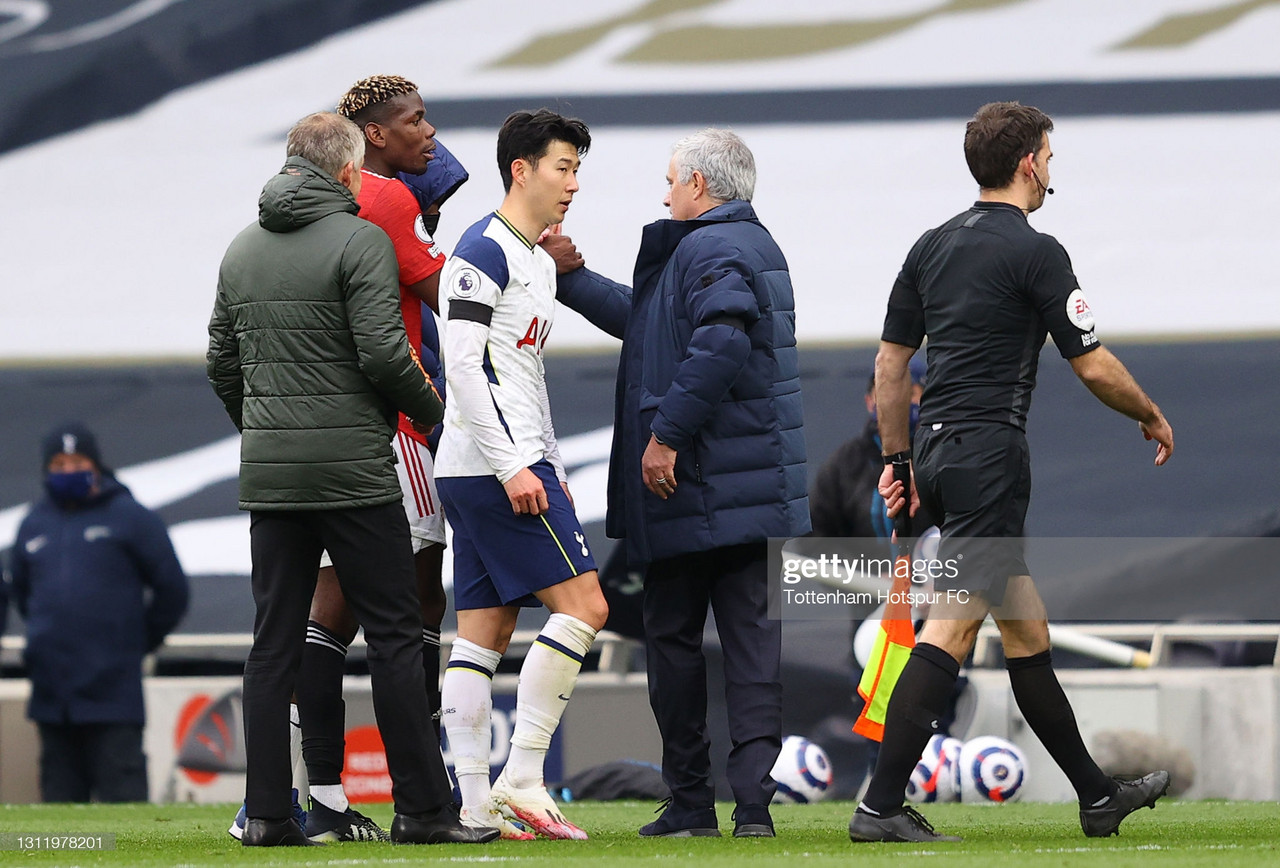 Tottenham Hotspur's hopes of securing a Champions League look all but over following their 1-3 defeat to Manchester United on Sunday.
Spurs starlet Heung-Min Son was one of the select few who was wheeled out to face the media following yet another performance in which Spurs dropped points from winning positions.
Having expressed the importance of the game pre-match, Son looked to be one of the only ones who had given their all on the pitch and things looked promising when he gave them the lead in the first half.
However, a first goal in two years for United midfielder Fred, alongside an Edison Cavani diving header and Mason Greenwood strike turned the tables on the North London side, meaning Spurs are yet to do the double over United ever in the Premier League.
The result leaves Spurs six points off rivals West Ham United with just seven games to go in the season.
Sonny sympathises with supporters
As the cameras swarmed the players at the full-time whistle, Spurs' number seven stood with his hands on his knees, and his head titled towards the ground in disbelief.
As his manager, Jose Mourinho, came to comfort him, the South Korean seemingly turned away from his boss, in a gesture of disapproval.
His mood was reflected in his post-match interview with the Tottenham media team.
"I'm really disappointed this afternoon," he said. "I really don't know what to say, I'm really sorry about it and feel bad and with the passion from outside this stadium, those supporting us, I know it's really disappointing.
"I think they are more disappointed than us, so I feel really bad and really sorry about it. It's a really sad afternoon."
The glaringly obvious pain in his voice alongside his almost watery eyes perfectly reflects the mood surrounding the club during current times.
Only last weekend the eight-time FA Cup winners had the opportunity to move into the top four, and really mount a challenge to secure European football next season.
From watching Son's reactions following the United game, it has only added fuel to the fire in relation to the idea that there are problems going on behind the scenes at Spurs.
Toby Alderweireld was left out yet again, despite featuring in seven of Spurs' ten clean sheets this season.
Social media accounts have pointed out the shocking similarities between Mourinho's time at United and his time at Spurs.
Absolutely nail on the head stuff about Mourinho from @F365 pic.twitter.com/fT6kZOG8wl

— Mac (@Tweetgood_Mac) April 12, 2021
The idea that the Portuguese manager drains the life out of a club through his poor man management and outdated tactics seem to finally have taken effect on Tottenham, the only question left to be answered is what does Daniel Levy do next?
Marginal optimism from the South Korean
Anyone who watches Spurs will know that Son is usually the most upbeat, enthusiastic individual. He moves with a bounce in his step and always has a smile on his face.
This was certainly not the case during his interview, as the 28-year-old could barely look up to the camera.
"Eight games left. I know it's always easy to say let's be positive or we will do our best, but I really want to finish well this season. I really do.
"Six points behind the top four, we have to get a result and wait for the other teams to drop points. We have to do our best and we have to take a big responsibility for the rest of the season."
Whilst Son clearly still believes there is an opportunity to sneak into the top four, he never sounded convinced himself. For someone who usually radiates positivity, his dulcet tone and minimal eye contact suggest that his interview was almost rehearsed.
Continuously, the reality of the situation is that the teams around Spurs are all performing when it matters. West Ham saw off Leicester this weekend, Chelsea eased past Crystal Palace, and Liverpool got a win against Aston Villa.
Spurs are yet to beat a top-six side in 2021. Going forwards from here, it looks a tough task indeed for Harry Kane and co.
Even the interviewer was concerned by the limited energy being put across by Sonny towards the end. He told Son that he had never seen him so low in all his time at the club, to which Son responded
"It's a really sad afternoon because... I really don't know what to say. I know it sounds really crazy or unnormal that I'm really down but if we win I'm really happy, if we lose I'm really down for two or three days," Son replied. "What can I say, we have to bounce back strong next Friday [against Everton]."
Things will not have been made better for Son, as he was subject to disgusting racial abuse by United fans on social media. During the incident which resulted in United having a goal ruled out, it was deemed Son was fouled in the build-up.
This led to some truly horrifying comments being directed to Son, which is being investigated by the club.
Tottenham have condemned "abhorrent" online racist abuse sent to Heung-Min Son following their 3-1 home defeat to Manchester United.

— Sky Sports News (@SkySportsNews) April 11, 2021
Son and Spurs will be hoping to put all of this negativity behind them on Friday night when they face Everton at Goodison Park. You fear that if they lose that one, their hopes of Champions League football next season are truly dead.