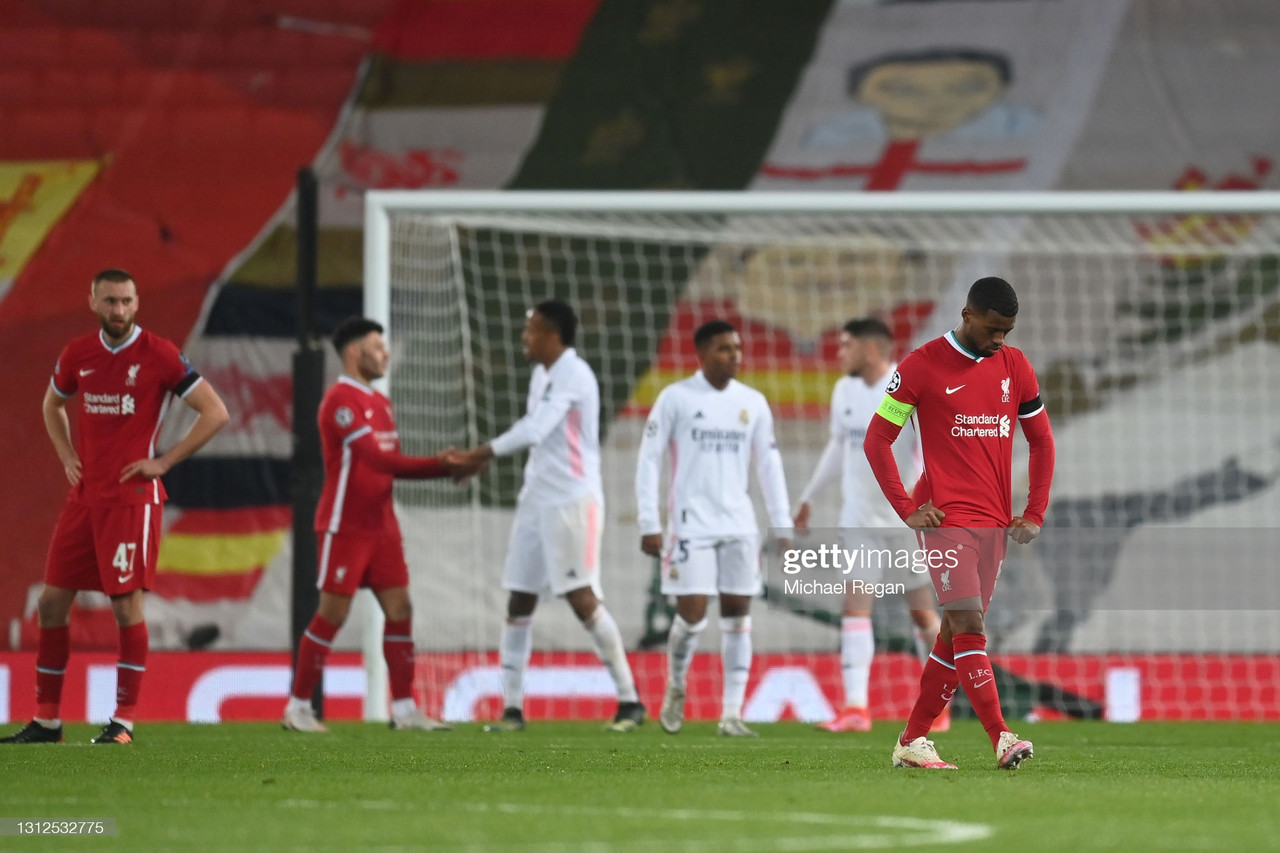 The Reds gave it their all but it ended in disappointment for Liverpool, who could not rectify their poor performance in Madrid last week.
The game at Anfield finished 0-0 meaning that Real Madrid progress to the semi-finals of the Champions League. Madrid's 3-1 home victory in the first-leg gave them a comfortable lead which they were able to hold on to. Despite intense pressure from Liverpool, they remained resolute at the back.
Liverpool started the game with electric energy, putting Madrid under pressure from the get go. Mohamed Salah had the best effort of the match in the second minute of the game. He had a one-on-one chance which needed to be placed into a corner of the net, but failed to direct the shot.
Unfortunately, Liverpool will rue their missed chances and feel that had they taken their opportunities, they could have overturned the 3-1 deficit. Jurgen Klopp's men managed 15 shots throughout the game, with the large majority of them being really good chances to score. For large parts of the game, their build-up play was very good, however the final part of the puzzle was missing and for Liverpool the game ended in disappointment.
Sadio Mane also had a number of chances to score, but failed to truly test Thibaut Courtois. Mane started the game extremely lively and was getting the better of makeshift right-back Federico Valverde every time he took him on. It seemed likely for a goal to come from Mane getting the better of his man. However, as the game went on, Mane had less impact in the game and eventually finished the match of the right wing, becoming ineffective from that position.
There were times when Mane tried to find a teammate instead of pulling the trigger. In previous seasons the Senegalese forward would have buried these chances himself, showing how low his confidence is at the moment. Mane looks like a player who is very worn out and when this season ends, the summer will be very important for him to rest. If Liverpool are to push for trophies again next season, Mane will need to find the form that we are accustomed to seeing. A summer break should hopefully allow for this.
Despite losing the tie, Liverpool can hold their heads high after their performance last night. They played much better than when in Madrid and showed that they can compete at the highest level. Had the Reds taken their chances at Anfield, played better in Madrid or did not have injury problems, the tie could have finished very different. Klopp and his team will have to believe that they can go again and compete for trophies next season.
With Liverpool now out of the Champions League, securing a top four finish will be the priority for the rest of the season.
Despite losing the tie, Liverpool played extremely well against Madrid and created a number of fantastic chances. This is something that the Reds have struggled with since the turn of the year. Should Liverpool play as well as they did against Madrid, they should be able to continue their good Premier League form.
Of course, securing a top four finish is reliant on other teams around them dropping points, as well as Liverpool probably needing to win the majority of their remaining games. Liverpool are currently on a three-game winning streak and face Leeds United and Newcastle United in their next two games. Both of these games are good opportunities to put pressure on the teams around them.
Liverpool left themselves too much to do from the first-leg but will be disappointed to leave the competition and to also fail to score at Anfield against Madrid.
Now as the season comes close to an end, Klopp will be hit with the harsh reality that Liverpool will not win any silverware this year. This will be the first year for two years and will maybe plant of seed of doubt into the German's mind about future recruitment.
It has been a tough season and Liverpool have endured injuries that simply could not have been imagined. Klopp and his team will now begin to look at the summer and decide what the squad needs to become winners once again.
Many fans will want a full rebuild, but the truth is that Liverpool probably need a couple of fresh players to get them back to the standards they have set. How quickly the new players can settle into the team will be a lot more important than number of players signed.
In previous years, Liverpool will only be able to buy players if some are sold. Klopp has been unlucky with some marquee signings who have not delivered and may well decide to try to sell them and other players who have disappointed. Alex Oxlade-Chamberlain, Naby Keita and Divock Origi's futures could all be at risk as they have failed to deliver over the past 18 months.
However the remainder of the season plays out for Liverpool, they will certainly learn from this year and be hopeful about returning to glory next season.