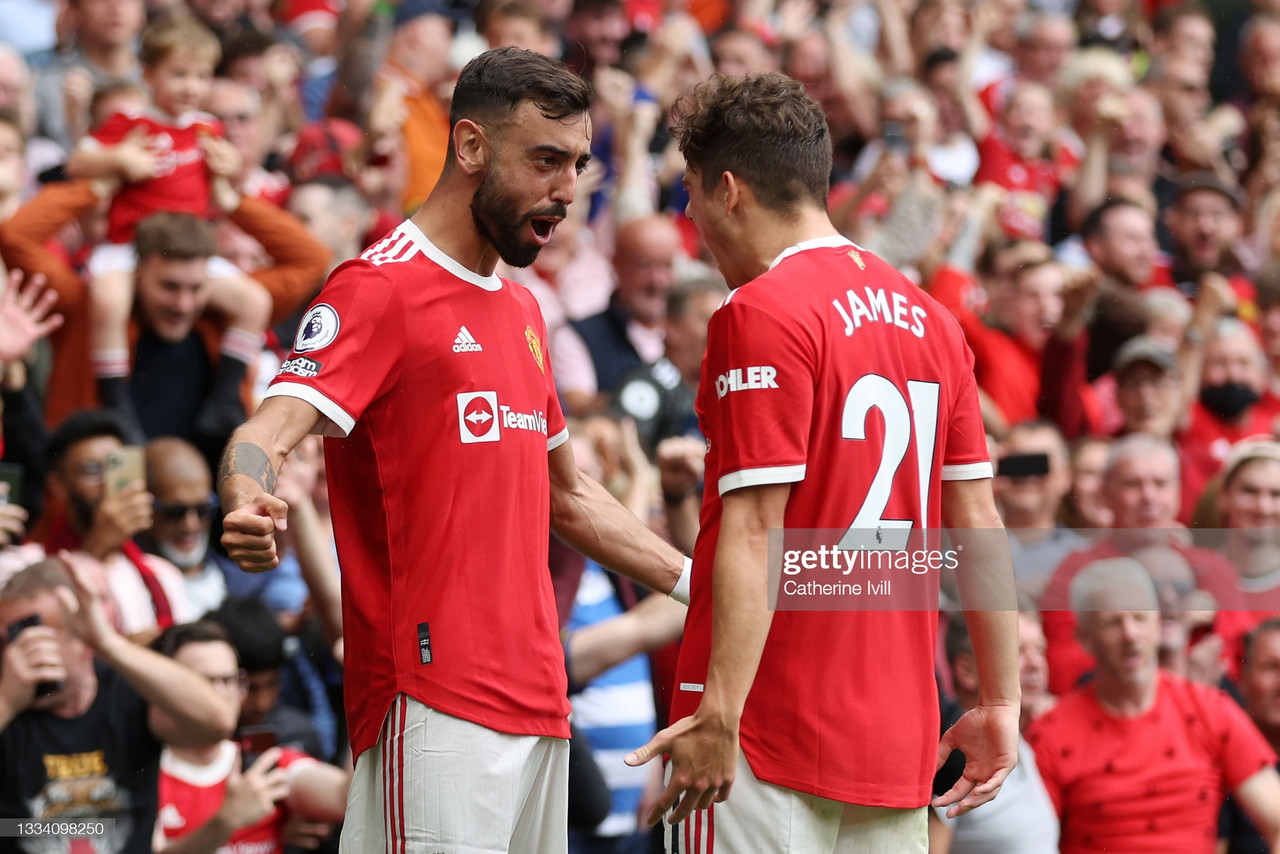 Around halfway through his debut season with Manchester United, the online critics began to menacingly swirl around Daniel James, the first signing of Ole Gunnar Solskjaer's career at Old Trafford.
For a large portion of United's fanbase, James was purely a fast man – incapable of producing much more than long bursts of energy down the touchline, and his incredible first month of the campaign had been little more than extended beginner's luck – a rush of adrenaline in front of a much larger crowd than before rather than proof of actual ability.
But over the last eighteen months or so, James has proved he's a lot more than just the quickness that he has become known for. He has developed himself, through graft and determination, into one of Solskjaer's more trusted squad members.
Never bought to be first choice
More through circumstance than design, James quickly became a first-team player, much quicker than either he or Solskjaer expected – or even wanted. His debut against Chelsea was one of the more emotional moments that Old Trafford has experienced, and subsequent goals against the likes of Crystal Palace and Southampton ensured he was Solskjaer's first-choice right winger.
But with the failure to sign a right-winger dragging on for two years, James was thrown into an extended period under the spotlight that he was not ready for. His end product began to flounder and you would be forgiven for questioning why he had been purchased, much less why he was starting every week.
There were glimpses of optimism, however. When United had their backs to the wall and relied more upon their transitional play rather than their possession-orientated game, James was often one of the better players on the pitch.
In his first Manchester derby, James helped to press the struggling backline of Manchester City en-route to a 2-1 victory over Pep Guardiola's side. He was, along with Aaron Wan-Bissaka, the best player on the pitch that didn't score.
Again, against Leeds United in his second campaign, he helped United to exploit the intense pressing and man-marking system that Marcelo Bielsa had employed – the Reds powered to a 6-2 victory.
It was for matches like these, when United would be on the counter-attack, for which James was bought. He was never intended to start every week as United's first-choice right-winger, and the vultures that surrounded him were unnecessary as a result.
Of course, United supporters have the right to question whoever they want, and there were times that James was justifiably poor – but context must be taken into equation.
Indeed, James' often-decried crossing ability was a problem shared by the strikers in the box; Anthony Martial rarely got on the end of his low, driven balls into the box due to his more natural instincts to drift wide. A more predatory striker in the mould of Edinson Cavani or Mason Greenwood may be inclined to pounce upon these opportunities.
For those that followed James' progress last term, it was evident to see how he had improved in terms of output and, crucially, how he had not been overexposed. Short bursts from the bench and against suitable opponents is where James showed his quality.
Where James can impact United this season
The purchase of Jadon Sancho this summer has been a god-send for both United and James this season. It provides James with the ability to become a bit-part player for the Reds; a man to bring on against tiring defences to run slower full-backs ragged.
Ole Gunnar Solskjaer's long-term plan at United is to attack them in layers – rather than having a 'Plan A' and no back-up strategy. Why only adopt a 'Plan A' when there are twenty-five other letters?
James provides United with perfect respite from Sancho or their left-wing option, whether it be Martial or Marcus Rashford. A deadly-quick attacker to terrorise defences in the last half-an-hour can flick the switch that turns draws into victories, or a one-goal lead into a three-goal win. In a league where attacking is always the priority, this can only be good news for the Reds.
Additionally, James is a solid option in European football, where sides are more likely to operate higher lines of engagement and man-marking system. His performance against Real Sociedad last season in Turin was evident to this, where he grabbed a goal and an assist in a 4-0 thrashing of the Spanish club.
It is only now that James will be able to fulfil the goal he was originally given as a United player – a squad player with occasional starts when United need a change of pace. It is now up to the winger to succeed with his new assignment.