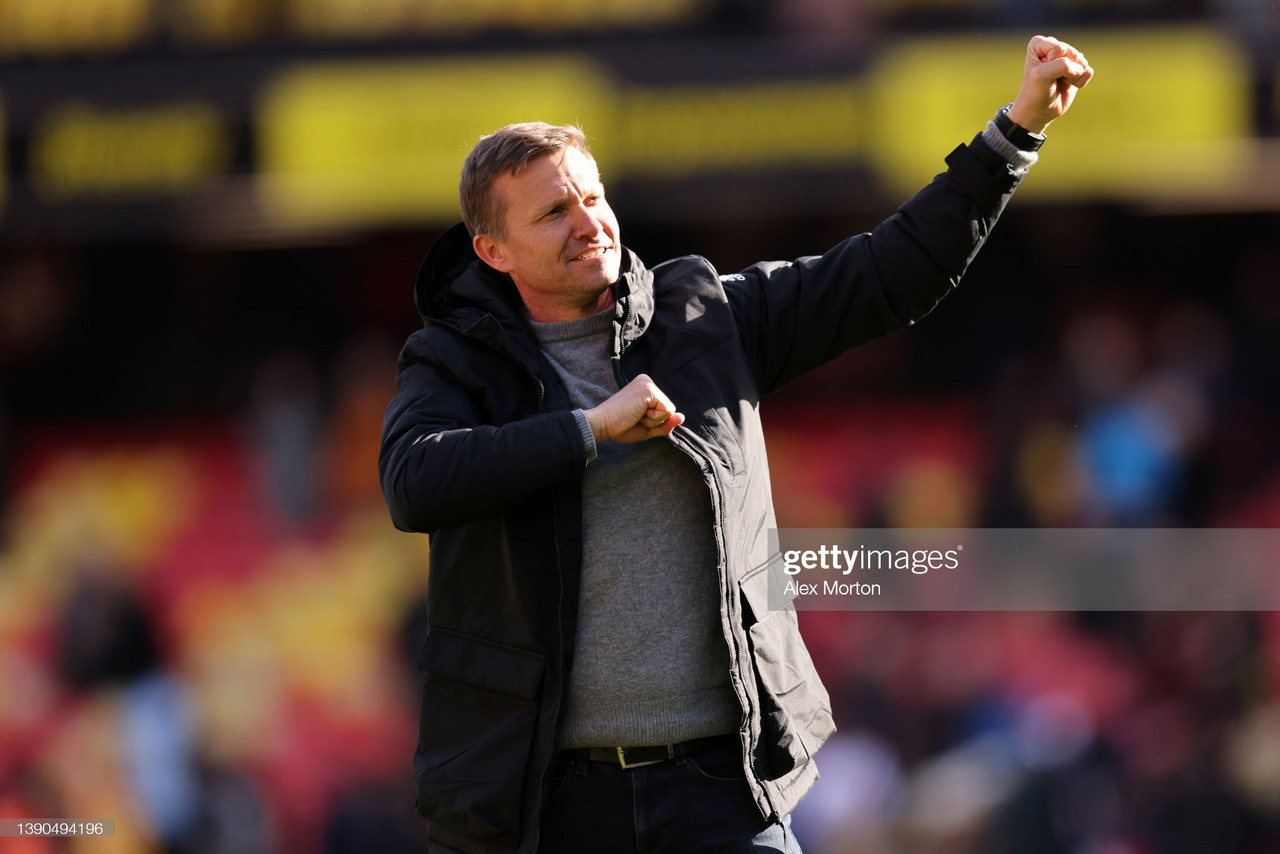 Leeds United Head Coach, Jesse Marsch was full of optimism after watching his side dismantle a woeful Watford in Hertfordshire.
Goals from Raphinha, Rodrigo and Jack Harrison lifted Leeds United to a dominant victory over relegation-threatened Watford as the visitors moved nine points clear of the Premier League drop zone.
After the victory, Marsch spoke to the media:
'Massive' points
"[I'm] really excited that we were able to, in a tough moment and in a really important game, emerge. The points are massive for us and there's confidence and momentum in the group. I think that after six weeks, we can see that the form of many players and the overall mentality of the group has grown so much so that's really helped us get to where we are right now.
It wasn't a great game, there was a giveaway ball I think from both sides, does that make the victory a bit more sweeter, the fact you managed through that?
I tried to, at half-time, be a little bit clear that we can calm down a little bit and play with a little bit more confidence in some spaces and find some more advantages. But the game was such that they were going to isolate a lot of their wingers in one-v-one situations, that they were going to capitalise on second balls and look to see if they can get out on the counter. For the most part, I felt like we contained that pretty well so the defensive performance I think was quite good. The Jack Harrison goal, we'd like to see more moments where we can win balls, where we can cleanly and calmly play forward, and where we can create advantages and then finish them off a little bit cleaner. So, we're not quite there yet but still, to get a clean sheet, to score three goals on the day and to get a massive result here, I think is really important for us."
Fan appreciation
"I appreciate it. I appreciate our fans so much, I love being here in Leeds, I love the area, the city, the people, my family and I are really enjoying our time here. The moments like that, so much of my emphasis is about the team and us as a group and what we're about and how we're going to achieve things together and anytime that it draws attention to me, I don't necessarily like it but I do want to show appreciation to the fans for reaching out to me. But what's most important is that they, which they do amazingly, is that they understand we're a group, a team, a club that wants to represent the city and play football that they can be proud of, and do that as a group. That's what matters the most to me."
Survival hopes
"Everyone's getting results around us. I think there's been some weak penalties in some of these games and we can't seem to buy a penalty. That's another topic, people in Leeds tell me we have to fight for everything and I've said already that I'm okay with that, but I think especially with the 16-day break now, it would have been really difficult to sit and watch the table knowing that we didn't pick up the points that we wanted in this game and things are going to get tight. By the time we play against Palace, the table will be tight again. We just have to stay focused on us, I've said that a million times now. But that's the most important thing, it's got us to where we are right now, this concept and mentality of just working every day and trying to improve and trying to give everything we have to each other. That has gotten us to where are now and we need to continue with that."
Injury news
"Joffy just got fit yesterday and quickly, and Illan [Meslier] by the way as well. Even if you would've asked me [on] Thursday, I would've thought Kristoffer Klaesson would have been the goalkeeper today. In the last 24 hours, he felt much better and what a performance by the way, he was fantastic. And then Joffy, he didn't really train this week so I thought about using him but Sam and Cree have been fantastic and then Kalvin, yeah he's close, he's close to starting and I think we'll use the next two weeks to get him fitter and stronger and healthier and ready to go for Palace."
Liam Cooper's performance
"Liam Cooper today, what a performance in a very, very poor game where there was poor quality on both sides, Liam just seemed to be head and shoulders above everybody else on the pitch.
He won his duels, he won his aerial duels, he was positionally in the right spot, he was aggressive against the ball, he was sharp, he didn't lose any balls. I had him speak to the team afterwards because I told them that I haven't had a better captain in the entire time I've been a coach. He was great, I think he almost came to tears because he loves playing with the guys so much. I really like this group, I really like being here. It's fun working with these guys, they give everything they have, so it fits with who I am and it fits with what we're trying to establish together."
Progress
"This is a game we knew from the beginning wasn't necessarily going to be about quality. I do want us to play better, I want us to be more confident on the ball, I want our tactics with the ball to be put in place more and some of the combinations and ideas of what we want to achieve in possession, I want to continue to get better in those areas. But, coming out of Southampton, Southampton played every ball long and then we had to pick up second balls which we didn't do a very good job of. Today, we were much better with that and that helped us control the opponent more and it helped us find some advantages. Like I just said, the goal with Jack, we need more moments where we press and we win balls, and we can calmly and cleanly find actions forward that lead to big chances so that's why the third goal for me was good."
Whilst Premier League survival is not guaranteed, with a confident squad and a creative Head Coach, the club and fans can dream of more days like today.
Attention, however, will move quickly to Crystal Palace in two weeks' time where Leeds United will be hoping to continue their good form.
Another victory will secure Premier League status for another year and Leeds United will have fully earned it.