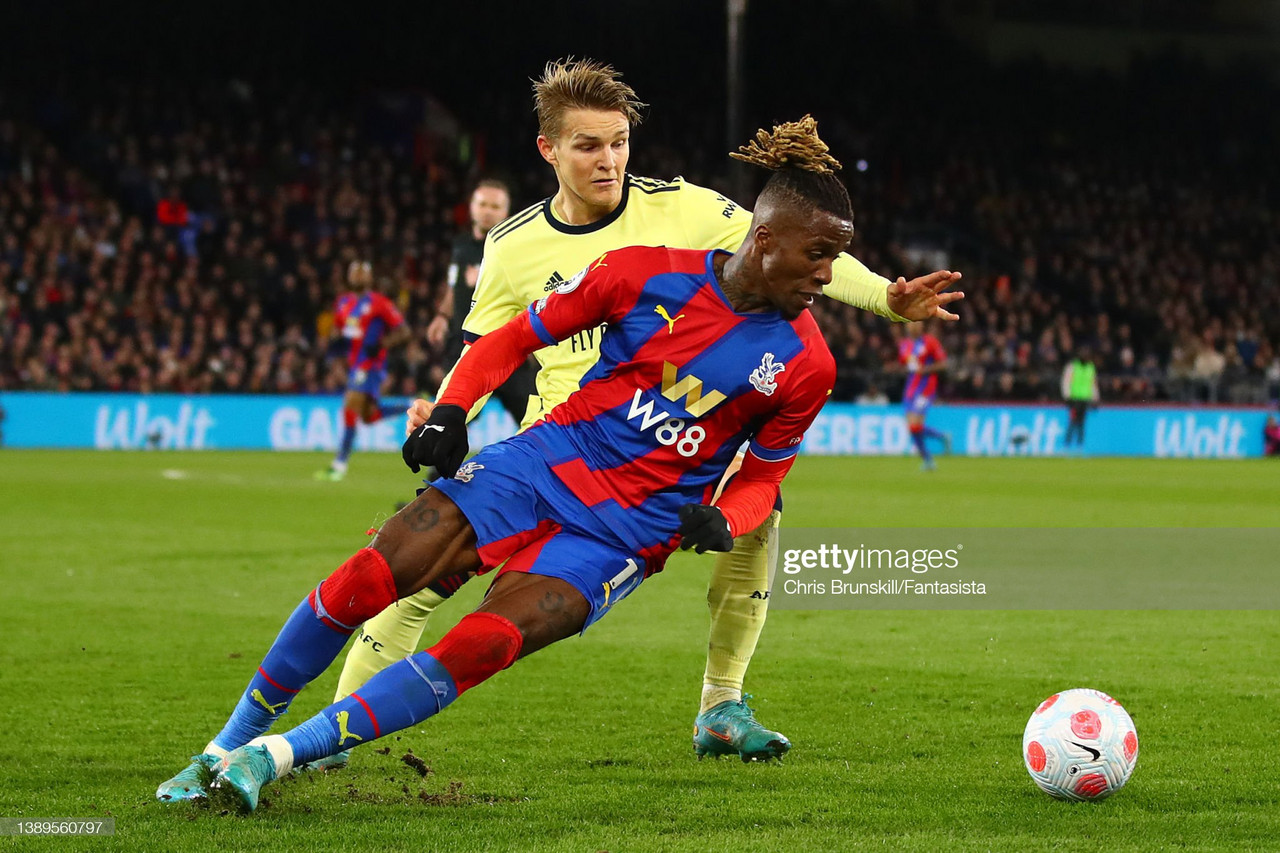 Wilfried Zaha stands over the ball on the penalty spot, his face a picture of concentration.
Moments earlier, he had collected the ball inside his own half. Faced down by three Arsenal defenders, and with no support, he had no choice but to go it alone. He promptly went past Gabriel as if he were a training cone, surged into the penalty area while holding off Ben White, turned on a sixpence, and drew a foul from Martin Odegaard.
This is the high point of a superlative individual performance in which he has repeatedly proved his superiority with dazzling skill - but these days that is not enough for him. He wants a goal.
The ball is dispatched into the top corner and the Ivorian has his tenth of the season. Crystal Palace are 3-0 up against the team who passed on the chance to sign him in 2019. Nicolas Pepe, who the Gunners splashed £72 million on instead, will finish the season with just one goal to his name, and Arsenal will miss out on a place in the Champions League by two points.
This is a tale of what might have been, and perhaps could still be.
At 29 years old we are witnessing peak Wilfried Zaha. Another four goals followed after that wild Selhurst night, making him the club's top scorer for the season, with a career-high 15 in all competitions. Yet, despite this improved productivity, his reputation persists as the quicksilver, tricky-but-inconsistent winger who came through the club's academy over a decade ago.
Much debate has been had about his evolving role: is he still the dribbler of old, or a pure goalscorer? A forward or a wide-man? Does he still beat players for fun, or does he pick up the ball deep and look to play someone in?
The answer is that he does all of these things and more. Among all forwards in the top 5 European leagues in 21/22, Zaha is in the 98th percentile for progressive passes made, and the 86th for pass completion rate. He is in the 98th percentile for dribbles completed and progressive carries, and the 92nd for shot-creating actions. This tells us that he is in the very highest echelons as both a dribbler and creator.
On top of this, he is scoring more than ever, and although he registered just a sole assist this year, he should have had more: 0.6 expected assists per 90 putting him in the 74th percentile among his peers in Europe.
As if that wasn't enough, he is an exceptional presser, in the 90th percentile for successful pressures, 94th for interceptions and the 99th (!) for tackles.
Quite simply, he has become one of the most complete attacking players in European football. Which begs the question: what is he doing still playing for Crystal Palace?
Is the grass greener on the other side?
Zaha's emotional attachment to the club runs deep, and he must take pride in being a key part of Patrick Vieira's new-look team, still in its' infancy, but which showed huge promise in the first year. The club could be in a position to push for the Europa Conference League - or even a domestic trophy - in the next few years, but surely Zaha should have his sights set higher than that. He is too good.
It is no secret that he has long wanted to test himself at a higher level, and though he has always shown commitment in his performances, there is no reason to believe he would turn down a new challenge now. At 29, he is running out of time.
A big pay rise and the chance to play in a European competition would be a reward that any fan would agree he has earned.
If the timing is right from the player's perspective, for the club it is thornier. With only a year remaining on his current deal, this summer is the last chance they will have to get a decent fee for their prize asset, though any figure would be a fraction of the £80 million they reportedly wanted in 2019.
Selling him for around £20-25 million – enough for one decent prospect from the Championship these days - would feel like a paltry return for their greatest ever player, on whom they have been so reliant for so long. With fans' Player of the Season Conor Gallagher unlikely to return for a second loan stint, the club may judge that losing their two top scorers in the same summer is too risky.
On the other hand, although Zaha is still the top dog at Selhurst Park., that reliance is not as profound as it once was. Smart recruitment means there are now others, such as Ebere Eze and Michael Olise, capable of stepping up. If selling him had previously felt like a guarantee of relegation, there is now enough depth in attacking areas to reassure.
Perhaps the more pertinent question is whether he will have many suitors. Memories linger of his move to Manchester United in 2013, which didn't work out, and given his age, a club that values experience over youth is needed.
Atletico Madrid were briefly linked last summer, and Tottenham Hotspur have also shown interest in the past – with Antonio Conte, they are geared toward immediate success rather than long-term building.
But so far, it has been quiet.
After that memorable performance against Arsenal, Zaha certainly did not sound like an unhappy man seeking a move. "We've got quality in our team, and I think if we play the way we want to play we can hurt anyone," he said. "We don't need to look over our shoulder, we can look up the table and try and move further up."
Palace will face the same opponents under the lights at Selhurst Park once more on the opening day of the new season. It remains to be seen whether their finest ever player will be lining up for them.