75 minutes into Manchester United's 4-0 victory over Everton, the game's result was seriously in doubt. Since Antonio Valencia's stunning opener just three minutes into the game, United had looked slightly average.
They struggled to create chances after Romelu Lukaku missed a sitter in the first half, and Everton had grown into the game. The Toffees piled on the pressure, and an equalizer felt likely.
Late flurry puts game to bed
In a flash, United had put the game out of doubt. A late goal blitz saw Henrikh Mkhitaryan, Lukaku and Anthony Martial get on the scoresheet in the last 10 minutes to give the Reds' goal differential a boost.
In part, it felt as though they did not deserve it – Everton did not play poorly, and the margin of the defeat did not reflect their performance as a whole.
However, the ruthless nature of United's finishing merited a lopsided scoreline. So often last year, they dominated games at home without converting their superiority into goals. Stoke City, Burnley, West Ham United, Hull City, and Bournemouth all emerged from Old Trafford with draws they did not merit simply because the Reds were not clinical enough.
This season, against West Ham, Swansea, and on Sunday against Everton, United have not made the same mistakes. They have drawn teams out from their shell only to be devastating on the counter-attack.
Substitution pattern key
One of the reasons they have been so devastating is that manager Jose Mourinho has found a formula to maximize his team's effectiveness and efficiency at the end of games. The squad depth and speed he has at his disposal leaves him with no shortage of like-for-like substitutes. In the modern game, where so many teams can match each other's athleticism, making a slight adjustment in the last 20 to 25 minutes of a game can make all the difference.
While Marcus Rashford may occasionally struggle to find the final ball – as he did on Sunday – his searing pace exhausts defenders. By the time they have dealt with him for 60 minutes, grappling with the fresh legs of Martial or Jesse Lingard can present an insurmountable hurdle.
It was a run from Lingard that won the free kick that eventually delivered Lukaku's goal, and for the third time this season, Martial got on the score sheet at the death to round out Sunday's scoring.
Ruthless streak in this team
As he is fond of saying, Mourinho has no shortage of horses. They can run and run all day long, knowing that eventually the opposition will tire and space will open for them. And, when the opportunities have presented themselves, the Reds have taken them.
At its core, football is about making and taking chances. On Sunday, they sensed when Everton were at their weakest and exploited that weakness. While Everton will feel terribly unlucky to have lost by four goals, United's ruthlessness earned them the result on Sunday. That should stand them in good stead in the coming weeks and months.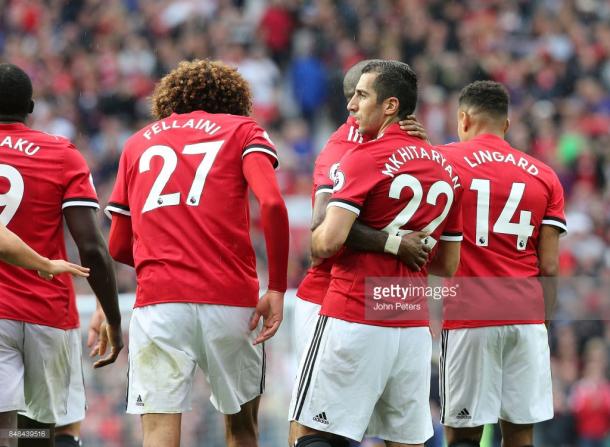 Sunday's victory followed on the back of a similarly clinical performance against Basel on Tuesday in the UEFA Champions League. United applied pressure early and often, took their chances when they came, and then refused to allow the Swiss back into the game.
On that evening, the substitution pattern was the reverse of Sunday; Marcus Rashford entered the game for its final quarter and scored the goal that sealed the result. At Old Trafford in all competitions this season, United have won all five games, scored 17 goals, and conceded none. Their dominance has been something to behold.
This week was the perfect antidote to the frustrating draw against Stoke last weekend. While the attack has rightly earned plaudits for both displays, David De Gea made several phenomenal saves across the two games, Antonio Valencia and Ashley Young showed why they are both such valued members of the squad, and Phil Jones continued to illustrate that when he is healthy he can anchor a defense.
Pogba injury the lone disappointment
The only blemish on an otherwise perfect week was the hamstring injury suffered by Paul Pogba after just 19 minutes against Basel. The United star, who was captaining the team on their return to Champions League action, is set to miss some number of weeks. Initial reports suggested he will be out for a little over a month while Mourinho blasted reports he could miss up to three months after the victory over Everton.
The Frenchman started the season brilliantly and will be sorely missed for however long he winds up in the stands. Yet, as they showed on Sunday, United have no shortage of capable deputies. Nemanja Matic and Marouane Fellaini continued their strong starts to the season while Ander Herrera made a fine cameo appearance off the bench.
In addition to them, club captain Michael Carrick has yet to appear in a competitive match this season. While he cannot play every week, the 36-year-old adds something each time he steps on the pitch. Pogba's absence will be felt, but United should have the squad depth to weather the storm, at least for a while.
The Reds will be back in action on Wednesday night at home against Burton Albion in the League Cup before traveling to Southampton on Saturday, where they will look to continue their perfect start to the season. If the attack is as clinical as it has been, they should manage to do so.