Kim Little has been voted BBC Women's Footballer of the Year for 2016 after another splendid 12 months.
The attacking midfielder has shown her quality for both club and country in the past year, putting Scotland on track to reach their first major tournament while winning three titles at club level.
"I'm surprised to win. I'm extremely humbled to win," Little told the BBC, with her being crowned the supporters' pick of five candidates for the award.
World Cup winning duo Carli Lloyd and Becky Sauerbrunn were amongst the nominees, while Gaelle Enganamouit, after a breakthrough year, and class act Amandine Henry completed the list.
However, it was Little who came out on top and she was delighted to "share" the award with the "great team" she plays with at Seattle Reign in America, receiving the award at their training ground.
"I'm extremely proud of the season I had here at Seattle Reign, at Melbourne [City] and also Scotland," she added, having helped the former to the NWSL's regular season title and Melbourne to the same in the W-League, as well as to the Grand Final title.
She can do almost everything, says Scotland manager
Also speaking to the BBC, Scotland manager Anna Signeul was quick to heap praise on her 115-cap playmaker, who is the creative heartbeat of a country on the up.
The Swedish native called the award "an absolutely amazing acknowledgement" for Little, one that she deserves.
"I'm so proud of her, I'm so delighted for her," she added. "We all are."
As another international break nears, Scotland are on track to qualify for Euro 2017 and they have the 25-year-old to thank for helping them into a healthy position in their qualifying group.
Along with a talented crop of teammates who are raising the profile of women's football in the country, Little and Signeul have helped the team to the top of their group with five wins from five so far. Around the corner now is a huge clash with second-placed Iceland next month, who have won all four of their own games.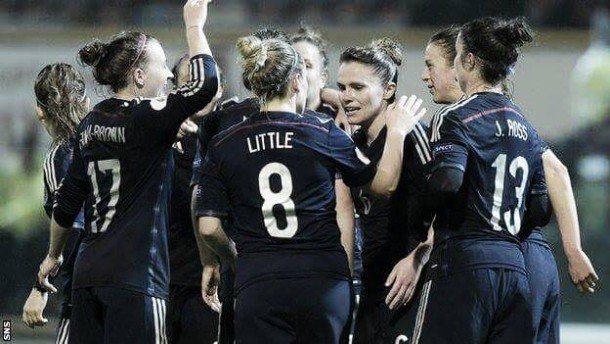 With a player like Little in their team though, Scotland can certainly move one huge step closer with a win, with Signeul describing her as a player who has "almost everything."
"She's quick, her balance and movement on the pitch is fantastic, she has brilliant technique, there aren't many things that she can't do."
As well as this though, the Swede believes Little is a brilliant "role model" as she is "perfect" both on and off the pitch.
"I think it will take a long time before Scotland gets another player like this."