Following their draw against Durham, we spoke to a couple of new additions to the set-up at the London Bees; experienced midfielder Emma Beckett and new coach Dave Edmondson.
Beckett enjoying her time at the Hive
Resilient midfielder Emma Beckett spoke about the general mood at the club, having joined them just recently and having made a big impact in their improved performances.
"Confidence is high, we're really gelling in training and starting to gather some momentum. Importantly, we don't fear anyone," she explained.
"A handful of us only came in a few days before the season started so we had a bit of disjointed pre-season. It was a bit of a bad start [to the season] and I think you could see that we were still getting used to each other," she continued.
However, Beckett believes "it's coming together" now, saying: "We're putting in the performances, it's just a shame we didn't have a couple of weeks before the start of the season."
Beckett is one of the many new faces buzzing around the Hive, but what was it that drew her to the London-club?
"The facilities are fantastic," she started. "There's always been a level of professionalism at the club and Dave's a really great coach. We've all got a lot of respect for him and what he says. Everyone says it but, we're got a really good core of players, everyone wants to play, wants to win, it's a shared mindset here."
The Durham game was the last they'd be playing for just over a month to accommodate for the mid-season break. Many players and coaches are irritated with the stop-and-start nature of this season, and Beckett was no exception.
"It's a little frustrating," she admitted. "It's the second break we've had now and we just want to get out and play but it's the scheduling, you just have to deal with it. We've got Chelsea after the break and it's a good time to play them. We have a few games then we meet them – thankfully it's not the first one, so we'll be a little match-fitter. We're all looking forward to it."
She summarised: "Confidence is high and we're in a good place."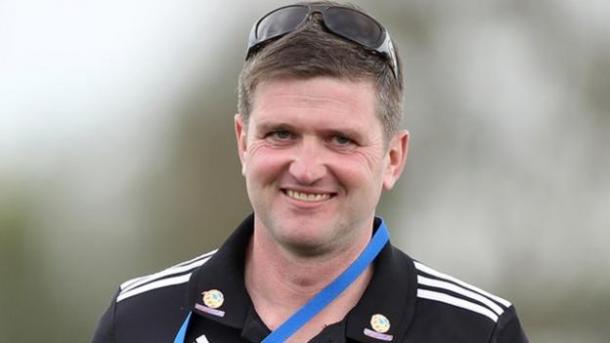 All about the future, says Edmondson
As well as Beckett, Edmondson, who many might recognise from his time with Bristol City, is also new to the club, but what was it that lured him to North London?
"The facilities at the Hive are amazing," he started, sharing the thoughts of his own players it seems. "Obviously the pitch and changing rooms but there's a great gym and even just a café where the girls can meet and have something to eat after training. It's all important."
He continued: "The people at the club spoke the right way. It's not just about having a token women's team but we've got this team that we want to be successful. It's about making sure we're going in the right direction for the longevity of the club. It's not just about buying in a team that will win the title one season and leave for the next, it's a much bigger picture. We're building the development team and starting a under-17 team this season too."
The mood was very much building for the future as he added: "It's a challenge too, a very different situation from Bristol, and I like a challenge."
This year has seen a huge overhaul at the Bees, with them retaining just 13 players from last season as Edmondson brought in seven new girls before the season started. But did he know any players he specifically wanted to bring in?
"[Nikki] Watts was someone I definitely knew I wanted in the squad," he revealed. "Obviously, I know her from the time we shared at Bristol and I've always had a great respect for her ability, so bringing her in was a no-brainer."
As well as that, the coach wanted to pick up some talent from the lower leagues, saying: "From there it was really just about getting around to watch local FAWPL games. It's not always the obvious names that make a difference when they come in. It's about having the right attitude, that's crucial, and something that we needed to change here."
He continued: "After the last couple of seasons you could see when things weren't going well and the results weren't there. The team would go behind and start to fold. If you look at the most recent result [against Durham], we showed that we've passed that stage – we played some good football, got ourselves in front, came out for the second half and didn't play so well, fell behind but we didn't wave the white flag, surrender, and then concede another four or five. We got back in the game, worked hard and got a draw. We let our heads drop against Everton but we've put it behind us and that's vital."
As well as looking to change the team and their mentality, Edmondson was keen on altering the style of play at the Hive upon his arrival.
"Another big change was just wanting to play some football," he simply stated.
"I've never been a fan of the long-ball game. I've spent close to 10 years overseas, notably in Japan and Australia, and that's the style of football I love - possession based. For me that's the way forward and, with the players we have, our wingers [Paula Howells and Eva Popadinova] and Jo [Wilson] who can get on crosses. Players in midfield who want to get on the ball and now with Deanna [Cooper] at the back, we're getting to the point where we can play from anywhere and that's brilliant."
Quality throughout the team
One of the players who's been running riot in WSL 2 has been Paula Howells - better known as a left-back, but Edmondson has favoured playing her as a winger. What sparked the change or roles?
He answered: "You've got to get to know the players. Even before I came in I got to review some footage from last season and Paula was one of the players who stood out, (unfortunately some of the others opted to leave). But coming in, she's got a great attitude, she's young and wants to learn. Just watching her, she's 10 times more a winger than a full-back and she's been very successful for us so far this season, I think about 60% of our goals have come from that left side when she's been whipping in crosses or getting behind the defence."
Although full of praise for the England U19 international, Edmondson was quick to state the importance for having strength and quality across the entire pitch too.
"She wouldn't be able to do what she does without Eva on the right and Jo stretching it in the middle, and without players in centre midfield wanting to get on the ball," he added. "And other teams are going to get wise to her and try to stem the flow on the left, so you're always going to need someone on the right or someone else here or there. It's about having threats across the whole pitch, so you're as hard as possible to defend against."
The Bees are going strongly at the moment, but Edmondson has an eye on the bigger picture, saying: "Yes we want to finish as high as possible but this is just one season."
"It's difficult because it's a short season. We only have 18 games and we've already played seven, whereas Millwall have only played five; things can change very quickly. This season will be closer than people think. Obviously you've got the likes of Bristol, Everton and Yeovil at the top, but had Durham beaten us then they would have gone (temporarily) top. The points are there to be won by everyone."
Continuing: "We want players who want to be here for the right reasons; in the past players might have been more relaxed and just followed their mates to a different club or to where they thought would be easy and comfortable. Now you're seeing more professionalism coming in, players are more willing to move further and work harder. It's that professional attitude we want to bring in; players who are willing to do the hard bits, to accept that if they're put on the bench that's where they'll be, but who are still hungry to compete. We want players who'll say 'if you think that she's better than me then I'll step up'."
Now, just like his squad, Edmondson is looking forward to facing Chelsea in the Continental Tyres Cup just after the restart.
"Obviously I have experience against Chelsea having played them at Bristol. They'll pose some challenges but it will be great to host it at the Hive and it will be the first match played on the next pitch. It will be good for some of the younger players, they're all full of ambition, someone like Paula has represented England at the youth level but she wants to play for the full team and this is invaluable experience for that. It will be a good test for the girls to see what it's like to play at that level.
"Playing in WSL 1 is the aim here and the team needs to be testing themselves against a quality team like Chelsea," he concluded.