Next up in our series of mid-season reviews, we look back at Sheffield's first games in their maiden WSL 2 season.
Eagerly awaited beginings
It was a long football-less winter for Sheffield as they bit at their nails watching the FAWPL season play out, eagerly awaiting their chance to take to the pitch as an FAWSL team. The Dronfield based club did well to hold onto their core players and even managed to secure the signatures of a few familiar with WSL, but things started to go south long before a ball had been kicked. Many commended Sheffield for bringing in Mick Mulhern, but the former Sunderland boss parted ways with the club just before the season was due to start.
It was a frustrating start to life in the WSL for the world's oldest club, only managing to take a point from their first five matches, the scores would suggest that Sheffield were out of their league. However, their performances on the pitch suggested otherwise. Their first taste of the WSL was a disappointing home game to a reinvigorated Durham side, the Wildcats running out 1-0 winners. Not many would have given them much of a chance when they journeyed to Bristol City's Stoke Gifford home just three days later but they dug in, nullifying the Bristol threat to leave with a credible point.
They were back in action just under a month later when they welcomed Aston Villa to Dronfield. Once again, the hosts were carving out good chances and defending firmly, but once again all they could take from the match was experience as Villa left with all three points - although England youth international Hannah Cain can boast that she scored their first ever WSL goal in the 2-1 defeat.
Their next outing was an away match to Oxford United, but Sheffield were starring in their very own version of Groundhog Day, going in all square at the break after having dominated the first half they were left flat-footed when the U's stormed out after the break and dictated the second half. Once again there were positives to take, but they returned home with nothing.
When VAVEL spoke to Zoe Johnson – who'd moved up in the ranks and taken full control of the side after Mulhern's departure – after the Oxford defeat, she was certain that first win was around the corner, the team just needed to be more clinical. She got her wish when Sheffield next took to the field, playing out an exciting 3-1 win over Durham in the Continental Tyres Cup preliminary round. When they returned to league action to play their third match of the year against Durham, meanwhile, it was the Wildcats who were once again victorious, mirroring their 1-0 result from earlier in the year.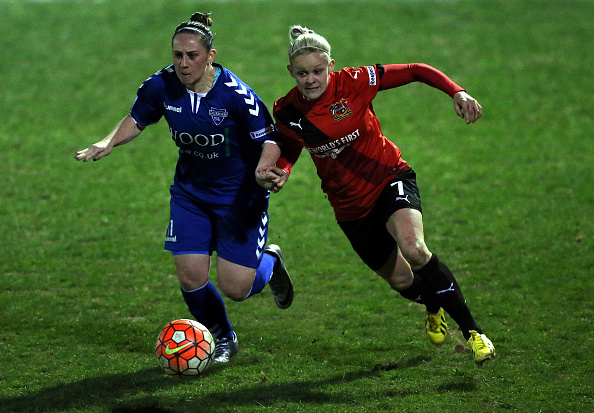 A long time coming
364 days after their 1-0 win over Portsmouth in the play-off final, Sheffield registered their first win in the WSL, a well-earned three points after a smart 3-1 performance against Bristol.
The win was richly deserved for a team that hadn't been "out" of any game they'd contested, the difference had simply been putting the ball in the back of the net. Even up against Bristol, a side many had tipped to boomerang straight back into WSL1, Sheffield didn't buckle, players staying tight and not allowing themselves to be broken down. At the other end of the pitch, Sheffield had been spurning chances all season, but their first win over Durham followed by victory over Bristol will give them a strong platform for the second-half of the season.
This is a side that's now brimming with confidence. They know they can beat anyone in the division and if anyone were to suggest they belong in WPL and can't cut it in WSL, they'd be wrong.
Sheffield are a side that will cause many a headache this year.