Aston Villa are one of the teams hoping to challenge for promotion this year, we take a look at their season so far and their promotion prospects.
Inconsistencies
Aston Villa started the year with three FA Cup wins, beating WPL sides Portsmouth and Tottenham in the early rounds before booking their spot in the quarters finals with a surprise 1-0 win over Everton. However, when Villa returned to league action, they fell to a 2-1 defeat to the Everton side they had only beaten four days prior. Back in action just three days later, Villa found themselves on the right side of a 2-1 scoreline as they beat a tough Oxford United at Sutton Coldfield.
Their first outing of April was their FA Cup clash against Chelsea, although they did well to hold the WSL Champions off in the first half – going into the break just one goal down – Chelsea's persistence won out as Jessica Myers' goal was breached five more times after the hour. A defeat for Joe Hunt's side but one filled with positives.
When the WSL 2 season resumed later in the month Villa claimed a useful 2-1 win over newcomers Sheffield before struggling to a 2-0 defeat against a superior Bristol City just five days afterwards. Back in action just a handful of days later, the Villains continued their curious form of wining/losing every other game as they made light work of Durham at Coles Lane to claim a 2-0 victory.
As one win came it was predictably followed by a defeat, as Everton completed the league double over them with a confident 2-0 win. In their last game before the restart it looked like Villa were set to continue their trend as they took a strong two goal advantage into the half-time break at Huish Park. However, it wasn't to be for the Midlands team, as Yeovil played like a team possessed in the second half and turned a two goal deficit into a two goal advantage, the Villains outclassed in Somerset.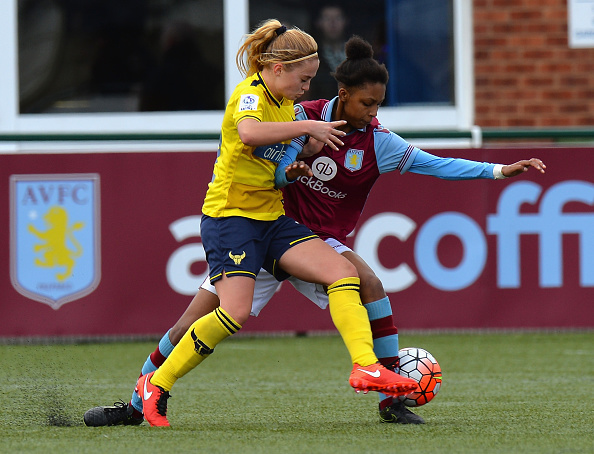 Promotion possibilities?
Villa currently sit fifth in the WSL 2 table, their form against the sides more likely to finishing in the top half hasn't been stellar and as a result promotion [this season] seems like a pipe-dream. The Lady Villains (or Villainesses) are a predominantly young squad, although not specifically lacking anywhere on the pitch it may just be a question of more experience for squad, a strong season this year, learning from team that finish above them will stand them in good stead for the 2017 season.
There's an argument that Joe Hunt lacks depth and with only four recognised defenders that could be an issue should the team suffer any injuries, but when watching Villa play you can see the understanding across the backline. With Jade Richards and Elisha N'Dow anchoring the team at the back they look strong, stable and ready to withstand any onslaught.
Further up the pitch, talismanic England U19 Beth Merrick is Villa's danger-woman, smart both on and off the ball, she possesses superb delivery and is oft lethal at free-kicks, when Villa find the back of the net, Merrick is frequently involved in the move. Many of the plaudits this so far this year need to go to Katie Wilkinson, a product of the CoE she's continued her status as a sharp-shooter this year, boasting seven of Villa's 14 goals but for the Lady Villains to really challenge, they'll need goals from all across the pitch.