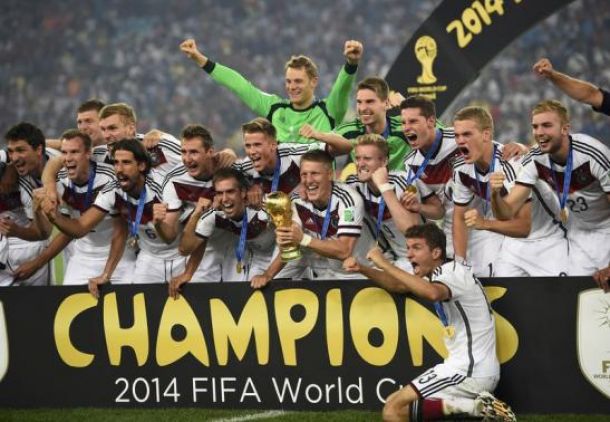 Harry Robinson interviews various writers at VAVEL as they look back on the World Cup in Brazil which provided gritted out draws, fantastic goals, reignited fierce rivalries and more in a wonderful 2014 World Cup. What were these writers favourites moments, goals and players in Brazil?
Ervin Krantic - Chelsea writer - @EKVRA
Match of the tournament
Germany v Brazil. The reason I find this the match of the tournament is because it was pure shock, this was supposed to be Brazil's tournament; a chance to redeem the team that couldn't in 1950. Not only did they fail, but they also embarrassed themselves on the biggest stage.
Player of the tournament
James Rodriguez had a brilliant World Cup, he put the Colombian team on his back after Radamel Falcao was ruled out due to injury. His creativity and leadership skills during the tournament were second to none, plus his efficiency in front of goal was remarkable. With Cristiano Ronaldo, Messi, Robben and many other stars competing at the World Cup, it was James who stole the show.
Team of the tournament
No team was convincing throughout the tournament, everyone had their struggles. However, I believe Germany were the most consistent of all. In typical German style, they never stopped attacking and looking for goals. Löw's side progressively got better as the tournament went on and never showed signs of looking back.
Best moment
For me, the best moment was Vedad Ibišević scoring for Bosnia on their World Cup debut match at the Maracanã. It was the moment the entire country had been waiting for since after the war and after 20 years of political instability, economic crisis and ethnic conflict, it was a moment of putting everything aside even if we'd lost.
Goal of the tournament
Tim Cahill v Holland
Team of the tournament
Howard; Lahm, Vlaar, de Vrij, R. Rodriguez; Müller, Pjanić, James; Messi, Robben
Biggest disappointment - player
Iker Casillas. By far the single worst performance I have ever seen in a World Cup group stage. Casillas looked like a lost child, he had no command over his back line and couldn't make a save to save his life. Casillas is a Spanish hero and legend, but after that performance, it's clear why Mourinho didn't fancy him.
Biggest disappointment - team
Spain. The reigning European and World champions were so bad, it cannot be described in words. They embarrassed themselves more than anyone else. Del Bosque's hesitation to revamp the squad after the 5-1 loss to Holland showed his stubbornness to continue with washed up players who can't compete against teams with smarter tactics. Tiki-taka is dead and it's not coming back anytime soon.
Reasons to be excited for 2018
For one, it will be in Russia, which is always bound to be interesting. Secondly, the mild climate will be refreshing for many teams after a hot and humid tournament in Brazil. Besides those factors, it will be interesting to see how World Cup 2018 pans out after one of the most entertaining and highest scoring World Cups in history.
Tyron McGee - Arsenal and Eredisivie writer - @FutbolTyron
Match of the tournament
Match of the tournament undoubtedly has to be Germany beating Brazil 7-1, not just because of the scoreline, but the fact that the Germans left their best performance of the tournament to the semi-finals. Beating Brazil by six goals is almost unheard of, let alone seeing it happen in their own country in front of nearly 60,000 fans. They totally destroyed the host nation, and the first half goals blitz was something to be admired.
Player of the tournament
James Rodriguez. Many people expected the likes of Lionel Messi, Cristiano Ronaldo and Neymar to be the standout players of the tournament, and despite injuries to two and an early exit from the competition for Ronaldo and Portugal, they didn't fail to impress. However, Rodriguez was far and away the player of the tournament for me. Created history by becoming the first player to score in six consecutive World Cup finals matches, and his overall team performances were exceptional. Thoroughly deserving of the Golden Boot, and possibly the Golden Ball as well.
Team of the tournament (nation)
Costa Rica. They were expected to be the whipping boys of the group, but shocked Uruguay in the opening game of group D, and made their nation proud from then on. Their surprising 1-0 victory against Italy in the second game made everybody sit up and take notice, and going all the way to the quarter-finals without losing a game, and then just losing out to the Netherlands on penalties is some feat.
Team of tournament
Neuer (GK), Blind (LB), Hummels (CB), Vlaar (CB), Lahm (RB), Mascherano (CDM), Schweinsteiger (CDM), Rodriguez (CAM), Neymar (LW), Müller (ST), Robben (RW).
Goal of the tournament
Robin van Persie against Spain for me. There were so many good goals throughout the World Cup, but van Persie's tops the lot. The perfectly executed through ball from Daley Blind was matched by the exquisite header from the 'flying Dutchman' to spark an outstanding comeback against the world champions.
Best moment
Lahm, Bastian and co. finally lifting the World Cup. It's been a fantastic past few years for German football across Europe, Bayern winning the Champions League in an all-German final and seemingly destroying the long lasting successes of Barcelona in Europe. The winning of the World Cup is the pinnacle of how far German football has progressed in recent years, with youth and experience playing together throughout the tournament; Mario Götze, Toni Kroos and Thomas Müller lining up alongside Bastian Schweinsteiger, Per Mertesacker and Miroslav Klose. Germany's World Cup win ties with Klose breaking that goalscoring record held by Ronaldo for the most goals at World Cup finals. Couldn't have gone to a more deserving player.
Biggest disappointment - player
Cristiano Ronaldo. Went into the tournament with an injury, and it certainly showed. Looked lethargic and seemed to lack interest in most of the games. Wasn't able to carry Portugal through to the knockouts, and only managed a goal and an assist himself. His only high point for me was assisting his nation's 95th minute equaliser against the USA, at least giving them some chance of qualifying. Overall, a huge disappointment, not living up to any expectations whatsoever.
Biggest disappointment - team
Has to be Spain. Going into such a tournament as the current champions of Europe and the World, and Real Madrid and Sevilla being the club champions of Europe in their respective competitions, Spain were one of the favourites to regain the Jules Rimet trophy. That humiliation against the Netherlands really showed off their weak points. An ageing squad, a fairly erratic goalkeeper throughout the tournament, and no pace up front. Costa didn't produce anything at the World Cup, and Spain's best players thoroughly underperforming. Going out after two games was an embarrassment for the nation, but the last 3-0 win may have brought back some sense of pride.
Reasons to be excited for 2018
There are a lot of up and coming youngsters who will be looking to cement their places into their national teams before the next World Cup comes around. It's the first World Cup held in Russia and the first in Eastern Europe, so we can expect a different vibe around the tournament in the host area. Germany will be raring to retain the trophy, and with players like Mario Götze hitting their prime at 25/26 during the tournament, many would expect them to do that. It could also be a promising tournament for England. A new manager is almost certain by the time the 2018 World Cup comes around, and the likes of Ross Barkley and Jack Wilshere would be at the peak of their careers, so the expectations on the team could be higher than over the past few years. It's just up to them to meet them. Roll on Russia 2018!
Conor Slater - Liverpool Editor - @TheFalseWinger7
Match of the tournament
I'd have to go with Italy narrowly beating the English. The English press and even the public to some extent love to share how problematic the English game is and love to treat these sophisticated Italians like God's. England played with real fluidity and were outdone by some poor defending, nonetheless, both teams enjoyed attacking spells with Raheem Sterling's boldness proving a wealthy asset through the middle.
Player of the tournament
James Rodriguez was ultimately the best player in the tournament, others can interpret the questions differently and nominate a German or Argentinian, but based on one players consistent performances, James Rodriguez was superb.
Team of tournament - nation
9/10 World Cups will be won by the best team in the tournament, luckily, this year the best team won again, Germany.
Team of the tournament
Neuer, Lahm, Hummels, Medel, Armero Mascherano, James, Kroos Cuadrado, Messi, Neymar
Goal of the tournament
James Rodriguez goal v Uruguay.
It is honourable mention to Cahill's goal v Holland and James Rodriguez delicate goal v Japan, however.
Best Moment
Germany's trick acting prior to their costless kicks, most noticeable against Algeria.
Biggest disappointment - player
Diego Costa. End of.
Biggest disappointment - team
Most would say Spain, and rightly so. But I was most disappointed with Belgium.
Reason to be excited about 2018 England, Spain, Brazil and Germany will all be brilliant. The likes of Doria, Barbosa will be coming through for Brazil. For Spain, Koke and Thiago will be pulling the strings. England will have probably the best winger in the world by that stage, Sterling. Germany, they'll probably have the same starting as now. If you're looking for a success story in 2018, look no further than Denmark, they'll be excellent.

Inigo Mitroglou Ollisbouris - VAVEL writer
Match of the tournament
Spain v Holland
This was a match full of action, great goals and a massive shock. Champions Spain were fully expected to beat a Holland side missing key players and jam-packed with in-experience, in a rematch of the 2010 World Cup final. Spain took the momentum early on and that paid dividends as they scored first on the 27th minute. Holland then approached the game with a nothing to lose attitude and as the half time whistle approached, Van Persie scored what can only be described as an absolute worldy. In the second half Holland seemed to gain confidence and were no longer afraid of the Spaniards, pushing on for more goals. The pace of Robben was a key aid to success as the nimble forward out-paced the slow footed defenders who scrambled back to no avail as he scored a brace. Holland didn't hold back as they ravaged Spain 5-1 who, for the first time, looked out of sorts and completely out of ideas. This blew the balance of the footballing hierarchy and it was key to Holland's confidence thereafter and conversely fired doubt into the Spanish minds.
Player of the tournament
Although ultimately unsuccessful in achieving the pinnacle of all footballer's dreams, Messi was one of the best performers in Brazil. Although his 4 goals and 1 assist don't sound overly impressive, the importance of them, however, was immense. Messi took it upon himself to drag Argentina through the World Cup, most notably against Iran when he scored a trademark last minute winner and against Switzerland when his assist to Di Maria won them a place to the next round. Messi may not have outscored his fellow competitors, but he made more key passes than any other player with 23, creating 3.3 per match. Messi's 4 completed through balls could also only be matched by Pirlo. The Argentine forward also completed the most dribbles in the tournament with 26, 6.5 per match. Although Rodriguez surpassed expectations by winning the golden boot and Muller helped Germany to glory, Messi was the most effective player, almost single-handedly won Argentina the World Cup and if his close miss on the 47th minute was a few inches to the left he may have won it all.
Team of the tournament (nation)
Germany may have won the tournament, but Columbia were by far the most entertaining , playing fast flowing and exciting football throughout. Columbia were prolific in Brazil, scoring 15 goals in 6 matches whilst remarkably only conceding 3 times. One reason for Columbia's abundance of goals was James Rodriguez who scored 6, earning himself the golden boot. Rodriguez was a standout performer for the tournament and managed to impressively score in each of his 5 appearances. Another reason for Columbia's goal glut was their fast paced style of play which saw them threaten on almost every break. Columbia committed players forward including their full backs meaning defenders struggled to pick up every man and Columbia did well to capitalise with their extra men. Astonishingly, Columbia also managed were sturdy defensively despite playing attacking football. Ospina was key to their defensive exploits due to his spirited performances, one of which being against Uruguay when he kept a clean sheet and made some tremendous saves to preserving their lead.
Team of the tournament
Keylor Navas; Phillip Lahm, Stefan De Vrij, Mats Hummels, Ricardo Rodriguez, Thomas Muller, Toni Kroos, James Rodriguez, Neymar, Lionel Messi, Arjen Robben
Goal of the tournament
James Rodriguez's volley against Uruguay combined power with technique and was executed to perfection. Rodriguez received the ball from Aguilar centrally on the edge of the box as he chested the ball, turned towards goal over his right shoulder and struck a vicious volley into the top left corner.
Best moment
Van Persie's equaliser in their opening game against Spain was the best moment of the tournament for three reasons. The goal signified the end of the most successful team in European football, if not the world. Van Persie's goal also was a platform for Holland to gain confidence and attack the tournament with the aim to lift the trophy. The final reason why this was the World Cup's best moment is because the header was one of the competitions finest goals. The move started from a superb long range pass from Blind and finished with an extraordinary header which lobbed Casillas who ventured from his line and snugly slotted under the crossbar.
Biggest disappointment - Player
Aguero - Sergio Aguero is one of the most highly rated players in the Premier League and despite suffering with injuries, he Argentine forward was a menace in front of goal when fit enough to play. The Argentine hit man scored an impressive 17 in 23 domestically and 6 in 6 in the Champions League for Manchester City and added 3 in 3 in the Copa America for Argentina. Aguero was fully expected to show translate his club form onto the international stage, but with some particularly mediocre performances he was almost unrecognisable in Brazil. Injuries must be considered as a contributor to his poor form and it turns out that Messi performed better alongside Higuain, but judging by the tears inline down his face when Argentina fell short it may suggest Aguero felt he could have done more.
Biggest disappointment - Team
Spain - Although the World Cup holders were aging and on back end of their peak, they were still expected to challenge for successive titles. The Spaniards started the their campaign against Holland in a positive manner, but they seemed to leave their talent in the changing rooms at half time and struggled to fend off Holland and Chile as they crashed out of the tournament. The 2010 champions did, however, win against Australia, but with a much stronger squad and the weight of expectation off their shoulders it was little consolation for an otherwise poor and out of character showing.
Reasons to be excited for 2018
We should look forward to 2018 as the World Cup is one of the universal levelers for the world's people. Nothing else spreads the same sort of excitement around the world like the World Cup and even those who try to avoid it eventually become enthralled in the action and excitement. I am personally looking forward to a more developed France side with Pogba, Griezmann, Verane, Mangala, Digne, Sakho, Cabella and Sissoko all having World Cup experience under their belts. We may also witness more developed individuals who for now are considered very promising talents such as Rodriguez, Neymar, Hazard, Verrati, Gotze, Thiago, Kovacic, Pjanic, Barkley, Carvalho, Shaqiri and many more. Russia 2018 also has a possibility to display the players who were unfortunate to miss out on the tournament just gone such as Rues, Lewandawski, Coutinho, Firmino, Alaba, Erikssen, Hamsik, Bale and if they can manage it in four years time Ribery, Falcao and Ibrahimovic among others. For those looking to fly out to Russia will also benefit from the stadium development being on track, costless rail services between venues, no need for a visa and less of a security risk as there will be less unrest as Brazil and the Sochi Olympics showed Russia can organise an event of such stature without a hitch.