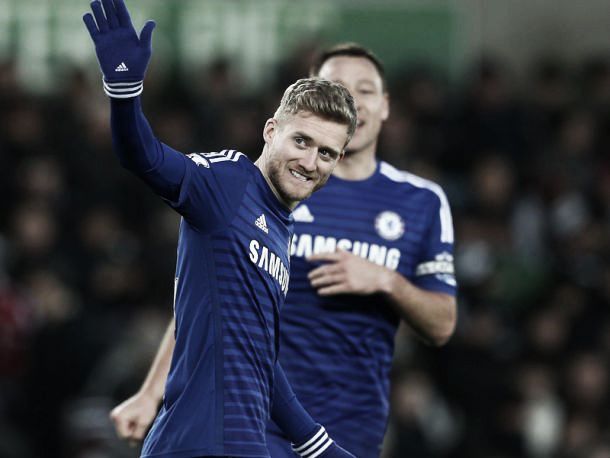 It seems that the partnership of Mourinho and Schürrle is about to end as persistent rumours are constantly emerging linking the young German with a move away from the club. The main suitors appear to be VfL Wolsburg but other clubs like Liverpool and Tottenham Hotspur have apparently expressed an interest in the 24-year old.
The former Bayer Leverkusen man is out of the team at the minute thanks to a back injury that forced him to miss that famous cup upset against Bradford City. He is also set to miss this week's League Cup semi-final against Liverpool. This means that if he leaves now his last game will have been the 5-0 demolition of Swansea City, a game in which Schürrle scored the final goal.
The question remains as to whether or not Mourinho really wanted Schürrle in the first place. Mourinho arrived at Chelsea for the second time in the summer of 2013; a year after Chelsea had shown their initial interest in the player. Serious talks about the player's future began in April 2013, two months before Mourinho arrived. This combined with the lack of game time that Schürrle has received under Mourinho brings this point to the forefront of the transfer saga.
Schürrle, along with teammate Mohamed Salah, have come under criticism from Mourinho for their poor performances, after the narrow victory against Shrewsbury Town Mourinho was specifically asked about those players and he said they had let him down. It is no secret that Chelsea are after the signatures of Juan Cuadrado and possibly Douglas Costa as well. However, due to Financial Fair Play regulations Mourinho has said that Chelsea will have to sell before they can buy anyone. That has all but a 'for sale' sign on both Schürrle and Salah.
Mourinho himself said Schürrle could leave if the club receives a "phenomenal" offer and if the player is "super keen to accept a new challenge in his career". Reports are suggesting that Chelsea want around £25 million for the player which would pretty much pay Cuadrado's £26.8 million release clause however Wolfsburg aren't keen to pay upfront. They seem to want to take the player on loan until the end of the season with the guarantee of a permanent transfer then.