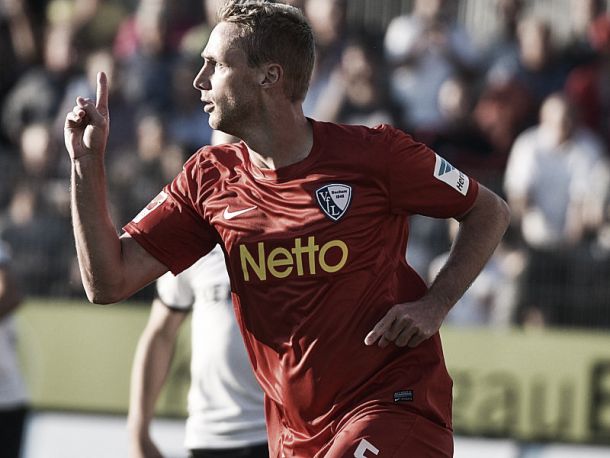 One of the Friday night 2. Bundesliga games featured the impressive VfL Bochum, who so far this season have been unstoppable to stop and went into tonight's game with maximum points after defeating Paderborn, Duisburg, Freiburg, Nürnberg and 1860 Munich.
Sandhausen have surprised a few this season and find themselves with three wins from five games, drawing one and losing one. The question tonight was weather they could stop Bochum and grab another surprise like their victories against Braunschweig and Paderborn.
Early opener for Bochum
The upset certainly didn't go to plan after a horrible start for the home side as Bochum didn't mess about as after only four minutes they took the lead. Marco Terrazzino lofted the ball towards Simon Terodde and the forward was brought down inside the area, the penalty was given and Felix Bastians calmly slotted the ball into the top corner.
Sandhausen responded well after going behind and forced their guests back, however they weren't able to make the most of a few corners and free kicks.
Bochum came close to grabbing a second goal after the twenty minute mark, Janik Haberer managed to get away from his marker, his effort was straight at Marco Knaller, however the Austrian still needed to produce a good save.
Wasteful attacks were the story of Sandhausen's first half and one of them fell to Jakub Kosecki, a lovely low cross to the near post picked the Pole out after he got away from his man, unfortunately for the hosts he couldn't direct the shot on target.
Sandhausen finally level
The home would've been slightly frustrated watching their side as attack after attack broke down and Andreas Luthe was barely tested. The Bochum keeper was however forced into action just before the break, Leart Paqarada tried his luck from a freekick and Luthe did well to get down low and palm away from goal.
Moment's later however he was picking the ball out of his net as Kosecki was brought down inside the area and Andrew Wooten stepped up to stroke the ball home and set up an exciting second half.
The second half took a while to get going and it was the away side that came close to regaining their lead. Haberer fired a low effort from range and with a slight deflection Knaller was forced into action making a great save.
Bochum beginning to turn the screw
Bochum were looking the more likely to grabbing the important second goal and they had the chance to when Florian Hübner slipped, Bastians played the ball across and at the near post Nando Rafael couldn't put his shot on target, although he felt his side deserved a corner.
Terodde was struggling after the collision to get the early penalty and his replacement Nando Rafael proved to be a good substitution as he caused quite a few problems with his pace, his battle with Hübner was one of the bright parts of the second half.
Bochum continued to have the better chances and Haberer should've hit the target when a cross was headed out to him just inside the area, after controlling he could only fire wide.
Sandhausen respond
Sandhausen started to edge things late on and should've grabbed the winner, they worked the ball forward well and across to Alexander Bieler, the forward managed to make space for an effort and poorly dragged his effort wide.
This sparked a Bochum response and they almost came up with a winner, Knaller saved a long range effort from Onur Bulut, who was then there for the rebound and unfortunately lifted the ball over Knaller and just over.
A late corner almost produced the winner, Peniel Mlapa's header was blocked and so was his shot, the rebound fell to Nando Rafael and Knaller once again denied the guests with a smart reaction save.
A fair result
Both's sides couldn't be separated and there were plenty of wasted chances, despite that it was an brilliant battle between two of the division's in form teams. Sandhausen will certainly be the happier of the two sides, they are the first team this season to stopped Bochum from winning.
Up next for Sandhausen is another tough test as they travel away to face Nürnberg who are currently mid-table. As for the league leaders Bochum they host Fortuna Düsseldorf who have struggled this season and find themselves bottom.