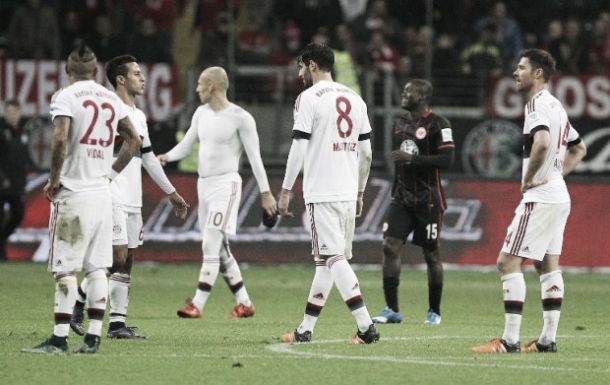 Arturo Vidal has expressed his frustration with Eintracht Frankfurt's tactics against Bayern Munich after Die Adler held the reigning champions to a goalless draw on Friday night.
Bayern were looking to extend their winning streak in the Bundesliga to 11 games when they made the trip to the Commerzbank Arena, but they were thwarted by a Frankfurt side who had lost three of their last four games in all competitions.
Following the game, summer signing Vidal spoke the media about the opposition's tactics, and was very critical of how negative they were.
Eintracht didn't play "football"
Speaking via Goal, the Chilean midfielder was frustrated with the match and the result, saying that "it was very hard work" trying to break Frankfurt down on the night.
He put that down to the fact that the opposition "pulled all 11 men back to the edge of their own box" and criticised this approach, saying: "this is not football."
Given Bayern's dominance in German football and incredible winning streak coming into the game, it is understandable that Frankfurt chose to play this way as it is one of very few ways to prevent them from being as devastating as they are in the final third.
It certainly worked too, earning the hosts a valuable point, but Vidal was not as impressed as Die Adler may be, saying that the tactics used are almost unfair as they "make it almost impossible for any team to score."
Bayern disappointed, despite deserving the win
Though Bayern's unbeaten run this season remains in tact with this draw, they were not happy with the result as they were confident of earning all three points.
Vidal suggested that they deserved exactly that too, adding that they "controlled the play" and "worked well as a team," however, they were unable to breach Frankfurt's back line to find a goal, which is "all that was missing," according to the Chilean international.
He continued, saying that he and the side are "obviously disappointed with the draw" and that they will work hard to bounce back with a victory next time out.
Their next fixture is at home to Arsenal on Wednesday in the Champions League, and the Bavarians will certainly need to be at their best as they look to avenge the 2-0 defeat they suffered in the reverse just two weeks ago.
Vidal used his post-match interview almost as an opportunity to motivate his teammates in order for them to achieve this too, saying that they "need to keep on working" after being held by Eintracht, especially if they want "to hit [their] targets."