 After playing only one match all season, Italian international goalkeeper Katja Schroffenegger has left Bayer Leverkusen; she had only been with the team for a short period of time.
A tough few years
At 24 years of age, born in Bozen, she began her career at Bozner FC in 2006. After staying at the club until 2009, she played for Italian teams SSV Brixen and CF Südtirol.
In 2011, she arrived at FF USV Jena and remained there to 2013, making 17 appearances for the first team and five for the reserves. In 2013, she joined Bayern Munich, but played just one game - against Saarbrücken - in the early weeks of the 2013/14 Frauen Bundesliga season.
In the same campaign, Schroffenegger suffered a serious injury of the ACL in her left knee during the pre-match warm-up before the friendly against FC Ismaning.
The Italian was part of the Bavarian team that were crowned league champions last term, though she was the third choice goalkeeper. Thomas Wörle also had first-choice and Finnish international stopper Tinja Riika Korpela and Austria goalkeeper Manuela Zinsberger to choose from.
Without having great opportunities in Munich, she was signed by Bayer Leverkusen​. The club were hoping to cover the last of Lisa Schmitz to Turbine Potsdam, but was over-looked by coach Thomas Obliers, who opted for German youth international goalkeeper Anna Klink instead.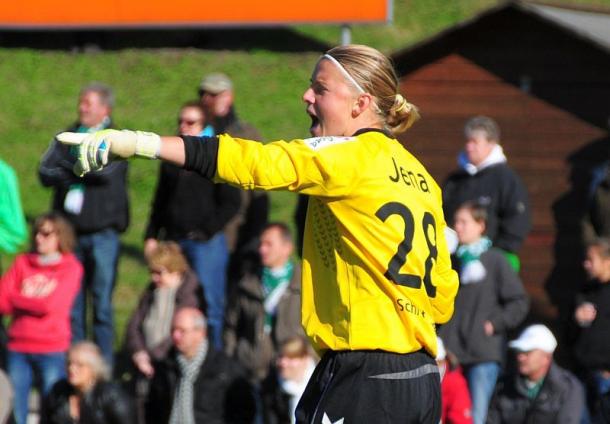 Her time with Italy has been better
For the national team, she made her debut with the under-17 side on December 5, 2007, which they won 6-2 against Belarus.
In 2009 she was selected in the under-19 team to represent Italy at the 2009 edition of the under-19 European Championship. Schroffenegger's debut with Azzurrine U-19 on April 23 was at Altbüron stadium, but she couldn't prevent a 3-0 loss to Switzerland.
It was not long later that she was named as a reserve goalkeeper for the 2011 edition of the Cyprus Cup, making her debut against Russia. Schroffenegger was also part of the Italy squad for the 2013 European Championship.