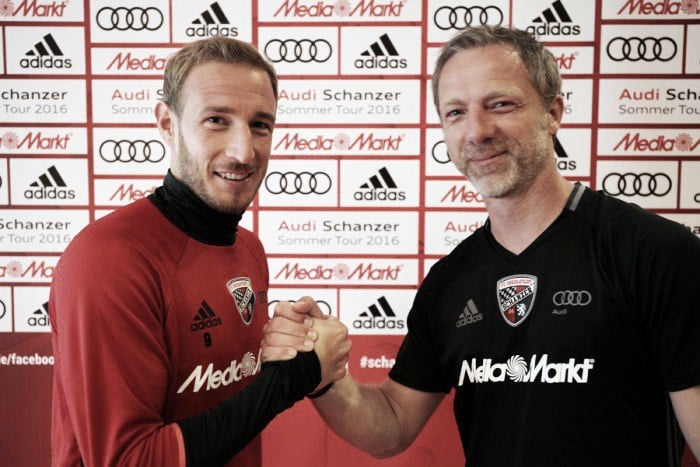 FC Ingolstadt have announced the contract extension of 30-year-old forward Moritz Hartmann, the man they call Bomber has signed a one-year extension and will earn another extension at the end of the upcoming season providing he makes enough appearances.
That shouldn't be a problem for the striker who seems to be getting better with age according to the club's sporting director Thomas Linke, "Moritz Hartmann is a phenomenon. He seems to be getting better with age and has matured with us in recent years to the absolute leading player".
Mr Linke has a point which can't be argued against either, last season Ingolstadt made the step up to the Bundesliga and so did Hartmann who managed to record his best ever season in his career. The Oberviechtach born forward scored twelve times in the Bundesliga seeing him comfortably finish as the club's top scorer. Hartmann also scored once in the DFB Pokal to add to his impressive tally for the side predicted to struggle.
Ingolstadt defied all the odds last season by staying in the Bundesliga and not just by a slim margin they did so comfortably, finishing in eleventh place. The performance's and goal's from 30-year-old Hartmann certainly helped Ingolstadt in reaching the achievement.
Linke also believes the forward will continue his form in the new season and stay just as important as the last, "With his Bundesliga goals he has a big role in ensuring that we could celebrate the league in the 1. Liga at the end. I am convinced that he will also build in this season to these services".
Leader and Legend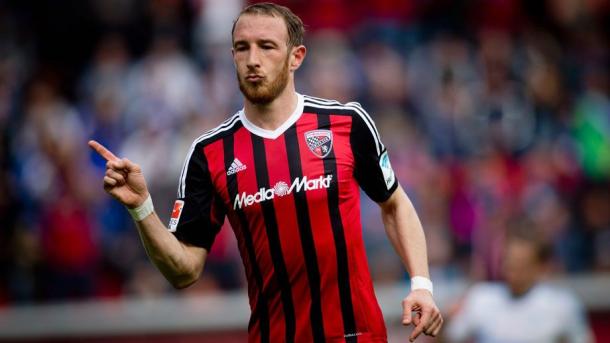 Since joining Die Schanzer in 2009 from 1.FC Köln Hartmann has become a fan favourite and with a club as young as Ingolstadt it's safe to say he'll probably leave the club as a legend. Since joining Hartmann has pulled on the red and black Die Schanzer jersey 157 times and has struck the back of the net 41 times.
Speaking to the club's official website Hartmann wanted to repay the club, "This contract extension is for this reason very special for me because I am in my eighth season with FC Ingolstadt."
He continued to say, "I owe the club" as well as "the people in charge and our fans very much and hope that I can continue to confirm the confidence in the future in me."
He went on to outline that Ingolstadt "want to establish" themselves in the top flight and that he "will do everything to ensure" that they can meet that goal.
Hartmann has expressed his delight with the new deal which will expire in 2018, "It is the first time that I extend prematurely, it was always until the end of the term, I am proud, because that reflects the recognition". Die Schanzer will certainly feel the same way as Hartmann and will hope he continues firing them into celebration.